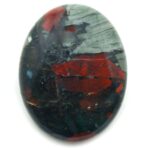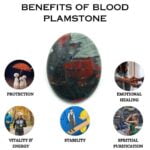 74
people are viewing this right now

Guaranteed safe & secure checkout
Description
The Bloodstone Palm Stone is a compact, polished piece of bloodstone crystal that fits perfectly in your hand. It has a smooth surface and a striking appearance, boasting deep green hues with speckles of red, resembling drops of blood, thus giving this stone its name.
Due to its comfortable size and shape, the Bloodstone Palm Stone is perfect for those who want to keep the healing properties of this crystal close to them. Whether you're using it during meditation, carrying it around in your pocket, or simply using it as a piece of decor, it's an easy and elegant way to incorporate the benefits of bloodstone into your daily life.


Benefits Of Bloodstone Palm Stone
Energy Enhancement: The Bloodstone Palm Stone is known to bring about a rejuvenating energy. It's a go-to for those seeking an energy uplift.

Fostering Courage and Strength: With the Bloodstone Palm Stone in hand, users often report an increase in self-confidence and inner power, making it a suitable companion during challenging times.

Balancing Emotions: This stone is connected with emotional harmony, potentially reducing feelings of anxiety and stress, promoting a tranquil state of mind.

Wellness and Vitality: The Bloodstone Palm Stone has been linked to wellbeing and longevity since ancient times. Some users also report improvements in circulation and detoxification.

Grounding and Protection: Bloodstone is recognized as a grounding stone, said to protect users from negative energy and keep them anchored.
Remember, the way one experiences the potential benefits of a Bloodstone Palm Stone can be unique to their intention and interaction with the stone. It's crucial to remain open and receptive in any crystal healing journey.
How To Use Bloodstone Palm Stone?
Using a Bloodstone Palm Stone is quite straightforward, but it's always enhanced by intention. Here are some steps to guide you:
Intention Setting: Before you begin, take a moment to focus on what you want to achieve with the Bloodstone Palm Stone. This could be anything from boosting your courage, enhancing your wellbeing, or reducing stress. Hold the stone and mentally communicate your intention to it.

Meditation: Hold the Bloodstone Palm Stone in your hand during meditation. Its soothing energy can potentially enhance your focus and allow you to reach a deeper state of relaxation.

Carry it With You: For an ongoing connection with the stone, keep it in your pocket or purse. This allows you to have the stone's energy around you throughout the day.

Place it in your Environment: Another option is to place the Bloodstone Palm Stone in a space where you spend a lot of time. This could be your work desk, your living room, or your bedroom. The stone's energy will permeate the space, and you'll have the added benefit of it being a beautiful addition to your decor.

Body Placement: You can also place the Bloodstone Palm Stone on specific areas of your body where you want to focus its energy. For example, if you're looking for grounding, you might want to place it near your feet or lower abdomen.

Sleeping: You can also place the stone under your pillow while you sleep. This will allow its energy to work throughout the night.

Remember to Cleanse: Like all crystals, your Bloodstone Palm Stone will absorb energies over time. Regularly cleanse it to keep it working at its best. You can do this by placing it under running water, burying it in salt, or leaving it out in the moonlight.
As you use your Bloodstone Palm Stone, listen to your intuition and find the best ways for it to serve you. This will create a unique and personal experience with your stone.
Return/Refund Policy
Our return policy lasts for 5 days from the date of delivery. Kindly contact us for any return/refund/exchange within 5 days from the date of delivery.
Return policy is applicable in case of damaged/defective items only.
Item must be unused & packed in original packaging.
Item will be inspected before processing the refund/exchange.
To initiate your return & exchange please send us an email at support@crystaldivine.in with your order receipt and details of the products to be returned. Please also let us know the reason for the return. Your complaints will only be taken into consideration if contacted by email. (WhatsApp / Phone Calls etc. will not be considered as complaint channels).
Upon receiving the returned products, prepaid orders will be refunded as soon as our inspection team approves the return.
COD orders: Customers will be required to provide their bank details where they would like to receive the refund.
Click to Learn more about our return and exchange policy.
Shipping Policy
We aim to dispatch all orders within 24-48 hours. In case of missing items/ unavailability or delay, we will inform you via email or WhatsApp with the expected date of dispatch.
Most orders are delivered by our courier partners within 5-7 working days from the date of dispatch.
Shipping is free on paid orders above ₹1000.
There are no question found.