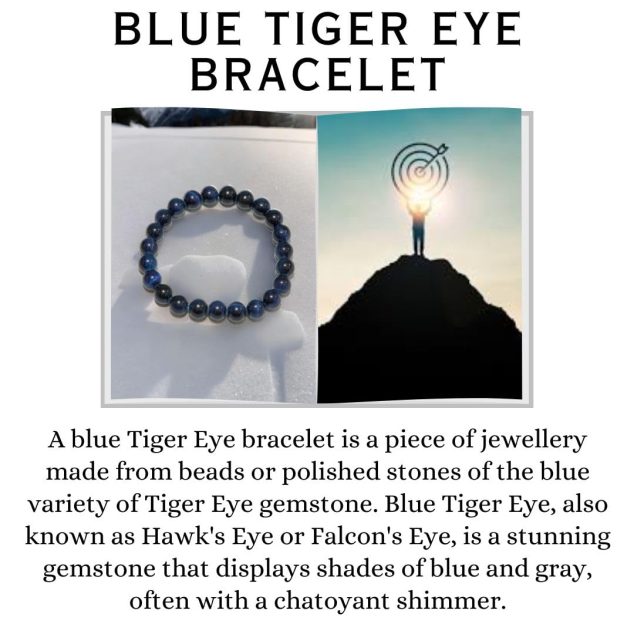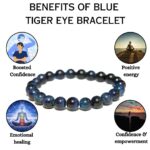 54
people are viewing this right now

Guaranteed safe & secure checkout
Description
The Blue Tiger Eye bracelet, also known as Hawk's Eye, is a unique piece of jewelry known for its captivating, deep blue sheen. Just like its namesake, the hawk, this bracelet is celebrated for its reputed ability to provide deeper insight and broad perspective. Crafted from Blue Tiger Eye stones, this bracelet is not only a stylish accessory but is also embraced by many for its symbolic associations with calmness, stress relief, and clarity of thought. Each stone is said to possess a soothing energy that helps reduce anxiety and fosters a calm, peaceful state of mind. The Blue Tiger Eye bracelet is a popular choice for anyone seeking a balance of style, symbolism, and personal well-being.


Benefits Of Blue Tiger Eye Bracelet

The Blue Tiger Eye Bracelet is associated with several benefits, including:
Improved Clarity and Focus: The Blue Tiger Eye is believed to aid in clearing mental blocks and improving focus, helping one to solve problems logically and without emotions getting in the way.
Stress Relief: The soothing energy of this stone is said to relieve stress and anxiety, promoting a calm and relaxed state of mind.
Balance and Harmony: Many people use this bracelet for its purported ability to balance yin-yang energies and align the chakras, helping to harmonize one's energy field and promoting well-being.
Protection: Blue Tiger Eye is traditionally used as a protection stone. It is believed to ward off negative energy and offer protection from harm.
Improved Communication: Some also associate this stone with enhanced communication skills, especially in terms of clarity and empathy.
Remember, these potential benefits are based on beliefs and traditions. They should be taken as a complement to other wellness practices or treatments you may be following, not as a standalone solution.


How To Use Blue Tiger Eye Bracelet?

Using a Blue Tiger Eye Bracelet is quite simple and can be integrated into your daily routine:
Wear It: The simplest way to use a Blue Tiger Eye bracelet is to wear it. It's believed the energy of the stone can interact with your own energy field (or aura) when worn close to the skin.
Meditation: Use the Blue Tiger Eye bracelet as a tool in your meditation practice. Hold onto the bracelet as you meditate to help ground your energy and deepen your focus.
Setting Intentions: Before wearing it, hold the bracelet in your hands, close your eyes and set a personal intention or goal. This act of focusing your energy can help to enhance the stone's properties.
Energy Cleansing: To keep your bracelet functioning optimally, cleanse it regularly to clear away any absorbed negative energy. This could be done by placing it under moonlight or sunlight for a few hours, or by using smudging techniques with sage or palo santo.
Remember, the purpose of these practices is to enhance your wellbeing and balance your energy. Find what works best for you and fits your personal belief system and lifestyle.
Return/Refund Policy
Our return policy lasts for 5 days from the date of delivery. Kindly contact us for any return/refund/exchange within 5 days from the date of delivery.
Return policy is applicable in case of damaged/defective items only.
Item must be unused & packed in original packaging.
Item will be inspected before processing the refund/exchange.
To initiate your return & exchange please send us an email at support@crystaldivine.in with your order receipt and details of the products to be returned. Please also let us know the reason for the return. Your complaints will only be taken into consideration if contacted by email. (WhatsApp / Phone Calls etc. will not be considered as complaint channels).
Upon receiving the returned products, prepaid orders will be refunded as soon as our inspection team approves the return.
COD orders: Customers will be required to provide their bank details where they would like to receive the refund.
Click to Learn more about our return and exchange policy.
Shipping Policy
We aim to dispatch all orders within 24-48 hours. In case of missing items/ unavailability or delay, we will inform you via email or WhatsApp with the expected date of dispatch.
Most orders are delivered by our courier partners within 5-7 working days from the date of dispatch.
Shipping is free on paid orders above ₹1000.
There are no question found.