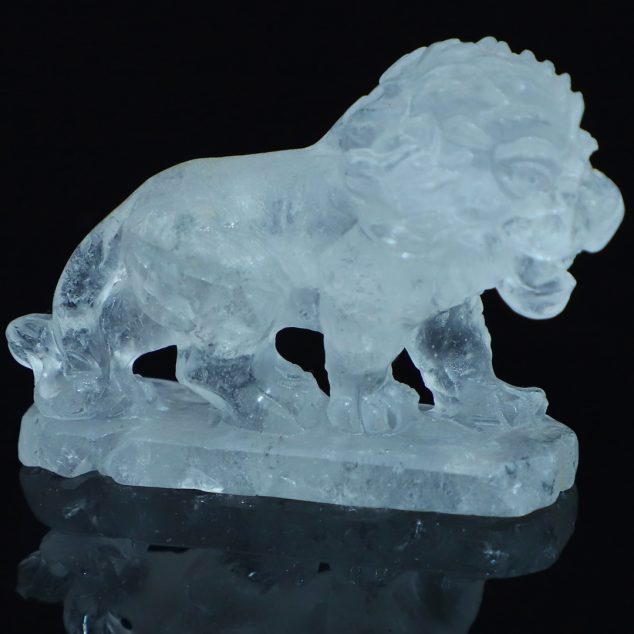 Clear Quartz Lion Figurine
75
people are viewing this right now

Guaranteed safe & secure checkout
Description
Clear Quartz Lion Figurine
A Clear Quartz Lion Figurine is a small, decorative statue carved from clear quartz, one of the most potent healing crystals known for its versatility and amplifying properties. This crystal sculpture merges the symbolism of the lion, representing strength, courage, and power, with the clarity and energy-enhancing qualities of clear quartz. The result is a unique piece that not only serves as a beautiful decor item but also doubles as a tool for spiritual and energetic work. Perfect for those seeking a blend of aesthetic beauty and metaphysical benefits in a compact form.


Benefits Of Clear Quartz Lion Statue
Energy Amplification: Clear quartz is known as the "master healer." It amplifies energy, making the lion statue a potent tool for manifesting intentions and desires.

Strength and Courage: The lion symbol represents strength, bravery, and leadership. Combined with clear quartz, it can inspire you to face challenges head-on.

Mental Clarity: Clear quartz aids in clarity of thought and decision-making. Having this statue nearby can help sharpen your focus and judgment.

Decorative and Aesthetic: Beyond its spiritual benefits, a clear quartz lion is a beautiful piece that adds elegance and a touch of sophistication to any space.

Versatility in Healing: As an all-purpose crystal, clear quartz complements other healing crystals and tools, enhancing their effects.

Protection: The lion, as a symbol of might and protection, combined with clear quartz's ability to ward off negative energies, makes this statue a protective emblem for your home or workspace.

Connection with Higher Realms: Clear quartz facilitates communication with the spiritual realm. It can serve as a conduit for guidance from your higher self or other spiritual entities.
Incorporating a Clear Quartz Lion Statue in your living or workspace merges the world of beauty with the realm of spiritual growth and healing. It's a daily reminder of the strength within you and the unlimited potential of the universe.
How To Use Clear Quartz Lion Figurine?
Placement: Position the figurine in your living room, office, or bedroom to enhance the energy of the space. Ideally, place it in a location where you can see it often as a reminder of your intentions and inner strength.

Meditation Aid: Hold the lion figurine or place it nearby during meditation sessions. Its clear quartz properties can help enhance your focus and deepen your connection to higher energies.

Intention Setting: Hold the lion in your hands and set specific intentions or desires. The clear quartz will amplify these intentions, helping them manifest in your life.

Decorative Element: Use it as a centerpiece or an accent on shelves, tables, or desks. Its beauty and symbolic strength can uplift any room's aesthetic.

Protection: Position the lion near entrances to guard against negative energies and to invite positivity into your space.

Energy Amplifier: If you're using other crystals for specific purposes, place them near the clear quartz lion. It will amplify the energies of these crystals, making them even more effective.

Gift: Share the benefits by gifting a clear quartz lion figurine to a loved one. It can be a thoughtful present, signifying protection, love, and strength.
Remember to regularly cleanse your figurine to maintain its vibrational frequency and ensure it remains a potent tool for healing and intention-setting. Whether you're drawing on its spiritual properties or simply admiring its beauty, the Clear Quartz Lion Figurine is a versatile addition to any environment.
Return/Refund Policy
Our return policy lasts for 5 days from the date of delivery. Kindly contact us for any return/refund/exchange within 5 days from the date of delivery.
Return policy is applicable in case of damaged/defective items only.
Item must be unused & packed in original packaging.
Item will be inspected before processing the refund/exchange.
To initiate your return & exchange please send us an email at support@crystaldivine.in with your order receipt and details of the products to be returned. Please also let us know the reason for the return. Your complaints will only be taken into consideration if contacted by email. (WhatsApp / Phone Calls etc. will not be considered as complaint channels).
Upon receiving the returned products, prepaid orders will be refunded as soon as our inspection team approves the return.
COD orders: Customers will be required to provide their bank details where they would like to receive the refund.
Click to Learn more about our return and exchange policy.
Shipping Policy
We aim to dispatch all orders within 24-48 hours. In case of missing items/ unavailability or delay, we will inform you via email or WhatsApp with the expected date of dispatch.
Most orders are delivered by our courier partners within 5-7 working days from the date of dispatch.
Shipping is free on paid orders above ₹1000.
There are no question found.