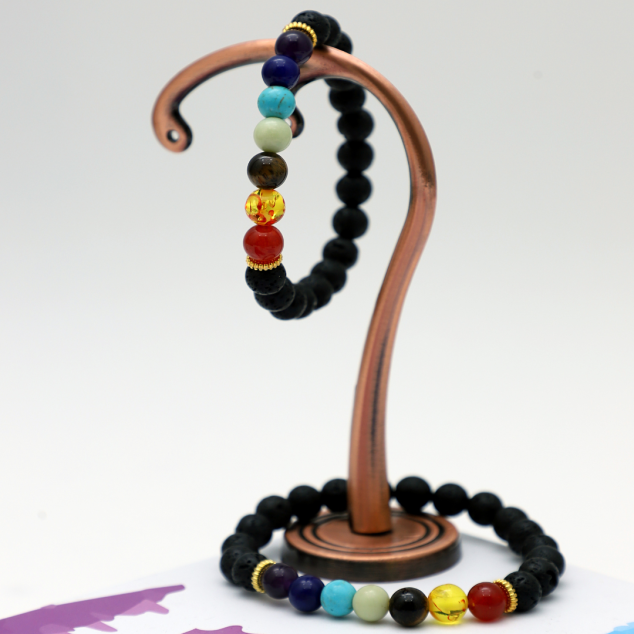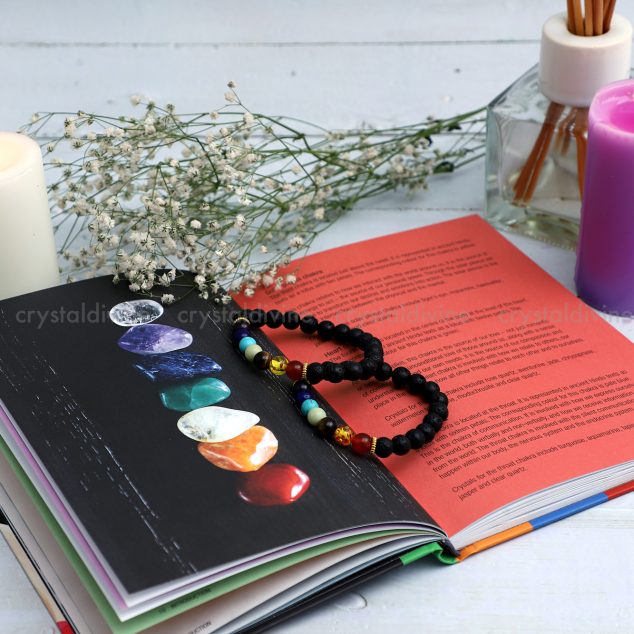 Lava Onyx With Seven Chakra Bracelet
87
people are viewing this right now

Guaranteed safe & secure checkout
Description
Lava Onyx with Seven Chakra
Lava Onyx with seven chakra bracelet is a type of healing crystal bracelet that combines the properties of lava onyx and the seven chakras. Lava Onyx is a black gemstone that is formed from molten lava, making it a grounding stone that can help bring stability and balance to the wearer. It is also said to have protective properties and can help with emotional and physical strength.
The seven chakras are believed to be energy centers in the body, and each chakra is associated with a specific color and function. The colors of the seven chakras are red, orange, yellow, green, blue, indigo, and violet. The bracelet usually includes seven different colored stones, each representing a specific chakra.
The purpose of the lava onyx with seven chakra bracelet is to balance the energy of the chakras in the body and promote healing and well-being. The lava onyx stones are believed to absorb negative energy and the chakra stones are said to bring balance to the corresponding chakra.
Wearing the bracelet is thought to help align the chakras and promote a sense of harmony, peace, and balance in the body. It can also be used during meditation or energy healing practices to enhance their effects.
Benefits of the Lava Onyx with Seven Chakra bracelet
Promoting balance and harmony: The combination of the grounding properties of lava onyx and the balancing properties of the seven chakra stones is believed to promote balance and harmony in the body.

Boosting energy flow: The seven chakra stones are said to stimulate energy flow throughout the body and help remove blockages, which can improve overall health and well-being.

Enhancing mental clarity: The grounding properties of lava onyx are believed to help calm the mind and improve mental clarity, which can help reduce stress and anxiety.

Promoting physical healing: The chakra stones are said to have different healing properties that can benefit specific parts of the body. For example, the green chakra stone is associated with the heart chakra and is said to help with heart-related issues.

Enhancing spiritual awareness: The combination of the grounding and balancing properties of the bracelet is believed to enhance spiritual awareness and promote a deeper connection with the self.
How to use Lava Onyx with Seven Chakra bracelet?
Wear it daily: The easiest way to use the bracelet is to wear it on your wrist daily. This will allow the energy of the lava onyx and chakra stones to interact with your own energy field, promoting balance and harmony.

Use it during meditation: You can also use the bracelet during meditation by holding it in your hands or placing it on your body. This can help enhance the effects of the meditation and promote deeper relaxation and healing.

Set an intention: Before wearing or using the bracelet, you can set an intention for what you want to achieve with its help. For example, you can set an intention for balance and harmony, physical healing, or spiritual growth.

Cleanse and recharge it regularly: Like all crystals, the lava onyx and chakra stones in the bracelet can accumulate negative energy over time. To keep the bracelet functioning at its best, it's important to cleanse and recharge it regularly. You can do this by placing it in sunlight or moonlight, using sage or palo santo to smudge it, or burying it in a bowl of salt.
Shop Other Categories
For more information visit our Social Media Pages CLICK HERE
Return/Refund Policy
Our return policy lasts for 5 days from the date of delivery. Kindly contact us for any return/refund/exchange within 5 days from the date of delivery.
Return policy is applicable in case of damaged/defective items only.
Item must be unused & packed in original packaging.
Item will be inspected before processing the refund/exchange.
To initiate your return & exchange please send us an email at support@crystaldivine.in with your order receipt and details of the products to be returned. Please also let us know the reason for the return. Your complaints will only be taken into consideration if contacted by email. (WhatsApp / Phone Calls etc. will not be considered as complaint channels).
Upon receiving the returned products, prepaid orders will be refunded as soon as our inspection team approves the return.
COD orders: Customers will be required to provide their bank details where they would like to receive the refund.
Click to Learn more about our return and exchange policy.
Shipping Policy
We aim to dispatch all orders within 24-48 hours. In case of missing items/ unavailability or delay, we will inform you via email or WhatsApp with the expected date of dispatch.
Most orders are delivered by our courier partners within 5-7 working days from the date of dispatch.
Shipping is free on paid orders above ₹1000.
There are no question found.