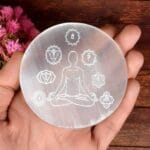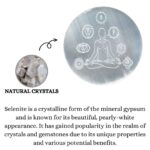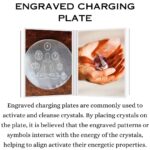 Meditation Selenite Charging Plate
67
people are viewing this right now

Guaranteed safe & secure checkout
Description
Meditation Selenite Charging Plate
Elevate your meditation space with the Meditation Symbol Engraved Selenite Charging Plate. Known for its purifying properties, selenite ensures a clear, harmonious energy in your environment. This particular plate features a deeply engraved meditation symbol, serving as a reminder of inner peace and the importance of mindfulness. The symbol, combined with the cleansing aura of the selenite, acts as a beacon for serenity, guiding you into deeper states of relaxation and introspection. Perfect for aligning your crystals or simply to adorn your sacred space, this plate encapsulates the essence of meditation in its very design. A beautiful fusion of aesthetics and energy, it's more than just a charging plate—it's a call to tranquility.
Benefits Of Meditation Selenite Charging Plate
Cleansing Energy: Selenite is renowned for its natural ability to cleanse and purify, ensuring the space and objects around it remain free from negative energies.
Deepens Meditation: The engraved meditation symbol serves as a focal point during meditation, helping to enhance concentration and deepen your meditative state.
Energizes Other Crystals: By placing other crystals on the plate, their energies can be recharged and magnified.
Aesthetic Appeal: The engraved meditation symbol adds a beautiful visual element, making it a perfect addition to any meditation or living space.
Promotes Calmness: The inherent properties of selenite promote a sense of calm and peace, making it ideal for spaces dedicated to relaxation and introspection.
Enhances Intuition: Regular use can help in tapping into your intuition, providing clarity and guidance during spiritual practices.
How To Use Meditation Selenite Charging Plate
Choose a Calm Space: Find a peaceful and calm location in your home, preferably your meditation or prayer area.

Cleanse Your Plate: Before the first use, consider cleansing your selenite plate by placing it under the moonlight overnight. This is not mandatory but can amplify the plate's natural properties.

Place Other Crystals: Lay any crystal or gemstone jewelry you'd like to cleanse or charge directly on the plate. Let them sit for a few hours or overnight to benefit from the selenite's recharging energy.

Meditation Focus: During meditation, place the charging plate in front of you or hold it. Use the engraved meditation symbol as a focal point to help guide and deepen your meditation practice.

Maintenance: Selenite is a delicate mineral. It's essential to keep it away from water, as it can dissolve. Dust it off with a soft cloth as needed.

Set Intention: Every once in a while, sit with your selenite plate, holding it and setting your intention. This intention-setting will enhance the benefits and focus the energy of the selenite towards your goals.
Return/Refund Policy
Our return policy lasts for 5 days from the date of delivery. Kindly contact us for any return/refund/exchange within 5 days from the date of delivery.
Return policy is applicable in case of damaged/defective items only.
Item must be unused & packed in original packaging.
Item will be inspected before processing the refund/exchange.
To initiate your return & exchange please send us an email at support@crystaldivine.in with your order receipt and details of the products to be returned. Please also let us know the reason for the return. Your complaints will only be taken into consideration if contacted by email. (WhatsApp / Phone Calls etc. will not be considered as complaint channels).
Upon receiving the returned products, prepaid orders will be refunded as soon as our inspection team approves the return.
COD orders: Customers will be required to provide their bank details where they would like to receive the refund.
Click to Learn more about our return and exchange policy.
Shipping Policy
We aim to dispatch all orders within 24-48 hours. In case of missing items/ unavailability or delay, we will inform you via email or WhatsApp with the expected date of dispatch.
Most orders are delivered by our courier partners within 5-7 working days from the date of dispatch.
Shipping is free on paid orders above ₹1000.
There are no question found.