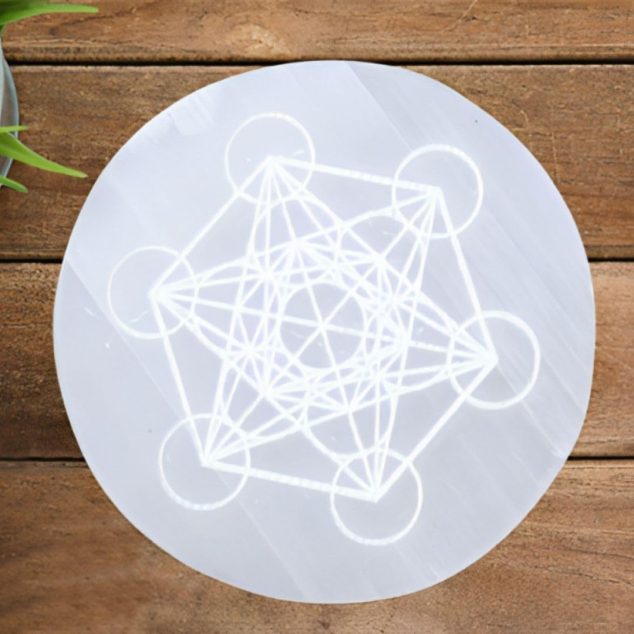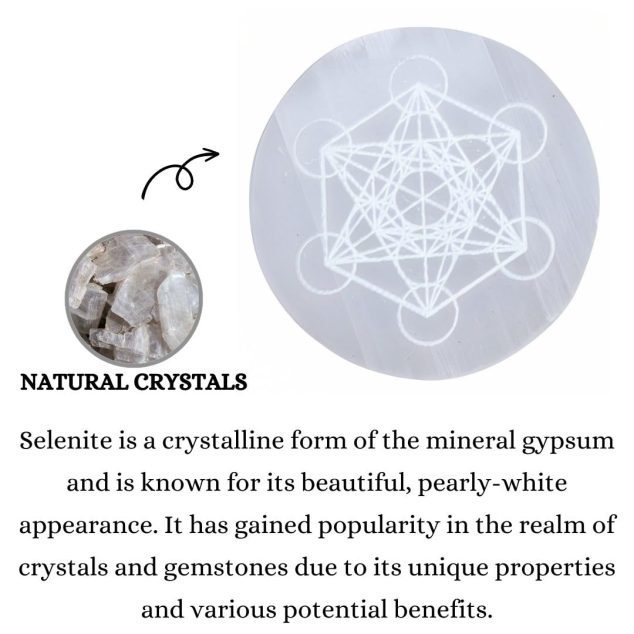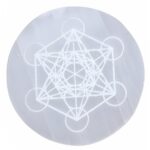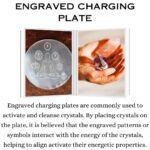 Metatron Symbol Selenite Charging plate
59
people are viewing this right now

Guaranteed safe & secure checkout
Description
Metatron Symbol Selenite Charging Plate
This unique selenite charging plate is elegantly engraved with the Metatron Cube, a symbol derived from the ancient study of sacred geometry. Selenite, revered for its high vibrational energy and purity, harmonizes perfectly with the Metatron Cube's profound resonance. Together, they aim to elevate spiritual consciousness and bring a sense of balance. This plate not only cleanses and charges other crystals placed upon it but also infuses them with the transformative energy of the Metatron Cube, making it a cherished tool for crystal enthusiasts and spiritual practitioners alike.


Benefits Of Metatron Symbol Selenite Charging Plate
Enhanced Spiritual Connection: The Metatron Cube represents the gridwork of our consciousness and the building blocks of the cosmos. When combined with selenite's spiritual properties, it deepens one's connection to higher realms.

Cleansing and Charging: Like all selenite plates, it has the inherent ability to cleanse and charge other crystals, amplifying their properties and vibration.

Protection: The Metatron symbol is known for its protective qualities. When paired with selenite, it helps ward off negative energy.

Energizing Environment: The combined energies can uplift the ambiance of a space, making it conducive for meditation and spiritual practices.

Promotion of Balance: The sacred geometry of the Metatron Cube encourages balance in one's energy fields and environment.

Assists in Meditation: The engraved design aids in focusing your meditation, channeling the deeper wisdom of the Metatron Cube.
Having this plate can be a spiritually enriching addition to one's sacred space, aligning energies for holistic well-being.
How To Use
Metatron Symbol Selenite Charging Plate
Placement: Find a calm and peaceful space in your home, preferably your meditation or altar space. Ensure it's away from direct sunlight as prolonged exposure can deteriorate selenite.

Charge Crystals: Lay your crystals or jewelry items on the plate to cleanse and recharge them. Allow them to sit overnight or as long as you feel necessary.

Meditation: Hold or gaze upon the Metatron-engraved selenite during meditation. Its geometry can help channel and focus your energies.

Energizing Water: Place a glass of water on the plate for a few minutes to energize the water before drinking. This is believed to infuse the water with the plate's vibrations.

Setting Intentions: While holding or gazing at the plate, set your personal intentions or prayers. The combination of selenite and the Metatron Cube can amplify the energy of your intentions.

Cleansing: Regularly cleanse the plate by letting it sit under moonlight or by smudging with sage to ensure its energies remain pure and effective.
Always handle your selenite plate with care, as it's a delicate mineral. Remember that its effectiveness is enhanced when used with respect and clear intentions.
Return/Refund Policy
Our return policy lasts for 5 days from the date of delivery. Kindly contact us for any return/refund/exchange within 5 days from the date of delivery.
Return policy is applicable in case of damaged/defective items only.
Item must be unused & packed in original packaging.
Item will be inspected before processing the refund/exchange.
To initiate your return & exchange please send us an email at support@crystaldivine.in with your order receipt and details of the products to be returned. Please also let us know the reason for the return. Your complaints will only be taken into consideration if contacted by email. (WhatsApp / Phone Calls etc. will not be considered as complaint channels).
Upon receiving the returned products, prepaid orders will be refunded as soon as our inspection team approves the return.
COD orders: Customers will be required to provide their bank details where they would like to receive the refund.
Click to Learn more about our return and exchange policy.
Shipping Policy
We aim to dispatch all orders within 24-48 hours. In case of missing items/ unavailability or delay, we will inform you via email or WhatsApp with the expected date of dispatch.
Most orders are delivered by our courier partners within 5-7 working days from the date of dispatch.
Shipping is free on paid orders above ₹1000.
There are no question found.