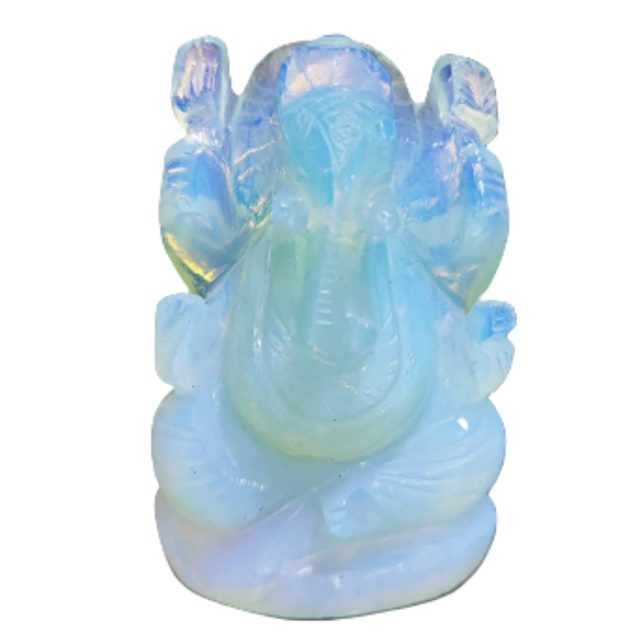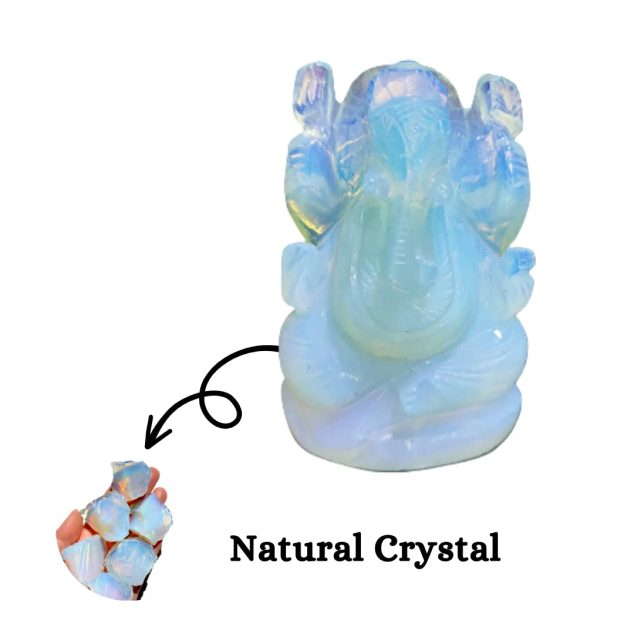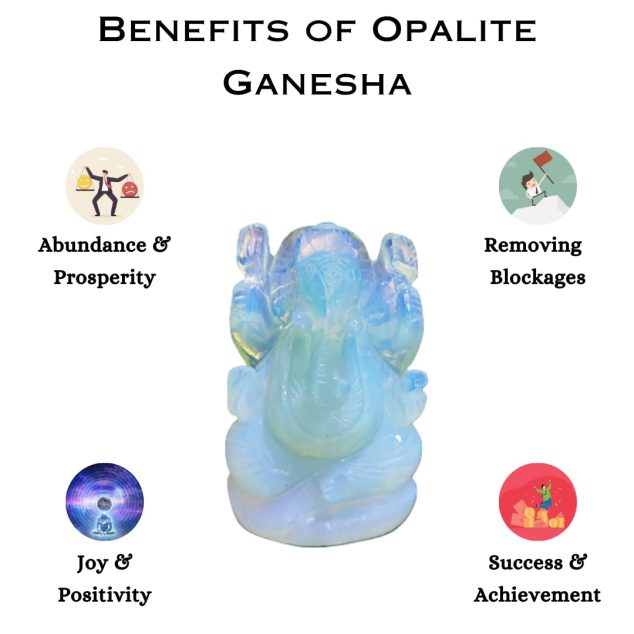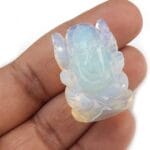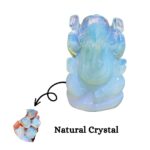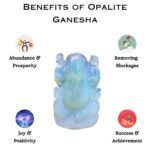 78
people are viewing this right now

Guaranteed safe & secure checkout
Description
The Opalite Pocket Ganesha is a luminous figure sculpted from opalite, a stone celebrated for its milky, glowing appearance and energy-enhancing properties. This fusion of the revered deity Ganesha, symbolizing wisdom and obstacles removal, with the tranquil and balancing attributes of opalite, results in a powerful talisman. The Opalite Pocket Ganesha embodies spiritual growth, emotional clarity, and the transcendence of obstacles, making it a beacon for those desiring inner harmony and transformation.
Benefits Of Opalite Pocket Ganesha
Emotional Clarity: Opalite's soothing energies help dispel confusion, leading to emotional clarity and a calmer mind.
Spiritual Growth: Assists in deepening spiritual connections and meditation experiences.
Overcoming Challenges: Ganesha's essence, combined with opalite, offers support in navigating and overcoming life's obstacles.
Enhanced Communication: Opalite aids in improving communication skills, both at a spiritual and earthly level.
Transition Support: Known to assist during transitions, helping to make them smooth and insightful.
Energy Boost: Opalite's energizing qualities can uplift spirits and invigorate the user, driving motivation.
Harmony and Balance: The combined energies of Ganesha and opalite help in maintaining equilibrium in life, promoting balance between tasks and relaxation.
Embracing the Opalite Pocket Ganesha harmonizes your spiritual and everyday realms, guiding you to clarity, balance, and a deeper sense of purpose.


How To Use Opalite Pocket Ganesha?
Daily Companion: Keep the Opalite Pocket Ganesha in your pocket or handbag to consistently tap into its soothing and clarifying energies.

Focus for Meditation: Hold it during meditation to deepen your connection and understanding of spiritual truths.

Peaceful Sleep: Place it on your bedside table to encourage restful sleep filled with harmonious dreams.

Workspace Aura: Set it on your desk or workspace to promote clear communication and reduced stress throughout the day.

Sacred Altar: Incorporate the Opalite Pocket Ganesha in your home's sacred space or altar to amplify the spiritual energy of the surroundings.

Personal Protection: Carrying it with you can shield against negative energies and help you remain balanced in challenging situations.

Gift of Serenity: Gift it to a loved one, introducing them to the world of energy, clarity, and spiritual enlightenment.
Engaging with the Opalite Pocket Ganesha in these various ways ensures you're making the most of its radiant energies, offering you guidance, balance, and clarity in every step of your journey.
Return/Refund Policy
Our return policy lasts for 5 days from the date of delivery. Kindly contact us for any return/refund/exchange within 5 days from the date of delivery.
Return policy is applicable in case of damaged/defective items only.
Item must be unused & packed in original packaging.
Item will be inspected before processing the refund/exchange.
To initiate your return & exchange please send us an email at support@crystaldivine.in with your order receipt and details of the products to be returned. Please also let us know the reason for the return. Your complaints will only be taken into consideration if contacted by email. (WhatsApp / Phone Calls etc. will not be considered as complaint channels).
Upon receiving the returned products, prepaid orders will be refunded as soon as our inspection team approves the return.
COD orders: Customers will be required to provide their bank details where they would like to receive the refund.
Click to Learn more about our return and exchange policy.
Shipping Policy
We aim to dispatch all orders within 24-48 hours. In case of missing items/ unavailability or delay, we will inform you via email or WhatsApp with the expected date of dispatch.
Most orders are delivered by our courier partners within 5-7 working days from the date of dispatch.
Shipping is free on paid orders above ₹1000.
There are no question found.