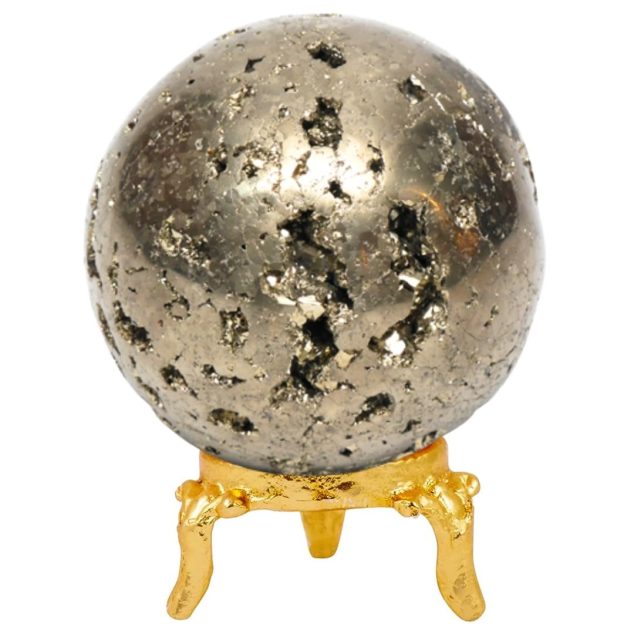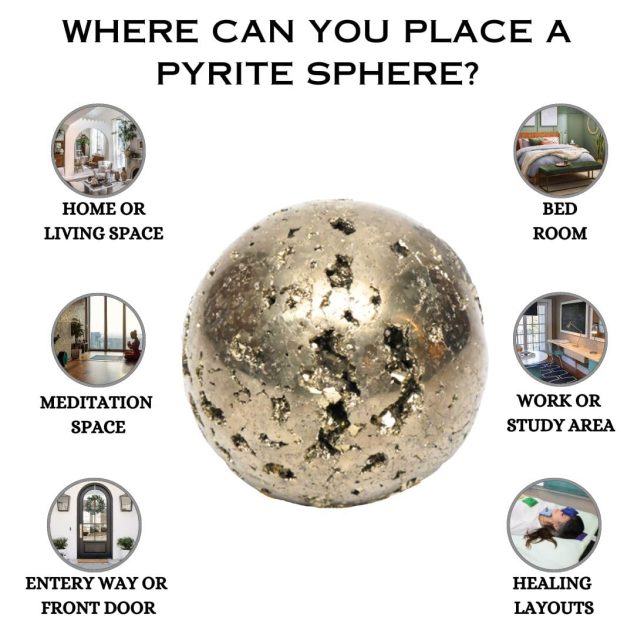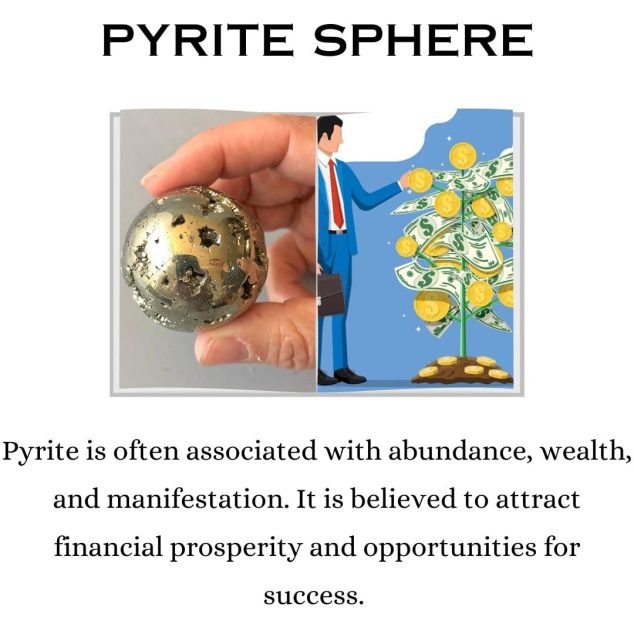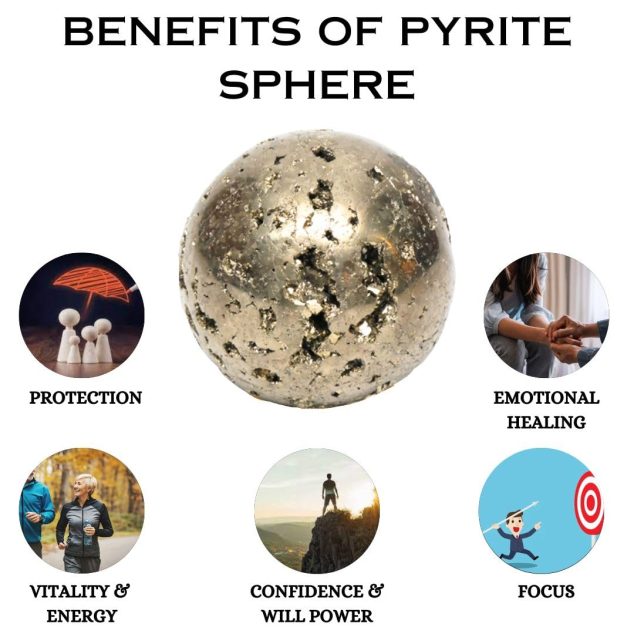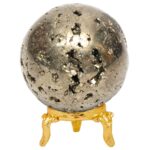 70
people are viewing this right now

Guaranteed safe & secure checkout
Description
The Pyrite Sphere is a beautiful ball made from a shiny silver-gold-colored mineral called Pyrite, also known as "Fool's Gold". This sphere is much more than just a pretty object. Many people value it for its protective qualities and the positive energy it gives off.
You can think of the Pyrite Sphere like a small, golden sun that shines equally in every direction. This makes it a great piece to have around, whether you just like how it looks or you want to use it for its energy.
You can use the Pyrite Sphere in different ways. Some people like to hold it or place it nearby during meditation. Others just like to have it around as a decoration. It's a great piece to add to your collection, whether you're new to crystals or you already have a bunch.


Benefits Of Pyrite Sphere
Energy Boost: Pyrite Sphere is often known for its ability to invigorate the user with a boost of energy. It's a great pick-me-up whenever you're feeling low or tired.

Protection: Pyrite is often considered a protective stone, shielding its user from negative energy. Having a Pyrite Sphere around can help create a barrier against harmful influences.

Abundance and Wealth: Pyrite is often linked with attracting abundance and wealth. It's a wonderful token to have when working towards financial goals or seeking business success.

Confidence: Pyrite can also help bolster self-confidence. It helps to foster an assertive and bold approach, which can be helpful in various aspects of life, such as work or personal relationships.

Memory Enhancement: Some users find that Pyrite aids in improving memory and stimulating mental activity. It can be a helpful tool during study or work that requires mental effort.
Remember, the Pyrite Sphere is not just about its benefits; it's also a beautiful piece to add to your space, radiating its golden energy and making your place shine.


How To Use Pyrite Sphere
Using a Pyrite Sphere is quite simple and can be integrated into your daily routine easily:
Meditation: Hold the Pyrite Sphere in your hand during meditation. Its weight and smooth texture can enhance your focus and its energetic properties can support your intentions.

Desk Companion: Place the Pyrite Sphere on your workspace or study table. Its presence can promote focus, stimulate intellect, and bring about an energy of abundance.

Home Decor: Pyrite Spheres can be displayed as home decor. They add a touch of beauty and sophistication, while subtly emanating their beneficial energies in your living space.

Energy Grid: If you're creating an energy grid at home, a Pyrite Sphere can be a powerful addition. Place it strategically within the grid to attract wealth and protection energies.

Manifestation Tool: Write down your financial goals on a piece of paper and place the Pyrite Sphere on top of it. Many believe this can help manifest those goals faster.
Remember, intention is key when using any crystal, including Pyrite. It's always beneficial to cleanse and charge your Pyrite Sphere regularly to keep its energy at its best. Enjoy the shiny, golden vibes of your Pyrite Sphere!
Return/Refund Policy
Our return policy lasts for 5 days from the date of delivery. Kindly contact us for any return/refund/exchange within 5 days from the date of delivery.
Return policy is applicable in case of damaged/defective items only.
Item must be unused & packed in original packaging.
Item will be inspected before processing the refund/exchange.
To initiate your return & exchange please send us an email at support@crystaldivine.in with your order receipt and details of the products to be returned. Please also let us know the reason for the return. Your complaints will only be taken into consideration if contacted by email. (WhatsApp / Phone Calls etc. will not be considered as complaint channels).
Upon receiving the returned products, prepaid orders will be refunded as soon as our inspection team approves the return.
COD orders: Customers will be required to provide their bank details where they would like to receive the refund.
Click to Learn more about our return and exchange policy.
Shipping Policy
We aim to dispatch all orders within 24-48 hours. In case of missing items/ unavailability or delay, we will inform you via email or WhatsApp with the expected date of dispatch.
Most orders are delivered by our courier partners within 5-7 working days from the date of dispatch.
Shipping is free on paid orders above ₹1000.
There are no question found.