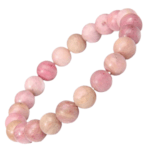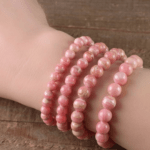 76
people are viewing this right now

Guaranteed safe & secure checkout
Description
The Rhodochrosite Bracelet is a beautiful accessory made with Rhodochrosite, a strikingly vibrant and richly colored mineral, typically in hues of pink or red. This gemstone is often associated with love due to its captivating color, and it's especially prized in the world of crystal healing.
Rhodochrosite, named after the Greek words for "rose" and "color," is known as the Stone of the Compassionate Heart. It is believed to have powerful vibrations that resonate with the heart chakra, the energy center linked to love, compassion, and emotional well-being. The Rhodochrosite Bracelet not only adds a lovely touch to any outfit but is also thought to serve as a reminder to the wearer to embrace self-love, harmony, and balance in their life.


Benefits Of Rhodochrosite Bracelet

The Rhodochrosite Bracelet is known for its many possible benefits:
Emotional Well-being: It is often used to help stimulate emotional healing, inviting the wearer to let go of past traumas and negative emotions and replacing them with positivity and self-love.

Love and Compassion: Rhodochrosite is known as the Stone of Compassionate Heart. It's said to open the heart chakra, enhancing the wearer's ability to give and receive love, enhancing their relationships.

Stress Relief: The Rhodochrosite Bracelet is also believed to have calming properties that can help reduce stress and anxiety, promoting relaxation and peace of mind.

Creativity Boost: Some users also find that wearing a Rhodochrosite Bracelet can boost creativity and intuition, opening them to new ideas and possibilities.

Balance: Rhodochrosite is believed to balance and harmonize the energies of the body, mind, and spirit, promoting overall wellness and vitality.
Remember, every person may experience these benefits differently, and the way one connects with their Rhodochrosite Bracelet can vary. It's important to find the right way for you to incorporate it into your life.


How To Use
Rhodochrosite

Bracelet?

Using a Rhodochrosite Bracelet is quite straightforward. Here are the steps:
Wear it: Simply put the Rhodochrosite Bracelet on your wrist. Traditionally, it's recommended to wear it on your left hand if you want to receive its energy or on your right hand if you wish to give out its energy.

Set an Intention: Hold the bracelet in your hands, close your eyes, and focus on what you hope to achieve by wearing it. This could be anything from emotional healing to creativity or stress relief. Visualize your goal in detail to align the bracelet with your intentions.

Mindful Presence: Whenever you see or feel your Rhodochrosite Bracelet during the day, let it be a reminder of your intention and refocus your thoughts towards it.

Cleanse and Recharge: Over time, your bracelet may absorb various energies. To keep it working optimally, cleanse it regularly by placing it in a bowl of dry brown rice or smudging with sage, and recharge it under moonlight or sunlight.
Remember, this is not a one-size-fits-all guide, and different people might resonate with different practices. The key is to stay open, pay attention to how you feel, and adjust your practices as needed. It's all about creating a personal connection between you and your Rhodochrosite Bracelet.
Return/Refund Policy
Our return policy lasts for 5 days from the date of delivery. Kindly contact us for any return/refund/exchange within 5 days from the date of delivery.
Return policy is applicable in case of damaged/defective items only.
Item must be unused & packed in original packaging.
Item will be inspected before processing the refund/exchange.
To initiate your return & exchange please send us an email at support@crystaldivine.in with your order receipt and details of the products to be returned. Please also let us know the reason for the return. Your complaints will only be taken into consideration if contacted by email. (WhatsApp / Phone Calls etc. will not be considered as complaint channels).
Upon receiving the returned products, prepaid orders will be refunded as soon as our inspection team approves the return.
COD orders: Customers will be required to provide their bank details where they would like to receive the refund.
Click to Learn more about our return and exchange policy.
Shipping Policy
We aim to dispatch all orders within 24-48 hours. In case of missing items/ unavailability or delay, we will inform you via email or WhatsApp with the expected date of dispatch.
Most orders are delivered by our courier partners within 5-7 working days from the date of dispatch.
Shipping is free on paid orders above ₹1000.
There are no question found.