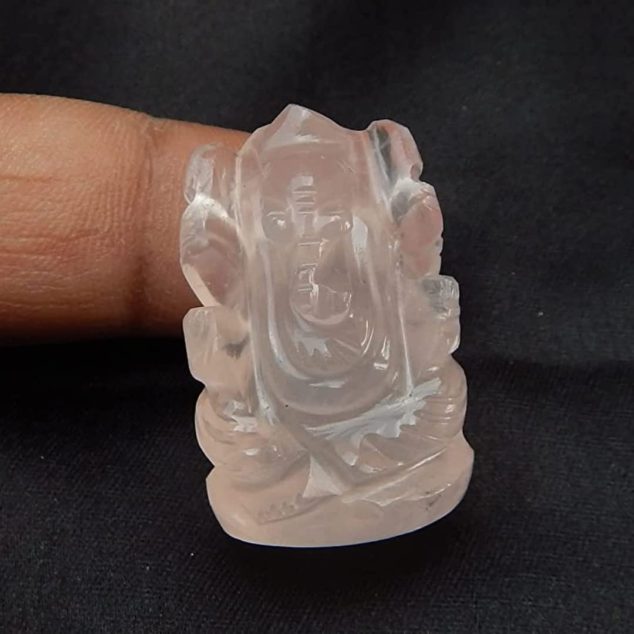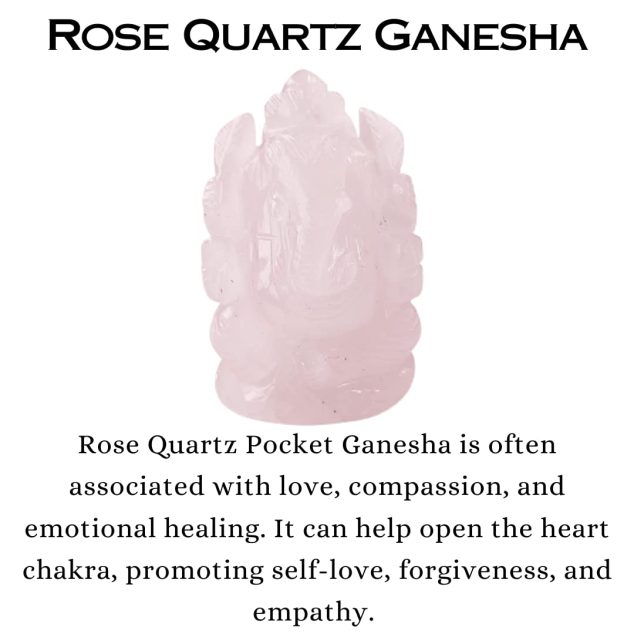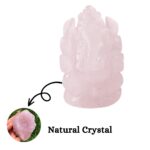 Rose Quartz Pocket Ganesha
74
people are viewing this right now

Guaranteed safe & secure checkout
Description
Rose Quartz Pocket Ganesha
The Rose Quartz Pocket Ganesha is a small figure of Lord Ganesha made from the lovely pink rose quartz stone. Known as the stone of love, rose quartz brings feelings of self-love, warmth, and comfort. Paired with Ganesha's blessings, this piece becomes a symbol of love, harmony, and removing obstacles in life. It's a special item for anyone looking to keep a touch of love and divine guidance close by.
Benefits Of Rose Quartz Pocket Ganesha
Feel the Love: Rose quartz promotes self-love, helping you embrace and love yourself as you are.

Harmony in Relationships: The stone encourages understanding and trust, smoothing tensions in relationships.

Peace and Comfort: Holding or being near the pocket Ganesha can bring a sense of inner calm during tough times.

Emotional Healing: It aids in soothing heartaches and emotional wounds, promoting healing from within.

Boosts Confidence: Rose quartz and Ganesha's energies combined can enhance feelings of self-worth.

Attracts Positivity: This pocket figurine can help in attracting good vibes and positive energies your way.

Removes Obstacles: With Lord Ganesha's blessings, challenges in life are faced with grace and wisdom.

Fosters Kindness: Encourages you to be kind, gentle, and understanding, both with yourself and others.
Having the Rose Quartz Pocket Ganesha with you is like carrying a small beacon of love, harmony, and divine guidance wherever you go.


How To Use Rose Quartz Pocket Ganesha?
Pocket Companion: Carry the Rose Quartz Ganesha in your pocket to feel its loving energy throughout the day.

Jewelry Box Charm: Place it in your jewelry box to infuse your accessories with love and positivity.

Nightstand Guardian: Keep it on your bedside table to ensure a peaceful sleep and loving dreams.

During Meditation: Hold the Ganesha while meditating to connect deeper with feelings of love and compassion.

In Your Car: Place it in your vehicle as a travel guardian, ensuring journeys filled with love and safety.

Gift of Love: Give it to someone special as a token of your affection and well wishes.

Work Desk Buddy: Keep it at your workspace to maintain a harmonious and loving environment.

Daily Affirmations: While holding the Rose Quartz Ganesha, speak positive and loving affirmations to amplify their effects.

Sacred Spaces: Include it in your home altar or prayer area to invite more love and blessings.

Relaxation Aid: Hold the Ganesha during moments of stress or anxiety for a calming effect.
Using the Rose Quartz Pocket Ganesha is a simple way to bring more love, peace, and harmony into your everyday life.
Return/Refund Policy
Our return policy lasts for 5 days from the date of delivery. Kindly contact us for any return/refund/exchange within 5 days from the date of delivery.
Return policy is applicable in case of damaged/defective items only.
Item must be unused & packed in original packaging.
Item will be inspected before processing the refund/exchange.
To initiate your return & exchange please send us an email at support@crystaldivine.in with your order receipt and details of the products to be returned. Please also let us know the reason for the return. Your complaints will only be taken into consideration if contacted by email. (WhatsApp / Phone Calls etc. will not be considered as complaint channels).
Upon receiving the returned products, prepaid orders will be refunded as soon as our inspection team approves the return.
COD orders: Customers will be required to provide their bank details where they would like to receive the refund.
Click to Learn more about our return and exchange policy.
Shipping Policy
We aim to dispatch all orders within 24-48 hours. In case of missing items/ unavailability or delay, we will inform you via email or WhatsApp with the expected date of dispatch.
Most orders are delivered by our courier partners within 5-7 working days from the date of dispatch.
Shipping is free on paid orders above ₹1000.
There are no question found.