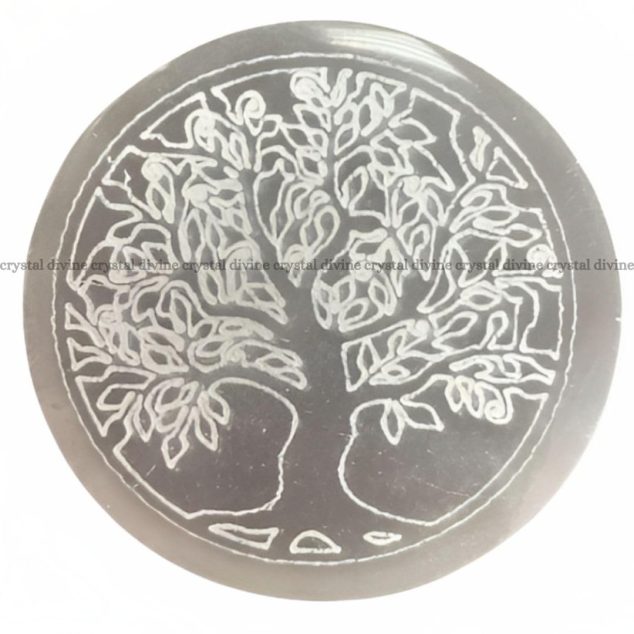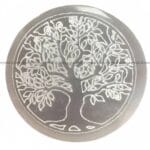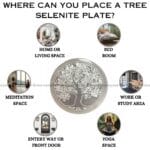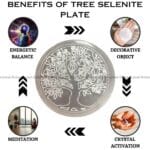 Tree Symbol Selenite Charging Plate
80
people are viewing this right now

Guaranteed safe & secure checkout
Description
Tree Symbol Selenite Charging Plate
The Tree Symbol Selenite Charging Plate is special. It has the picture of a tree on it. This tree stands for growing strong and being connected, just like how trees are rooted to the earth. The plate is made from selenite, which is good for cleaning and giving energy to other stones. You can use this plate to give energy to your crystals or just to feel calm and connected. It's a lovely piece that reminds us of nature's beauty.
Benefits of Tree Symbol Engraved Selenite Charging Plate

Cleansing: Selenite is known to clear away negative energy. So, your Tree Symbol Plate can help make your space feel calm and pure.

Recharging: Just like a tree gets energy from the sun, this plate gives new energy to your crystals, making them feel fresh and strong again.

Connection: The tree symbol reminds us to stay connected to our roots and the world around us. This can help you feel grounded.

Peaceful Ambiance: The plate's natural glow and tree design can make any room feel peaceful, like a quiet spot in nature.

Simple Decor: It's not just for spiritual use. The plate's design can add a touch of nature's beauty to your space.

Boosts Meditation: If you meditate, the tree symbol and selenite can help make your sessions deeper and more focused.
Remember, it's always good to have positive symbols like the tree around. They remind us of the beauty and strength in nature.
How to Use Tree Symbol Selenite Charging Plate?
Find a Spot: Place your selenite plate in a calm area, maybe on a table or altar. It's good if it's a place where you often relax or meditate.

Cleanse Your Plate: Before first use, let it sit in moonlight overnight. This will refresh the selenite.

Place Your Items: Gently lay your crystals, jewelry, or spiritual tools on the plate. The tree symbol can be a guide, placing items on or around its branches.

Let Them Rest: Leave them for a few hours or overnight. The selenite plate will help clean away any negative energy and recharge them.

Meditate: If you like, sit by your plate during meditation. Think of the tree's roots going deep and branches reaching high. It can help you feel connected and grounded.

Enjoy the Ambiance: Even if you're not charging anything, the plate's tree design can be a peaceful reminder of nature's beauty.

Care for Your Plate: Every so often, give it that moonlight cleanse again. Avoid getting it wet, as selenite can be delicate.
That's it! It's pretty easy. Just remember, the plate is like a little rest stop for your items, giving them a boost of positive energy. Enjoy!
Return/Refund Policy
Our return policy lasts for 5 days from the date of delivery. Kindly contact us for any return/refund/exchange within 5 days from the date of delivery.
Return policy is applicable in case of damaged/defective items only.
Item must be unused & packed in original packaging.
Item will be inspected before processing the refund/exchange.
To initiate your return & exchange please send us an email at support@crystaldivine.in with your order receipt and details of the products to be returned. Please also let us know the reason for the return. Your complaints will only be taken into consideration if contacted by email. (WhatsApp / Phone Calls etc. will not be considered as complaint channels).
Upon receiving the returned products, prepaid orders will be refunded as soon as our inspection team approves the return.
COD orders: Customers will be required to provide their bank details where they would like to receive the refund.
Click to Learn more about our return and exchange policy.
Shipping Policy
We aim to dispatch all orders within 24-48 hours. In case of missing items/ unavailability or delay, we will inform you via email or WhatsApp with the expected date of dispatch.
Most orders are delivered by our courier partners within 5-7 working days from the date of dispatch.
Shipping is free on paid orders above ₹1000.
There are no question found.