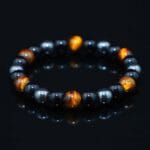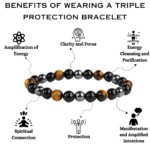 Tripple Protection Bracelet
54
people are viewing this right now

Guaranteed safe & secure checkout
Description
Tripple Protection Bracelet
Introducing the Triple Protection Bracelet, a unique blend of Hematite, Black Obsidian, and Tiger Eye. This harmonious combination is more than a mere accessory—it's an energetic shield designed to support your wellbeing.
Each stone in the Triple Protection Bracelet serves a unique purpose. Hematite, known for its grounding properties, helps to balance and harmonize the mind, body, and spirit. Black Obsidian is cherished for its protective qualities, acting as a guard against negativity and stress. Tiger Eye is the stone of courage and motivation, fostering a strong sense of self-belief and helping you overcome challenges.
Designed for those who wish to carry a sense of protection, balance, and courage with them, the Triple Protection Bracelet is more than an accessory. It's a powerful companion in your journey of self-discovery and personal growth.
Benefits Of Tripple Protection Bracelet

The Triple Protection Bracelet brings together Hematite, Black Obsidian, and Tiger Eye, three stones known for their distinctive energy properties. Here are some of the benefits associated with this unique piece:
Protection from Negativity: Black Obsidian is known for its powerful shield against negative energy and emotional drain. It aids in cutting the stress and negative patterns from one's life.

Grounding and Balancing: Hematite has grounding properties that help in balancing the body, mind, and spirit. It helps in stabilizing emotions and calming the mind.

Enhances Confidence and Courage: Tiger Eye promotes courage, strength, and personal power. It stimulates the mind, helping to focus and make clear decisions even in difficult situations.

Energy Amplification: Each of these stones amplify and purify energy, promoting a better flow of positive energy within you.

Supports Healing: The combined energy of these stones also supports healing, rejuvenation, and overall well-being.
Remember, your experience with every crystal is personal and unique. Embrace the journey with your Triple Protection Bracelet and discover the power it holds for you.


How To Use Triple Protection Bracelet?
Using the Triple Protection Bracelet is easy and integrates seamlessly with your daily routine. Here's how:
Wear it Everyday: This bracelet is designed to be worn on your wrist every day. It's not just a fashion accessory, it's a tool for energy work. The more you wear it, the more you can tap into its energy.

Meditation and Reflection: You can use this bracelet during your meditation sessions. Hold onto the bracelet and focus on the energies of the stones. Reflect on your intentions and what you want these stones to help you with.

Cleansing and Recharging: Just like any other crystals, the stones in your bracelet need cleansing and recharging too. You can cleanse them using sage smoke or by placing them under the moonlight. For recharging, place them on a bed of rock salt, or in sunlight.

Intention Setting: You can further enhance the power of your bracelet by setting intentions. Hold the bracelet in your hands, visualize your goal, and affirm your intention of what you want to manifest. This programs the crystals to work for you.

Pair with Other Crystals: Depending on your needs, you can pair your Triple Protection Bracelet with other crystals or wear them alongside other crystal bracelets to amplify specific energies.
Remember, the goal is to establish a connection between you and your Triple Protection Bracelet. The energy exchange becomes more potent the more you value and respect this connection.
Return/Refund Policy
Our return policy lasts for 5 days from the date of delivery. Kindly contact us for any return/refund/exchange within 5 days from the date of delivery.
Return policy is applicable in case of damaged/defective items only.
Item must be unused & packed in original packaging.
Item will be inspected before processing the refund/exchange.
To initiate your return & exchange please send us an email at support@crystaldivine.in with your order receipt and details of the products to be returned. Please also let us know the reason for the return. Your complaints will only be taken into consideration if contacted by email. (WhatsApp / Phone Calls etc. will not be considered as complaint channels).
Upon receiving the returned products, prepaid orders will be refunded as soon as our inspection team approves the return.
COD orders: Customers will be required to provide their bank details where they would like to receive the refund.
Click to Learn more about our return and exchange policy.
Shipping Policy
We aim to dispatch all orders within 24-48 hours. In case of missing items/ unavailability or delay, we will inform you via email or WhatsApp with the expected date of dispatch.
Most orders are delivered by our courier partners within 5-7 working days from the date of dispatch.
Shipping is free on paid orders above ₹1000.
There are no question found.