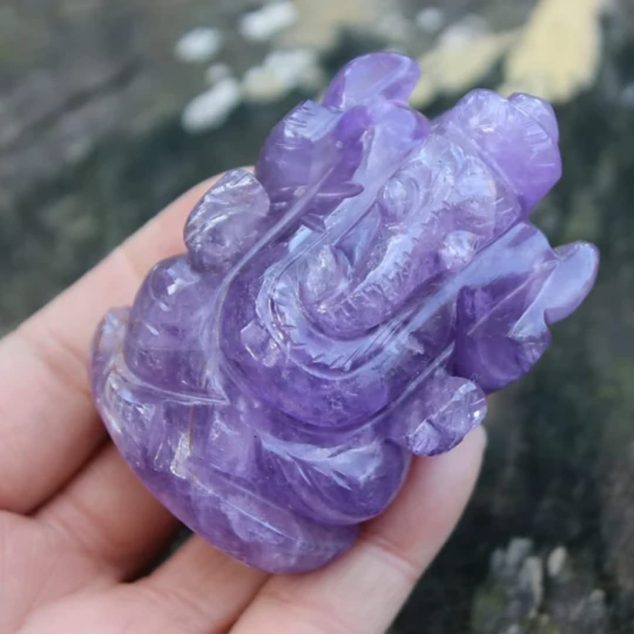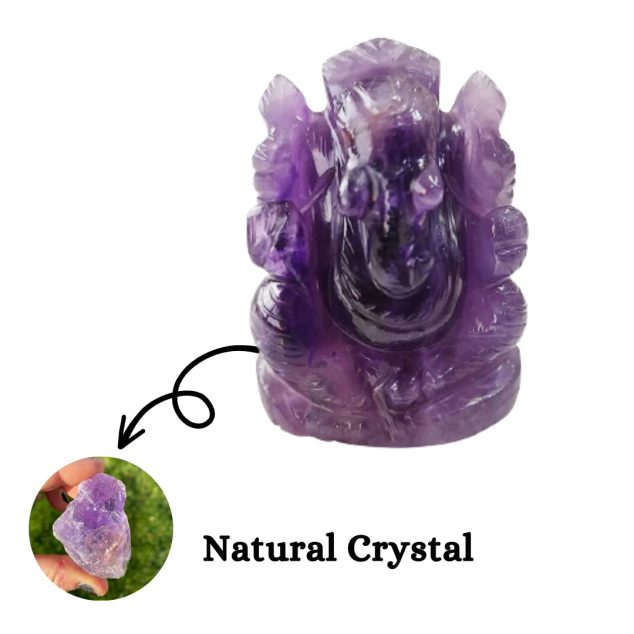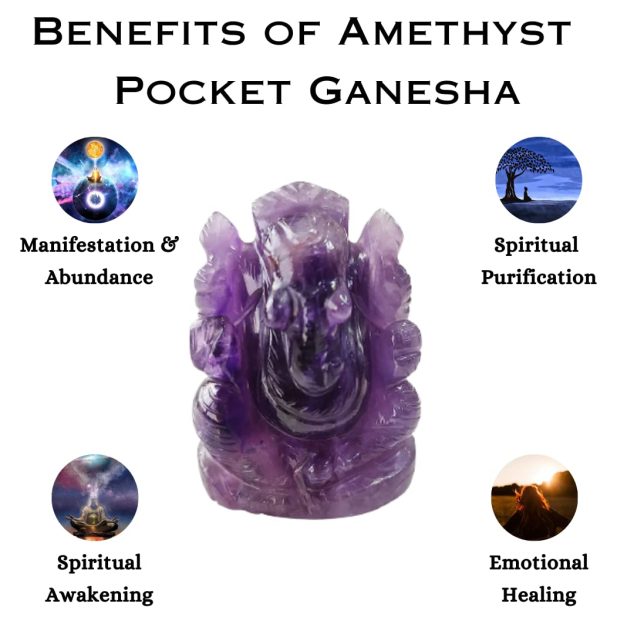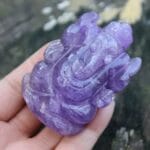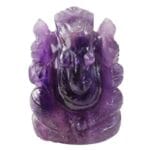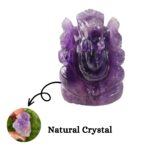 60
people are viewing this right now

Guaranteed safe & secure checkout
Description
The Amethyst Pocket Ganesha is a handcrafted idol embodying Lord Ganesha, made from the serene amethyst crystal. Celebrated for its deep violet hue and properties of tranquility, amethyst enhances spiritual insight and calms the mind. When combined with the obstacle-removing prowess of Ganesha, this piece becomes a powerful talisman, fostering clarity, intuition, and a protective aura for its bearer. Ideal for those seeking both spiritual connection and peace in their daily endeavors.
Benefits Of Amethyst Pocket Ganesha
Inner Peace: Amethyst's calming nature helps soothe the mind, reducing anxiety and stress.

Spiritual Growth: The crystal enhances one's spiritual connection, deepening meditation and intuition.

Overcoming Obstacles: With Ganesha's blessings, challenges are more easily navigated and resolved.

Enhanced Intuition: Amethyst boosts intuitive abilities, aiding in decision-making.

Protective Shield: This stone is known to ward off negative energies, ensuring you're surrounded by positivity.

Improved Sleep: Amethyst's tranquil vibrations can lead to deeper, more peaceful sleep.

Emotional Balance: It helps in balancing emotions and preventing mood swings.

Memory Enhancer: Holding the Amethyst Pocket Ganesha can aid in better recall and improved memory.

Detoxification: Traditionally, amethyst is believed to purify the body by flushing out toxins.

Daily Inspiration: The Pocket Ganesha serves as a daily reminder of divine support and the potential for personal growth.
With the Amethyst Pocket Ganesha, you embrace a tool of tranquility and spiritual elevation, making your journey through life more insightful and serene.


How To Use Amethyst Pocket Ganesha?
Daily Companion: Carry the Amethyst Pocket Ganesha in your bag or pocket, allowing its calming energies to accompany you throughout the day.

Meditation Guide: Hold it during meditation sessions to deepen your spiritual connection and heighten intuition.

Dream Enhancer: Place it under your pillow or on a bedside table to foster peaceful, insightful dreams.

Sacred Space: Incorporate it into your personal altar or prayer area, infusing the space with its serene vibrations.

Focus Tool: When faced with challenging decisions, hold the Pocket Ganesha, taking a moment to seek clarity and intuitive guidance.

Emotional Anchor: In moments of emotional turmoil or stress, grasp the Amethyst Pocket Ganesha to help stabilize and calm your emotions.

Protection Charm: Keep it on your workspace or study area to ward off negative energies and maintain a clear, focused environment.

Gifting Bliss: Present it as a thoughtful gift, sharing the blessings of Lord Ganesha and the tranquil energy of amethyst with loved ones.

Travel Guardian: Carry the Pocket Ganesha during travels to ensure protection and attract positive experiences.

Energetic Infusion: Periodically, set your intention by holding the Amethyst Pocket Ganesha, infusing it with your hopes and aspirations.
Incorporating the Amethyst Pocket Ganesha into your daily routines and spiritual practices brings a touch of divine clarity, protection, and tranquility into every facet of your life.
Return/Refund Policy
Our return policy lasts for 5 days from the date of delivery. Kindly contact us for any return/refund/exchange within 5 days from the date of delivery.
Return policy is applicable in case of damaged/defective items only.
Item must be unused & packed in original packaging.
Item will be inspected before processing the refund/exchange.
To initiate your return & exchange please send us an email at support@crystaldivine.in with your order receipt and details of the products to be returned. Please also let us know the reason for the return. Your complaints will only be taken into consideration if contacted by email. (WhatsApp / Phone Calls etc. will not be considered as complaint channels).
Upon receiving the returned products, prepaid orders will be refunded as soon as our inspection team approves the return.
COD orders: Customers will be required to provide their bank details where they would like to receive the refund.
Click to Learn more about our return and exchange policy.
Shipping Policy
We aim to dispatch all orders within 24-48 hours. In case of missing items/ unavailability or delay, we will inform you via email or WhatsApp with the expected date of dispatch.
Most orders are delivered by our courier partners within 5-7 working days from the date of dispatch.
Shipping is free on paid orders above ₹1000.
There are no question found.