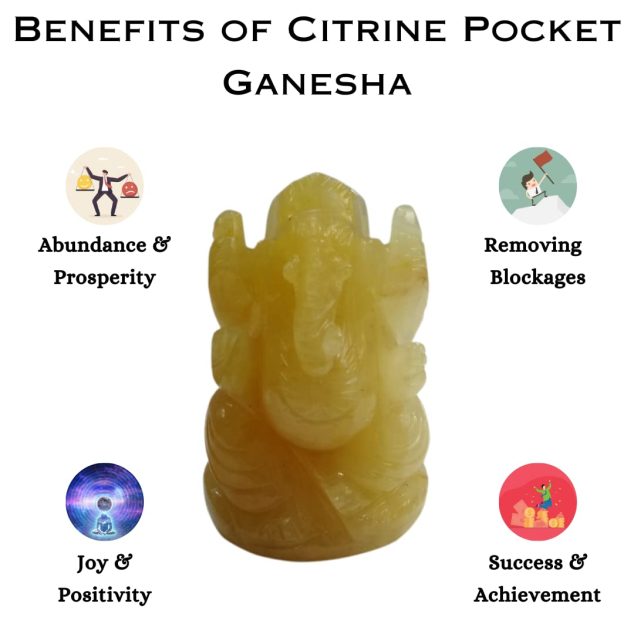 82
people are viewing this right now

Guaranteed safe & secure checkout
Description
The Citrine Pocket Ganesha is a small Ganesha statue made from the bright citrine stone. Citrine is known for bringing good luck and positive vibes. When combined with Ganesha, who is all about wisdom and removing problems, it becomes a powerful good luck charm. This little Ganesha is great for anyone wanting more success and happiness in their life.
Benefits Of Citrine Pocket Ganesha
Good Luck: Citrine is believed to bring luck, so carrying it can lead to good things happening.
Positive Energy: Helps you stay upbeat and look at the brighter side of things.
More Money: Many people believe citrine attracts wealth and opportunities.
Clear Mind: Helps you think clearly and make good decisions.
Confidence Boost: Holding or looking at it can give you a little extra push of confidence.
Happy Feelings: Citrine is known to chase away negative moods and bring in happiness.
Protection: Ganesha's presence can help keep away problems and challenges.
Having a Citrine Pocket Ganesha is like having a little sun in your pocket, always shining bright and bringing good vibes.


How To Use Citrine Pocket Ganesha?
In Your Pocket: Carry it with you for good luck and positive energy throughout the day.
On Your Desk: Place it where you work to attract success and keep a clear mind.
Beside Your Bed: Keep it near where you sleep for happy dreams and a bright start to your day.
Meditation Buddy: Hold it during meditation or prayer for a boost in focus and positivity.
Gift for Friends: Share its benefits by gifting it to someone who could use some good vibes.
Travel Partner: Take it on trips for an extra dose of protection and luck.
Special Spot: Put it in a special place in your home where you'll see it often, reminding you of its benefits.
Using a Citrine Pocket Ganesha is a simple way to bring a bit of sunshine and good luck into your day-to-day life.
Return/Refund Policy
Our return policy lasts for 5 days from the date of delivery. Kindly contact us for any return/refund/exchange within 5 days from the date of delivery.
Return policy is applicable in case of damaged/defective items only.
Item must be unused & packed in original packaging.
Item will be inspected before processing the refund/exchange.
To initiate your return & exchange please send us an email at support@crystaldivine.in with your order receipt and details of the products to be returned. Please also let us know the reason for the return. Your complaints will only be taken into consideration if contacted by email. (WhatsApp / Phone Calls etc. will not be considered as complaint channels).
Upon receiving the returned products, prepaid orders will be refunded as soon as our inspection team approves the return.
COD orders: Customers will be required to provide their bank details where they would like to receive the refund.
Click to Learn more about our return and exchange policy.
Shipping Policy
We aim to dispatch all orders within 24-48 hours. In case of missing items/ unavailability or delay, we will inform you via email or WhatsApp with the expected date of dispatch.
Most orders are delivered by our courier partners within 5-7 working days from the date of dispatch.
Shipping is free on paid orders above ₹1000.
There are no question found.