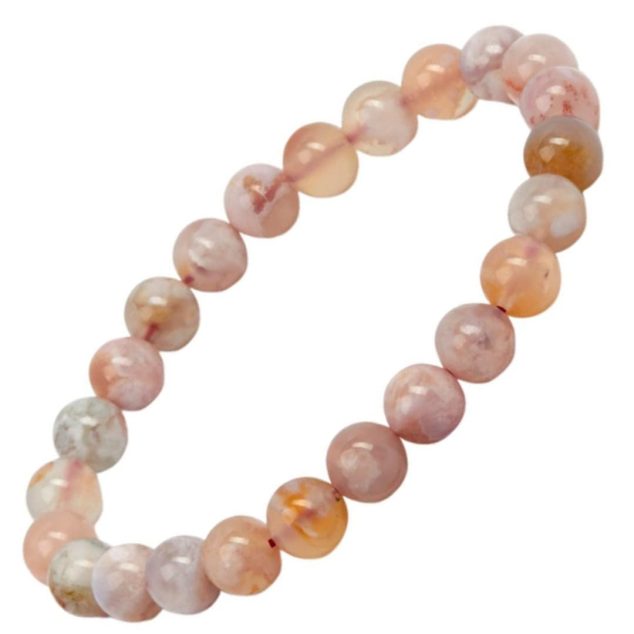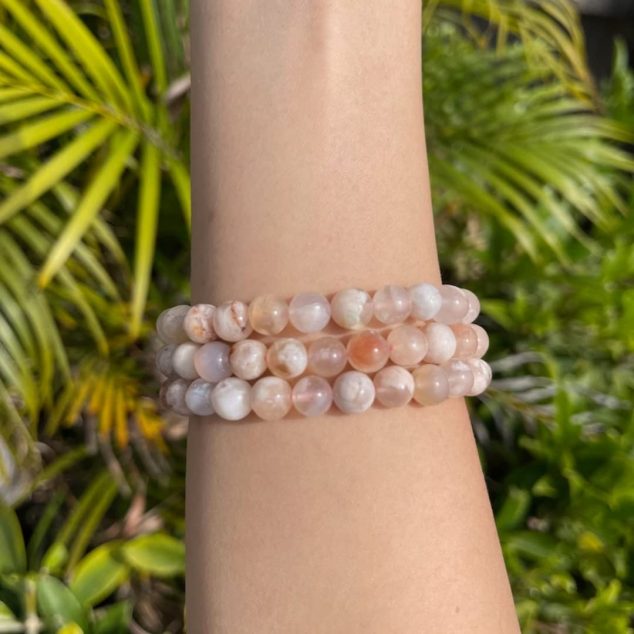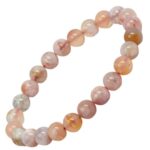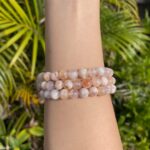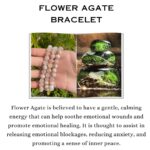 53
people are viewing this right now

Guaranteed safe & secure checkout
Description
The Flower Agate Bracelet is an elegant piece of jewelry made from a unique type of Agate known as Flower Agate. Known for its delicate, flower-like inclusions, Flower Agate emits a gentle and nurturing energy. Its soft pink color resonates with the heart chakra, promoting love and emotional healing.
This gemstone is said to inspire self-growth. Just like the flowers blooming in spring, the 'flower' patterns in the Agate serve as a reminder that we always have the potential to grow and blossom into a better version of ourselves.
The bracelet made from this beautiful crystal can be worn as a piece of jewelry to enhance your style while simultaneously providing a sense of inner peace and harmony. Whether you're a crystal enthusiast or simply drawn to its beauty, the Flower Agate bracelet can be a meaningful addition to your collection.


Benefits Of Flower Agate Bracelet
Wearing a Flower Agate Bracelet is believed to bring a variety of benefits:
Promotes Self-Growth: The Flower Agate's distinctive patterns inspire personal growth and development. It's a great stone for those looking to make a positive change in their life or embark on a new endeavor.

Fosters Emotional Healing: Its soft and nurturing energy can help to heal emotional pain, assisting in resolving inner baggage and providing emotional balance.

Boosts Confidence: Flower Agate is said to encourage self-confidence and belief in one's own potential, making it perfect for those needing a confidence boost.

Encourages Positivity: The stone's harmonious energy helps promote positivity, eliminating negativity and creating a balanced, joyful outlook.

Enhances Intuition: Flower Agate can help one connect to their intuition, making it an ideal companion for those seeking to improve their intuitive abilities.

Fosters a Sense of Security and Safety: The bracelet can provide a sense of comfort and security, which can be particularly beneficial in times of stress or uncertainty.
Remember, while crystals can complement your spiritual practices or daily life, they should never replace professional advice or treatment. Enjoy the journey with your Flower Agate bracelet and let its soft energy guide you to a path of growth and healing.


How To Use Flower Agate Bracelet?
Using a Flower Agate bracelet is quite straightforward:
Wear It: The simplest way to use a Flower Agate bracelet is to wear it on your wrist. By having it on your body, you allow its energy to connect with your own. You can wear it on your left hand for absorbing its energy or on your right hand for removing or releasing energies.

Meditation: You can hold the Flower Agate bracelet in your hand while meditating. Visualize its energy flowing into your body and permeating every cell, providing calmness, confidence, and positive growth.

Setting Intentions: Hold the bracelet in your hand and set an intention or a goal. The bracelet is said to absorb your intention and help manifest it in your life.

Place under Pillow: Some people place their Flower Agate bracelet under their pillow before sleeping. This is believed to promote peaceful sleep and positive dreams.

Cleansing: Don't forget to cleanse your bracelet regularly. You can do this by placing it under the moonlight, smudging it with sage, or using a cleansing crystal like Selenite.
Remember, the way you choose to use your Flower Agate bracelet will depend on your personal preference and what feels right for you. Trust your intuition and enjoy the journey with your crystal.
Return/Refund Policy
Our return policy lasts for 5 days from the date of delivery. Kindly contact us for any return/refund/exchange within 5 days from the date of delivery.
Return policy is applicable in case of damaged/defective items only.
Item must be unused & packed in original packaging.
Item will be inspected before processing the refund/exchange.
To initiate your return & exchange please send us an email at support@crystaldivine.in with your order receipt and details of the products to be returned. Please also let us know the reason for the return. Your complaints will only be taken into consideration if contacted by email. (WhatsApp / Phone Calls etc. will not be considered as complaint channels).
Upon receiving the returned products, prepaid orders will be refunded as soon as our inspection team approves the return.
COD orders: Customers will be required to provide their bank details where they would like to receive the refund.
Click to Learn more about our return and exchange policy.
Shipping Policy
We aim to dispatch all orders within 24-48 hours. In case of missing items/ unavailability or delay, we will inform you via email or WhatsApp with the expected date of dispatch.
Most orders are delivered by our courier partners within 5-7 working days from the date of dispatch.
Shipping is free on paid orders above ₹1000.
There are no question found.