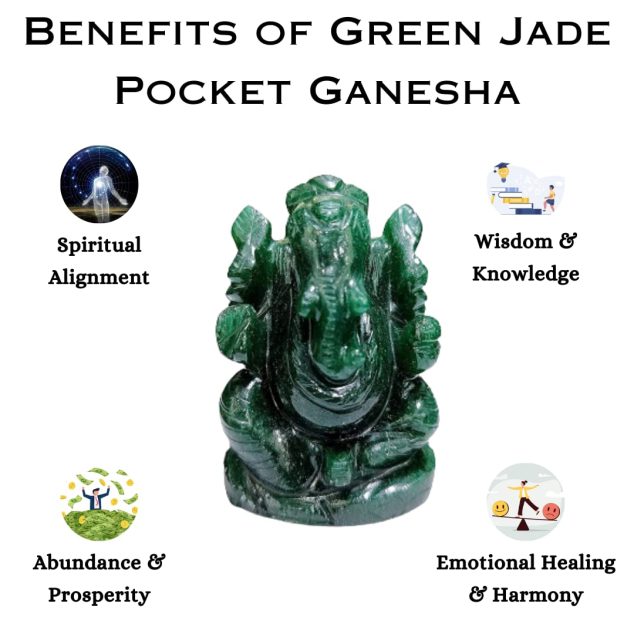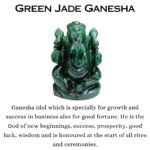 Green Jade Pocket Ganesha
64
people are viewing this right now

Guaranteed safe & secure checkout
Description
Green Jade Pocket Ganesha
The Green Jade Pocket Ganesha is a small idol representing Lord Ganesha, crafted from green jade – a crystal known for attracting prosperity and promoting emotional balance. This combination imbues the holder with both the protective and obstacle-removing powers of Ganesha and the calming, luck-enhancing properties of green jade. Ideal for those seeking harmony, good fortune, and a touch of divine guidance in their daily lives.


Benefits Of Green Jade Pocket Ganesha
Harmony and Balance: Green jade's calming energy promotes emotional well-being and equilibrium.
Attracts Prosperity: Known to draw in abundance, green jade in the form of Lord Ganesha amplifies this attribute.
Protection and Guidance: With Lord Ganesha's blessings, obstacles are removed, ensuring a smoother life journey.
Heart Chakra Healing: Green jade resonates with the heart chakra, encouraging love and compassion.
Stress Reduction: The soothing energy of green jade helps in relieving stress and anxiety.
Boosts Confidence: By clearing negativity, it instills a sense of confidence and purpose.
Physical Healing: Traditional beliefs credit green jade with supporting kidney function and detoxification.
Enhanced Meditation: Holding the Green Jade Pocket Ganesha during meditation can aid in attaining a deeper state of tranquility.
Pocket-Sized Positivity: Easy to carry, ensuring you have a constant source of positive energy wherever you go.
Symbol of Good Luck: Both Ganesha and green jade are symbols of good luck, making this a powerful talisman for attracting fortune.
With the Green Jade Pocket Ganesha, you get the dual benefits of the revered deity's blessings and the healing properties of the green jade crystal, making it a valuable companion in life's journey.
How To Use Green Jade Pocket Ganesha?
Carry It Daily: Keep the Green Jade Pocket Ganesha in your purse, pocket, or bag to benefit from its continuous positive energy throughout the day.

Meditation Aid: Hold the Pocket Ganesha in your hand during meditation to enhance focus, invite tranquility, and connect with the deity's energy.

Workplace Companion: Place it on your office desk or workspace to invite prosperity and ward off negativity or stress.

Bedside Guardian: Keep it on your bedside table to ensure peaceful sleep and to protect against bad dreams.

Personal Altar: If you have a personal space or altar for prayer or reflection, place the Pocket Ganesha there to amplify its energies.

Affirmation Enhancer: While holding the Green Jade Pocket Ganesha, state your intentions or affirmations to charge it with your goals, making it a tool for manifestation.

Gift of Positivity: Gift it to loved ones on special occasions to share the blessings of Lord Ganesha and the beneficial properties of green jade.

Travel Protector: When traveling, keep the Pocket Ganesha with you to ensure safety and attract positive experiences.

Healing Sessions: If you indulge in energy or crystal healing sessions, include the Green Jade Pocket Ganesha for added healing properties.

Stress Reliever: Whenever you feel overwhelmed or anxious, simply hold the Pocket Ganesha, close your eyes, and take a few deep breaths, allowing its soothing energy to calm you.
By incorporating the Green Jade Pocket Ganesha into various aspects of your daily life, you invite the blessings of Lord Ganesha and the calming, prosperous energy of green jade to guide, protect, and uplift you.
Return/Refund Policy
Our return policy lasts for 5 days from the date of delivery. Kindly contact us for any return/refund/exchange within 5 days from the date of delivery.
Return policy is applicable in case of damaged/defective items only.
Item must be unused & packed in original packaging.
Item will be inspected before processing the refund/exchange.
To initiate your return & exchange please send us an email at support@crystaldivine.in with your order receipt and details of the products to be returned. Please also let us know the reason for the return. Your complaints will only be taken into consideration if contacted by email. (WhatsApp / Phone Calls etc. will not be considered as complaint channels).
Upon receiving the returned products, prepaid orders will be refunded as soon as our inspection team approves the return.
COD orders: Customers will be required to provide their bank details where they would like to receive the refund.
Click to Learn more about our return and exchange policy.
Shipping Policy
We aim to dispatch all orders within 24-48 hours. In case of missing items/ unavailability or delay, we will inform you via email or WhatsApp with the expected date of dispatch.
Most orders are delivered by our courier partners within 5-7 working days from the date of dispatch.
Shipping is free on paid orders above ₹1000.
There are no question found.