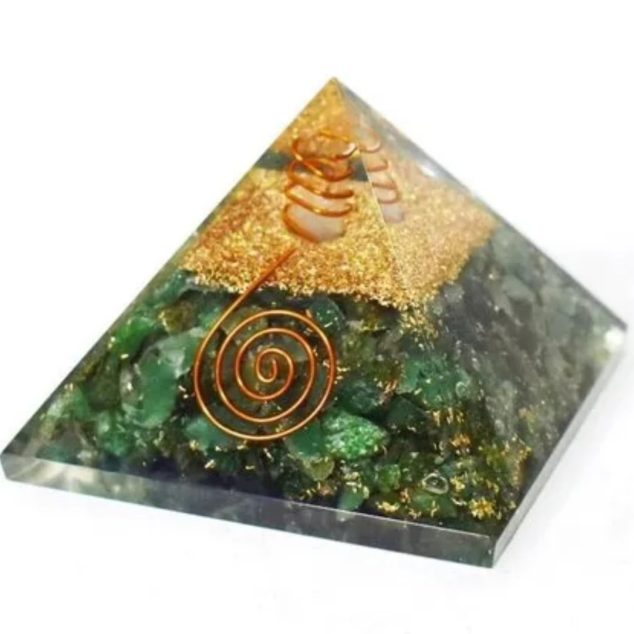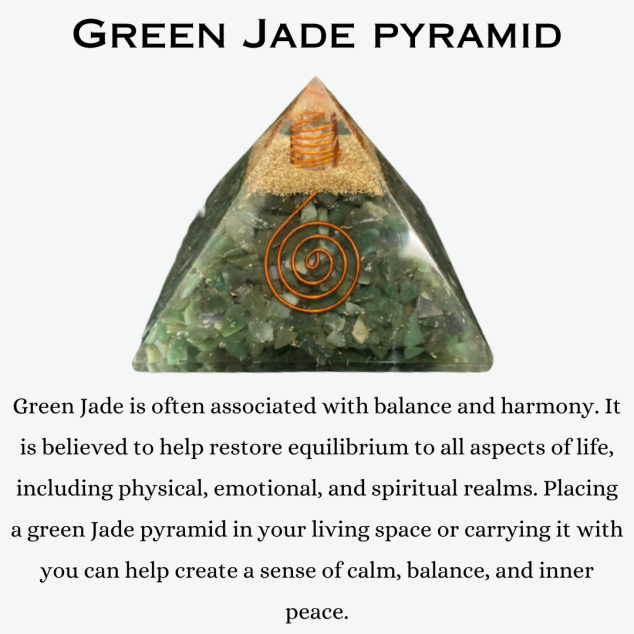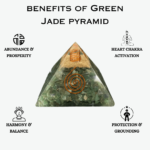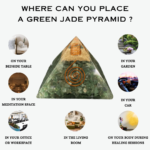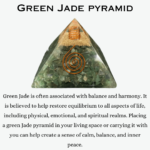 76
people are viewing this right now

Guaranteed safe & secure checkout
Description
The Green Jade Pyramid is a pretty little piece made from calming green jade and a shiny copper wire inside. Loved for its soothing green color, jade is often linked with peace and good luck. When shaped into a pyramid, it's like a beacon of good vibes. Inside, the copper wire adds an extra touch, believed to boost these positive vibes even more. This Green Jade Pyramid isn't just a charming decoration, but also a friendly little piece that could bring some balance and calm into your space.


Benefit Of Green Jade Pyramid
Good Vibes: The Green Jade Pyramid can help fill your space with a calming and positive atmosphere.
Bring in the Luck: Known for bringing good luck, having a Green Jade Pyramid might give you a little boost when you need it.
Peace and Calm: The peaceful vibes from the Green Jade Pyramid can make it easier for you to relax and unwind.
Balance in Life: Green Jade is often linked with balance. Having a Green Jade Pyramid around might help you feel more in harmony with life.
Boosts Energy: The pyramid shape, especially with the added copper wire, is thought to amplify the jade's natural energy, adding a little extra pep to your space.
How To Use Green Jade Pyramid?
here's how you can use the Green Jade Pyramid:
Visualize Your Goals: Hold the Green Jade Pyramid while imagining what you wish to achieve. It's like a focus point for your aspirations.

Enhance Your Workspace: Place the pyramid on your desk or work area. It can add a nice calming touch and possibly bring good vibes to your work.

Meditation Partner: Use the pyramid during your meditation or relaxation time. It's a quiet companion, helping to create a peaceful space.

Brighten Up Your Room: The Green Jade Pyramid isn't just practical, it's beautiful too. Its green shade can make any space feel more comfortable and balanced.

Create a Calm Corner: If there's a space in your home where you need a little peace, place the Green Jade Pyramid there. It's like adding a small pocket of calm.
Remember to let your Green Jade Pyramid catch some sunlight or moonlight once in a while to keep it at its best!
Return/Refund Policy
Our return policy lasts for 5 days from the date of delivery. Kindly contact us for any return/refund/exchange within 5 days from the date of delivery.
Return policy is applicable in case of damaged/defective items only.
Item must be unused & packed in original packaging.
Item will be inspected before processing the refund/exchange.
To initiate your return & exchange please send us an email at support@crystaldivine.in with your order receipt and details of the products to be returned. Please also let us know the reason for the return. Your complaints will only be taken into consideration if contacted by email. (WhatsApp / Phone Calls etc. will not be considered as complaint channels).
Upon receiving the returned products, prepaid orders will be refunded as soon as our inspection team approves the return.
COD orders: Customers will be required to provide their bank details where they would like to receive the refund.
Click to Learn more about our return and exchange policy.
Shipping Policy
We aim to dispatch all orders within 24-48 hours. In case of missing items/ unavailability or delay, we will inform you via email or WhatsApp with the expected date of dispatch.
Most orders are delivered by our courier partners within 5-7 working days from the date of dispatch.
Shipping is free on paid orders above ₹1000.
There are no question found.