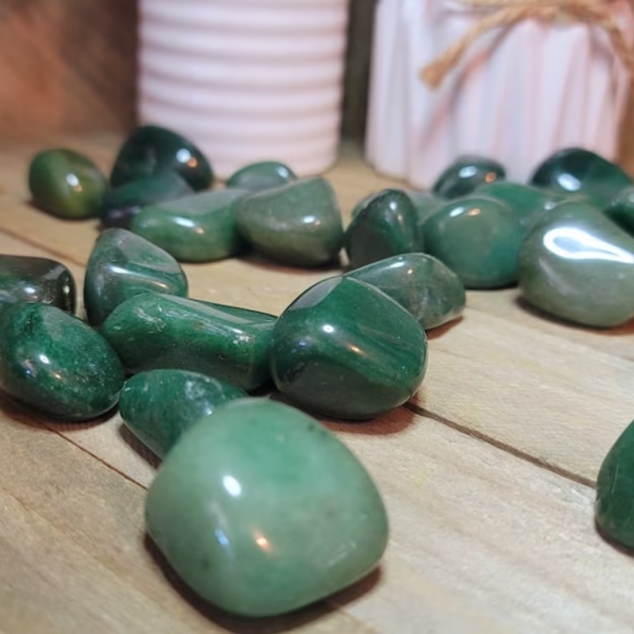 54
people are viewing this right now

Guaranteed safe & secure checkout
Description
Green Jade, often simply known as Jade, is a beautiful, deep green crystal that has been cherished for centuries across various cultures for its aesthetic and metaphysical properties. Jade tumble stones are small, usually rounded pieces of this crystal that have been tumbled and polished until they have a smooth, shiny surface. These compact, tactile stones are popular for their beauty and the beneficial energies they're believed to carry. People enjoy Jade tumble stones not only as collectibles or decorative items but also for their spiritual and emotional significance. Jade is associated with harmony, balance, and prosperity, making it a lovely addition to any crystal collection.


Benefits Of Green Jade Tumble Stone

Green Jade is associated with various beneficial properties, and here are some reasons why people appreciate Green Jade tumble stones:
Harmony and Balance: Green Jade is associated with promoting harmony and balance in one's life. It's thought to help its user find a peaceful equilibrium in their thoughts and emotions.

Prosperity and Good Fortune: Many cultures value Green Jade as a symbol of prosperity and good luck. Having it around may just bring a little extra fortune into your life.

Heart Health: In the realm of healing energies, Green Jade is linked to the heart chakra and is believed to support emotional and physical heart health.

Stress Relief: Holding and rubbing a Green Jade tumble stone is thought to help reduce stress and anxiety, contributing to a calm mind and improved overall well-being.

Connection with Nature: The rich, vibrant green of this crystal is a reminder of the natural world, and it's said to help strengthen our connection to nature and its calming, grounding influences.
Remember, while many people find these benefits in Green Jade, everyone's experience with crystals is personal. Feel free to explore and discover how Green Jade resonates with you!


How To Use Green Jade Tumble Stone?
Using a Green Jade tumble stone is easy and can be incorporated into your daily life in multiple ways:
Meditation: Hold the Green Jade tumble stone in your hand during meditation. Its calming energy can aid in creating a peaceful environment for mindfulness.

Wear It: You can wear Green Jade tumble stones as jewelry, like in a pendant or a bracelet. This way, you can keep it close to your body and feel its calming energy throughout the day.

Place It in Your Environment: You can place the Green Jade tumble stone in your living or working space. It's believed to bring harmony and balance to the surroundings.

Carry It with You: Carry the tumble stone in your pocket or purse so that you can touch and hold it whenever you need a calming influence in your day.
Remember, it's essential to cleanse your Green Jade tumble stone regularly to maintain its positive energy. This can be done by placing it under running water, leaving it under moonlight, or using other crystals like Selenite.
And most importantly, enjoy your journey with Green Jade, discovering the ways in which it can bring peace and positivity into your life.
Return/Refund Policy
Our return policy lasts for 5 days from the date of delivery. Kindly contact us for any return/refund/exchange within 5 days from the date of delivery.
Return policy is applicable in case of damaged/defective items only.
Item must be unused & packed in original packaging.
Item will be inspected before processing the refund/exchange.
To initiate your return & exchange please send us an email at support@crystaldivine.in with your order receipt and details of the products to be returned. Please also let us know the reason for the return. Your complaints will only be taken into consideration if contacted by email. (WhatsApp / Phone Calls etc. will not be considered as complaint channels).
Upon receiving the returned products, prepaid orders will be refunded as soon as our inspection team approves the return.
COD orders: Customers will be required to provide their bank details where they would like to receive the refund.
Click to Learn more about our return and exchange policy.
Shipping Policy
We aim to dispatch all orders within 24-48 hours. In case of missing items/ unavailability or delay, we will inform you via email or WhatsApp with the expected date of dispatch.
Most orders are delivered by our courier partners within 5-7 working days from the date of dispatch.
Shipping is free on paid orders above ₹1000.
There are no question found.