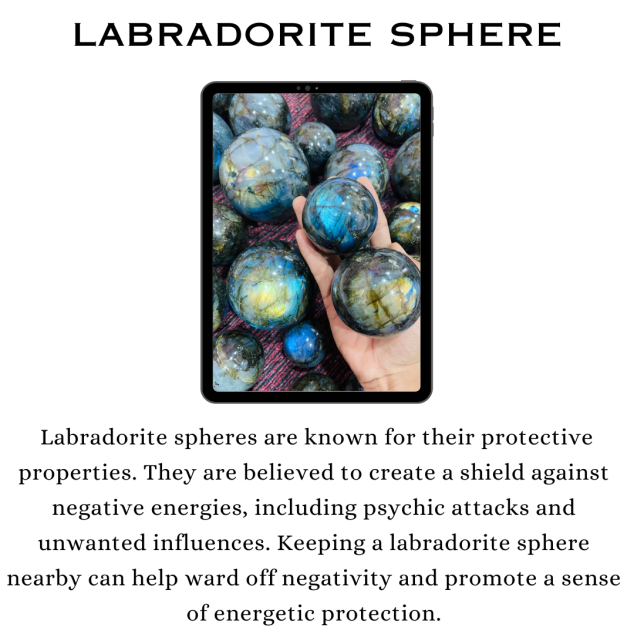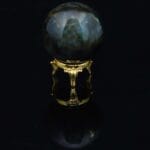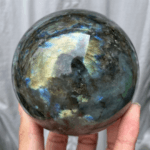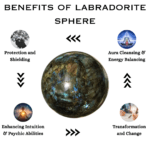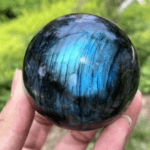 Labradorite Sphere (Protection and Grounding)
85
people are viewing this right now

Guaranteed safe & secure checkout
Description
Labradorite sphere is a gemstone sphere made from a mineral called labradorite. Labradorite is a feldspar mineral that is typically gray or black with iridescent flashes of blue, green, yellow, and sometimes purple.
The sphere is a three-dimensional shape that is round and resembles a ball. The sphere shape allows the energy of the stone to radiate outwards in all directions, making it a popular choice for energy healing and meditation.
Labradorite spheres are believed to have various metaphysical properties, such as providing protection against negativity, enhancing intuition and spiritual awareness, and promoting clarity of thought and creativity. They are also appreciated for their natural beauty and can be used as decorative objects or as part of a crystal collection.
Benefit of Labradorite Sphere
Protection: This sphere provide a protective shield against negative energies, psychic attacks, and unwanted influences.

Enhancing intuition: Enhance intuition and spiritual awareness, making it an ideal stone for meditation and spiritual practices.

Promoting clarity of thought: Believed to help clear and balance the mind, promoting mental clarity and focus.

Boosting creativity: This Sphere is believed to stimulate creativity and imagination, making it a useful tool for artists and writers.

Relieving anxiety: Help calm the mind and ease anxiety, providing a sense of peace and tranquility.

Balancing chakras: Labradorite sphere is believed to be a powerful stone for balancing the chakras, helping to align and harmonize the energy centers of the body.

Enhancing communication: Labradorite sphere is thought to help improve communication skills and promote self-expression.
Overall, This sphere is a versatile and powerful stone that can provide a range of physical, emotional, and spiritual benefits.
How to use Labradorite Sphere?
Energy healing: This sphere can be used in energy healing sessions to promote healing and balance in the body. Place the sphere on or near the area of the body that needs healing, or hold it in your hand while visualizing the energy flowing through your body.

Meditation: Hold the sphere in your hand or place it in front of you during meditation. Focus on the stone's energy and allow it to help you connect with your inner self and enhance your intuition.

Home decor: This sphere can be used as a beautiful and energizing decoration in your home or workspace. Place it on a shelf or table where you can see and appreciate its beauty.

Crystal grids: You can use this crystal in grids to enhance the energy and properties of other stones in the grid. Place the sphere in the center of the grid and arrange other stones around it.

Personal empowerment: Carry a sphere with you throughout the day to help protect you from negative energies and promote self-confidence and empowerment.
Remember to cleanse and recharge your Labradorite sphere regularly to keep its energy clear and strong. You can do this by running it under cold water or leaving it in sunlight or moonlight for several hours.
Return/Refund Policy
Our return policy lasts for 5 days from the date of delivery. Kindly contact us for any return/refund/exchange within 5 days from the date of delivery.
Return policy is applicable in case of damaged/defective items only.
Item must be unused & packed in original packaging.
Item will be inspected before processing the refund/exchange.
To initiate your return & exchange please send us an email at support@crystaldivine.in with your order receipt and details of the products to be returned. Please also let us know the reason for the return. Your complaints will only be taken into consideration if contacted by email. (WhatsApp / Phone Calls etc. will not be considered as complaint channels).
Upon receiving the returned products, prepaid orders will be refunded as soon as our inspection team approves the return.
COD orders: Customers will be required to provide their bank details where they would like to receive the refund.
Click to Learn more about our return and exchange policy.
Shipping Policy
We aim to dispatch all orders within 24-48 hours. In case of missing items/ unavailability or delay, we will inform you via email or WhatsApp with the expected date of dispatch.
Most orders are delivered by our courier partners within 5-7 working days from the date of dispatch.
Shipping is free on paid orders above ₹1000.
There are no question found.