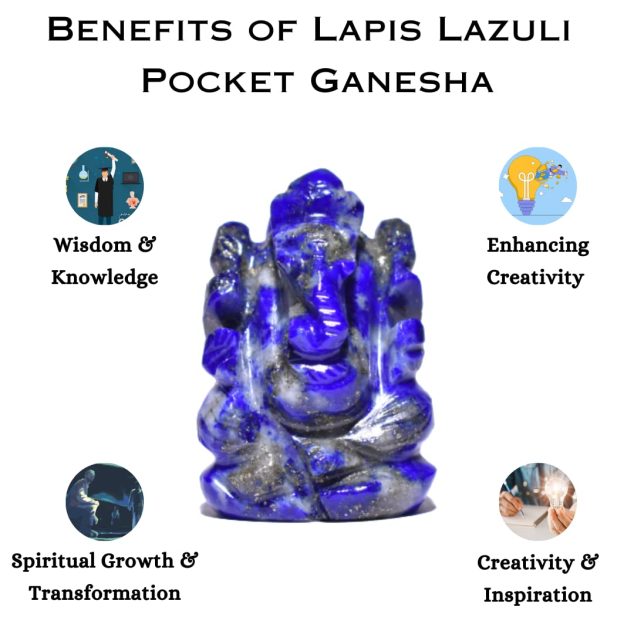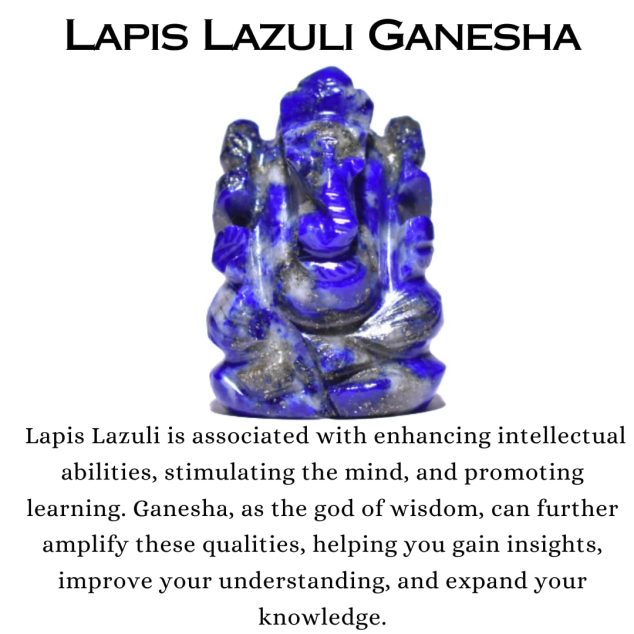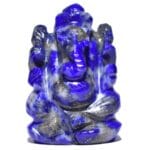 Lapis Lazuli Pocket Ganesha
65
people are viewing this right now

Guaranteed safe & secure checkout
Description
Lapis Lazuli Pocket Ganesha
The Lapis Lazuli Pocket Ganesha is a captivating figure of Lord Ganesha crafted from the striking blue lapis lazuli stone. Revered for its deep, celestial blue hue, lapis lazuli symbolizes wisdom, truth, and understanding. Combined with Ganesha's blessings, this piece stands as an emblem of clarity, enlightenment, and the removal of life's obstacles. It's a cherished token for those seeking insight and a deeper connection to their inner truth.
Benefits Of Lapis Lazuli Pocket Ganesha
Enhanced Intuition: Lapis lazuli can help sharpen your inner instincts and guide you towards better decisions.
Wisdom and Knowledge: This stone, paired with Ganesha's blessings, promotes understanding and insight.
Stress Relief: Lapis lazuli's calming nature helps alleviate stress and anxiety, providing mental peace.
Improved Communication: The stone assists in expressing feelings and thoughts more clearly and confidently.
Overcoming Challenges: Ganesha's presence ensures obstacles are easier to overcome with grace and wisdom.
Boosts Creativity: Lapis lazuli can inspire fresh thoughts and ideas, encouraging creative expression.
Deepens Meditation: Enhances spiritual exploration and connection when used during meditation sessions.
Protection from Negativity: Both lapis lazuli and Ganesha protect from negative energies and harmful intentions.
Fosters Honesty: Lapis lazuli encourages truthfulness, both with oneself and with others.
Having the Lapis Lazuli Pocket Ganesha is like carrying a beacon of wisdom, intuition, and protective energy with you wherever you go.


How To Use Lapis Lazuli Pocket Ganesha?
Daily Companion: Carry it in your pocket or purse to benefit from its wisdom-enhancing energies throughout the day.
Personal Altar: Place the Ganesha on a sacred space at home, focusing on your intentions while offering prayers or meditations.
Study Aid: Keep it by your side during learning sessions or while working to enhance focus and understanding.
Bedtime Buddy: Place it on your nightstand to promote peaceful sleep and insightful dreams.
Writing Partner: Have it near you when journaling or writing to inspire clarity and creativity in your thoughts.
Conversation Starter: Display it on your desk at work to boost communication skills and serve as a unique talking point with colleagues.
Gift of Insight: Offer the Lapis Lazuli Ganesha to a friend or loved one to share its empowering energies.
Meditation Enhancer: Hold or keep the Ganesha close during meditation to deepen your spiritual connection and understanding.
Chakra Alignment: Use it in chakra balancing practices, especially focusing on the third eye for intuition and insight.
By integrating the Lapis Lazuli Pocket Ganesha into your daily life, you can harness its energies for wisdom, communication, and a deeper connection to your inner self.
Return/Refund Policy
Our return policy lasts for 5 days from the date of delivery. Kindly contact us for any return/refund/exchange within 5 days from the date of delivery.
Return policy is applicable in case of damaged/defective items only.
Item must be unused & packed in original packaging.
Item will be inspected before processing the refund/exchange.
To initiate your return & exchange please send us an email at support@crystaldivine.in with your order receipt and details of the products to be returned. Please also let us know the reason for the return. Your complaints will only be taken into consideration if contacted by email. (WhatsApp / Phone Calls etc. will not be considered as complaint channels).
Upon receiving the returned products, prepaid orders will be refunded as soon as our inspection team approves the return.
COD orders: Customers will be required to provide their bank details where they would like to receive the refund.
Click to Learn more about our return and exchange policy.
Shipping Policy
We aim to dispatch all orders within 24-48 hours. In case of missing items/ unavailability or delay, we will inform you via email or WhatsApp with the expected date of dispatch.
Most orders are delivered by our courier partners within 5-7 working days from the date of dispatch.
Shipping is free on paid orders above ₹1000.
There are no question found.