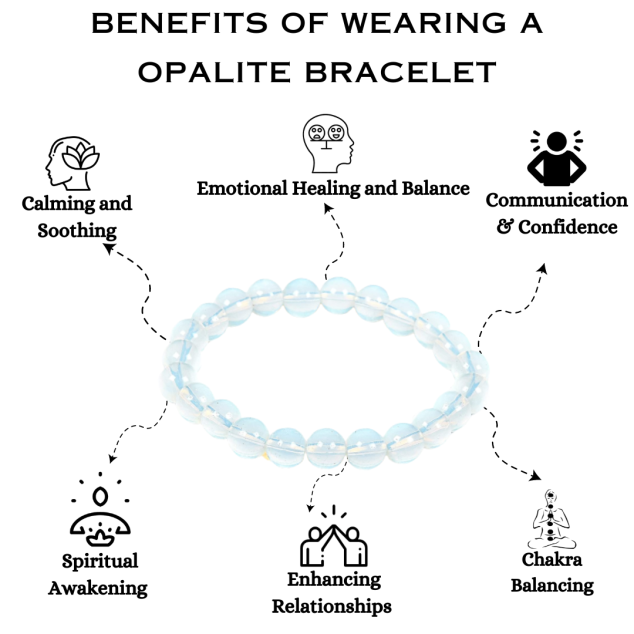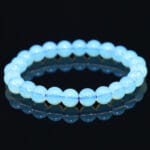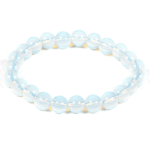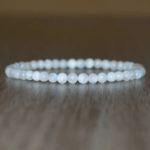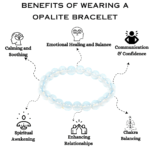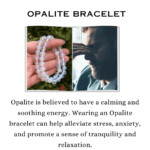 55
people are viewing this right now

Guaranteed safe & secure checkout
Description
An Opalite Bracelet is a captivating piece of jewelry that draws attention with its opalescent and iridescent appearance. Made from Opalite, a man-made crystal that beautifully mimics the properties of natural opals, these bracelets are loved for their serene energy. Often clear or milky in color, they exhibit a fascinating play of colors that seems to glow when light shines through them.
Aside from its aesthetic allure, Opalite is cherished for its metaphysical properties. An Opalite Bracelet is a tool for spiritual communication, personal power, and emotional expression. It's a wonderful accessory for those who seek to express their true selves more openly and fearlessly. It is believed to enhance your psychic abilities, bring forth your hidden talents, and aid in major transitions. Wearing an Opalite Bracelet can make you feel more balanced and calm, filling your life with tranquility and positive energies.


Benefits Of Opalite Bracelet

Wearing an Opalite Bracelet is a fantastic way to connect with the stone's beneficial energies. Here's how you can use it:
Wear it on your dominant hand: To absorb the maximum benefits of Opalite, wear the bracelet on your dominant hand, the hand you use the most. This allows the positive energies of the stone to merge with your personal energy field more effectively.

Use it during meditation: Hold onto your Opalite Bracelet while meditating to enhance your spiritual connection and deepen your meditation. It can help open your third eye chakra, increasing your intuitive abilities.

Carry it with you: Opalite's beneficial properties extend beyond the moments of wearing the bracelet. Carry it with you in your pocket or purse, so you are always surrounded by its positive energy. It's believed to be especially helpful during moments of transition or change.

Cleanse it regularly: Like all gemstones, Opalite absorbs energies from its surroundings. Ensure that it's working at its best by cleansing it regularly. This can be done by smudging the bracelet with sage or bathing it in moonlight overnight.

Set an intention: When you first get your Opalite Bracelet, hold it in your hands, close your eyes and set a personal intention. The stone is believed to hold onto your intention, amplifying it whenever you're wearing the bracelet.
Incorporating the Opalite Bracelet into your daily routine can be a beautiful way to connect with its calming and invigorating energies. Enjoy the journey as you explore what this unique stone can offer!


How To Use Opalite Bracelet?
Using your Opalite bracelet can be a soothing and enjoyable process. Here's a straightforward way to do it:
Wear It Daily: To make the most of your Opalite bracelet, wear it daily. It's believed that Opalite can offer continuous support and energy when worn regularly.

Meditation: Hold your Opalite bracelet in your hands during meditation. This stone is known for its spiritual benefits and can help improve your meditation sessions.

Carry It Around: When you're not wearing your bracelet, keep it close. Carry it in your bag or pocket so its positive energies can still reach you.

Cleanse Your Bracelet: Ensure your Opalite bracelet stays clear of negative energies by regularly cleansing it. You can cleanse it by placing it under moonlight overnight.

Set Intentions: When you first receive your Opalite bracelet, set an intention for what you want to achieve or feel while wearing it. This personalizes the experience and can make the bracelet even more special to you.
Remember to take care of your Opalite bracelet, and it will take care of you. Enjoy the comforting energies and intriguing beauty this unique bracelet has to offer!
Return/Refund Policy
Our return policy lasts for 5 days from the date of delivery. Kindly contact us for any return/refund/exchange within 5 days from the date of delivery.
Return policy is applicable in case of damaged/defective items only.
Item must be unused & packed in original packaging.
Item will be inspected before processing the refund/exchange.
To initiate your return & exchange please send us an email at support@crystaldivine.in with your order receipt and details of the products to be returned. Please also let us know the reason for the return. Your complaints will only be taken into consideration if contacted by email. (WhatsApp / Phone Calls etc. will not be considered as complaint channels).
Upon receiving the returned products, prepaid orders will be refunded as soon as our inspection team approves the return.
COD orders: Customers will be required to provide their bank details where they would like to receive the refund.
Click to Learn more about our return and exchange policy.
Shipping Policy
We aim to dispatch all orders within 24-48 hours. In case of missing items/ unavailability or delay, we will inform you via email or WhatsApp with the expected date of dispatch.
Most orders are delivered by our courier partners within 5-7 working days from the date of dispatch.
Shipping is free on paid orders above ₹1000.
There are no question found.