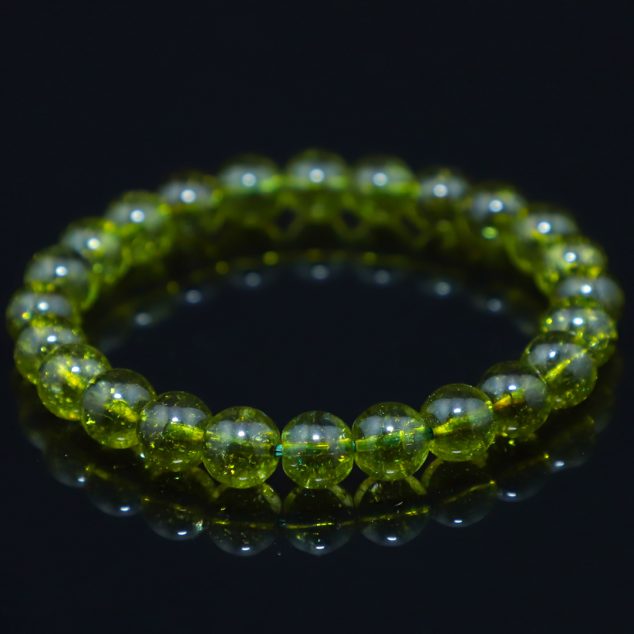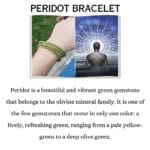 75
people are viewing this right now

Guaranteed safe & secure checkout
Description
The Peridot Bracelet shines with a bright green glow, catching eyes and turning heads wherever it's worn. These green stones, known as peridot, have a fresh look that can remind you of new leaves in springtime.
Beyond just looking pretty, the peridot is also said to bring good vibes. Some people believe it can cheer you up and bring more joy to your day. So, when you wear this bracelet, you're not only adding a splash of color to your outfit but also wrapping yourself in positive energy.


Benefits Of Peridot Bracelet

Joyful Vibes: Peridot, often known as the 'evening emerald', might bring a sense of happiness and joy to the wearer, lightening their mood.
Natural Stress Reliever: Revered for its calming energies, the Peridot can help soothe tensions and reduce feelings of anger or jealousy.
Protection Shield: Historically, Peridot was considered a protective stone. Wearing this bracelet could act as a shield, guarding against negative energies.
Connection with Nature: The fresh green hue of Peridot mirrors the colors of nature. This bracelet can serve as a reminder of nature's serenity and beauty.
Boosts Confidence: Peridot is believed to enhance confidence and assertiveness, without veering into arrogance.
Fosters Emotional Growth: The stone is said to encourage personal growth, helping the wearer understand their past traumas and emotional wounds.
Renewal and Purity: Representing purity and renewal, wearing the Peridot Bracelet might remind you of the possibility of new beginnings and fresh starts.
While the Peridot Bracelet is crafted with care and intention, it's essential to note that the actual benefits can vary for each individual. The bracelet is meant to support and inspire you, but the real change often comes with personal effort and belief.


How To Use
Peridot

Bracelet?
Cleansing: Before using your Peridot Bracelet for the first time, cleanse it to remove any lingering energies. This can be done by placing it under moonlight overnight or smudging it with sage.

Intention Setting: Hold the bracelet in your hands, close your eyes, and set a clear intention or wish for what you hope to achieve with its assistance. This personalizes the bracelet to your energy and desires.

Wearing: Put on the bracelet, ideally on your left wrist, which is believed by many to be the receiving side of the body. This ensures you're open to the stone's energies.

Mindful Moments: Throughout the day, when you notice your bracelet, take it as a reminder to return to the present moment, breathe, and realign with your intentions.

Daily Wear: For maximum benefits, wear the Peridot Bracelet daily. The constant proximity helps to amplify its positive vibrations and keep you attuned to its energy.

Recharging: Every once in a while, recharge your bracelet by placing it on a windowsill during a sunny day or under the moonlight. This rejuvenates its natural energies.

Pairing: While the Peridot Bracelet works beautifully on its own, you can also pair it with other crystal bracelets or jewelry pieces that align with your intentions.
Remember, while the Peridot Bracelet is believed to have various benefits, it's most effective when combined with positive thinking, mindfulness, and genuine belief in its power.
Return/Refund Policy
Our return policy lasts for 5 days from the date of delivery. Kindly contact us for any return/refund/exchange within 5 days from the date of delivery.
Return policy is applicable in case of damaged/defective items only.
Item must be unused & packed in original packaging.
Item will be inspected before processing the refund/exchange.
To initiate your return & exchange please send us an email at support@crystaldivine.in with your order receipt and details of the products to be returned. Please also let us know the reason for the return. Your complaints will only be taken into consideration if contacted by email. (WhatsApp / Phone Calls etc. will not be considered as complaint channels).
Upon receiving the returned products, prepaid orders will be refunded as soon as our inspection team approves the return.
COD orders: Customers will be required to provide their bank details where they would like to receive the refund.
Click to Learn more about our return and exchange policy.
Shipping Policy
We aim to dispatch all orders within 24-48 hours. In case of missing items/ unavailability or delay, we will inform you via email or WhatsApp with the expected date of dispatch.
Most orders are delivered by our courier partners within 5-7 working days from the date of dispatch.
Shipping is free on paid orders above ₹1000.
There are no question found.