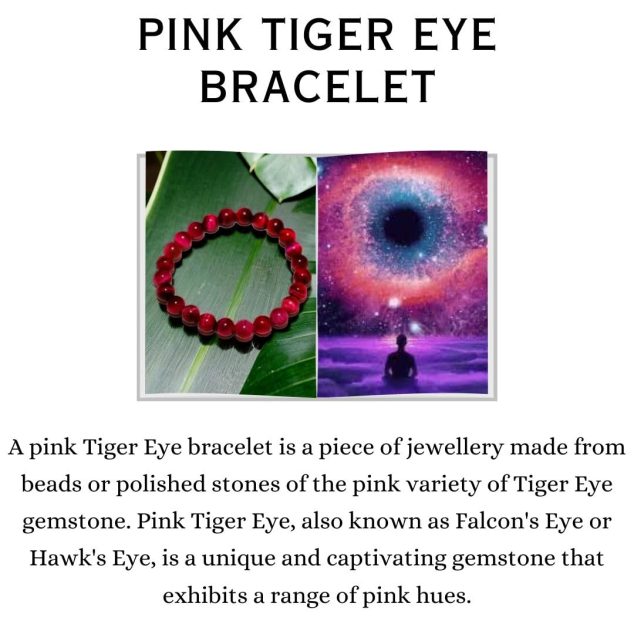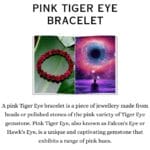 53
people are viewing this right now

Guaranteed safe & secure checkout
Description
The Pink Tiger Eye Bracelet is a unique and intriguing piece of jewelry. It's made from Pink Tiger Eye, a variant of Tiger Eye stone that's known for its gorgeous shades of pink, red, and mauve. The pink version of this popular stone is associated with a calming energy and is often used to help reduce stress. It also offers a beautiful way to add a splash of color and a dose of positivity to your everyday life. Whether you're drawn to its vibrant color, its energy, or its style, a Pink Tiger Eye Bracelet could be a great addition to your personal collection.


Benefits Of Pink Tiger Eye Bracelet

Wearing a Pink Tiger Eye Bracelet can offer several potential benefits:
Promotes Relaxation: Pink Tiger Eye is believed to help calm your emotions, making it a great accessory to wear during stressful or anxious moments.
Boosts Confidence and Creativity: The vibrant color of the Pink Tiger Eye can inspire creativity and instill confidence. It encourages you to trust yourself and your abilities.
Supports Love and Compassion: The pink hues of this stone symbolize love and compassion. It is thought to help open the heart to receiving love and to encourage empathy and understanding towards others.
Encourages Balance and Harmony: Like the original Tiger Eye, the Pink Tiger Eye is also believed to help balance the energies in your body and promote harmony in your life.
Fashionable Accessory: Apart from its spiritual benefits, a Pink Tiger Eye Bracelet is a stylish addition to any outfit with its attractive hues and unique patterns.
As always, while these benefits are often associated with Pink Tiger Eye, experiences can vary from person to person.


How To Use Pink Tiger Eye Bracelet?

Using a Pink Tiger Eye bracelet is quite straightforward:
Wear It: Simply wearing the bracelet allows you to feel its energy. You can wear it on your left wrist to absorb the bracelet's energy or on your right wrist to release your own energies.
Meditate With It: Hold the bracelet in your hand during meditation. As you focus on your breath, visualize the energy of the Pink Tiger Eye filling your body, promoting calmness, and boosting your confidence.
Display It: When you're not wearing the bracelet, you can place it in your home or workspace. This can help maintain a peaceful and harmonious atmosphere.
Cleanse and Recharge: Regularly cleanse your bracelet to keep its energy potent. You can do this by placing it in moonlight overnight, burying it in the earth, or using a cleansing crystal like Selenite. After cleansing, set your intention for the bracelet by holding it and clearly visualizing what you want it to help you with.
Remember that the bracelet is a tool to help you focus your intentions and bring about positive change. The power lies within you, not the object.
Return/Refund Policy
Our return policy lasts for 5 days from the date of delivery. Kindly contact us for any return/refund/exchange within 5 days from the date of delivery.
Return policy is applicable in case of damaged/defective items only.
Item must be unused & packed in original packaging.
Item will be inspected before processing the refund/exchange.
To initiate your return & exchange please send us an email at support@crystaldivine.in with your order receipt and details of the products to be returned. Please also let us know the reason for the return. Your complaints will only be taken into consideration if contacted by email. (WhatsApp / Phone Calls etc. will not be considered as complaint channels).
Upon receiving the returned products, prepaid orders will be refunded as soon as our inspection team approves the return.
COD orders: Customers will be required to provide their bank details where they would like to receive the refund.
Click to Learn more about our return and exchange policy.
Shipping Policy
We aim to dispatch all orders within 24-48 hours. In case of missing items/ unavailability or delay, we will inform you via email or WhatsApp with the expected date of dispatch.
Most orders are delivered by our courier partners within 5-7 working days from the date of dispatch.
Shipping is free on paid orders above ₹1000.
There are no question found.