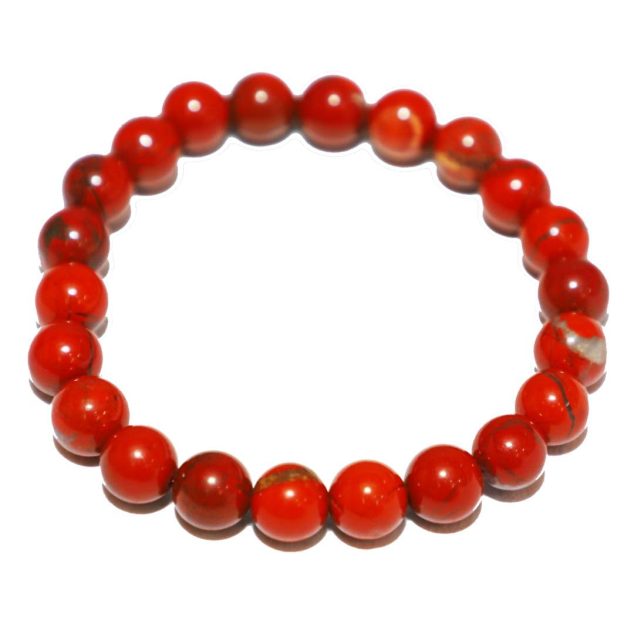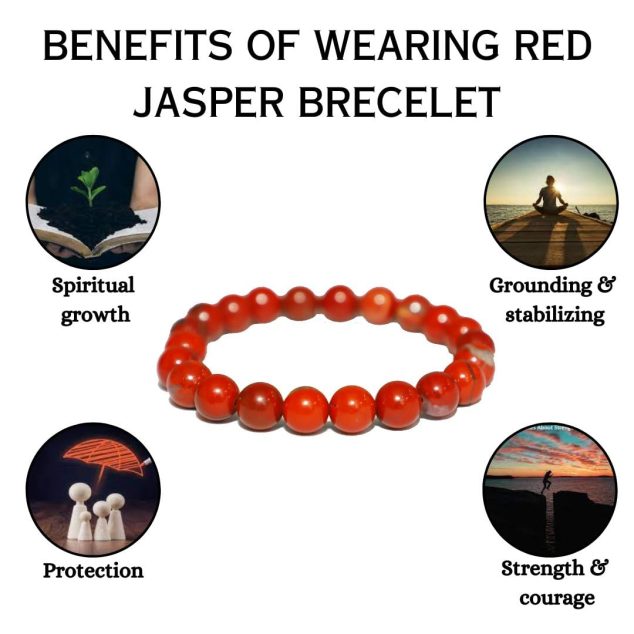 88
people are viewing this right now

Guaranteed safe & secure checkout
Description
Red Jasper is a stunning gemstone, well known for its deep red to brownish hue, often with unique streaks or spots of color. Originating from various locations worldwide, this stone has been admired and utilized throughout history. Red Jasper is often called the "stone of endurance" because it's believed to provide a boost to one's physical strength and vitality. It is also associated with grounding, stability, and a deeper connection to the Earth, which is why many people love to include it in their collection. Whether you're a crystal enthusiast or a beginner, Red Jasper's vibrant color and unique patterns make it an eye-catching and worthwhile addition to any collection.


Benefits Of Red Jasper Bracelet

A Red Jasper bracelet is not only an attractive accessory but also has several perceived benefits that users appreciate. Here are a few:
Physical Vitality: Red Jasper is often associated with an increase in energy and endurance, potentially giving you an extra boost to get through your day.

Emotional Balance: Wearing a Red Jasper bracelet could provide emotional stability and balance, helping you remain grounded in stressful situations.

Increased Focus: Red Jasper may also aid focus and determination, helping you to complete tasks without getting overwhelmed.

Grounding Energy: As a grounding stone, Red Jasper is believed to connect you deeply with the Earth, fostering feelings of safety and stability.

Confidence: This gemstone might boost your confidence and courage, encouraging you to be bold and take action when needed.
Remember, every individual's experience with a gemstone can be different.


How To Use Red Jasper Bracelet?

Using a Red Jasper bracelet is quite straightforward:
Wear it: Simply wear the bracelet on your left or right wrist. Some suggest the left side is more for absorbing the stone's energy, and the right side for giving off its energy. Find out which works best for you.

Touch and Hold: Throughout the day, touch and hold the stones on your bracelet. This physical connection can enhance the flow of positive energy.

Meditate with it: Use the bracelet in your meditation practice. Hold the bracelet in your hands as you meditate or place it on your body.

Set Intentions: Another powerful practice is setting intentions or goals with your bracelet. Hold the bracelet in your hand, close your eyes, and visualize your intentions for your day or your life.

Cleanse Regularly: Cleanse your Red Jasper bracelet regularly to remove any negative energy it might have absorbed. This can be done with light, water, or even by burying it in the earth overnight.
Remember to respect the bracelet and value it as a tool for mindfulness, connection, and positivity.
Return/Refund Policy
Our return policy lasts for 5 days from the date of delivery. Kindly contact us for any return/refund/exchange within 5 days from the date of delivery.
Return policy is applicable in case of damaged/defective items only.
Item must be unused & packed in original packaging.
Item will be inspected before processing the refund/exchange.
To initiate your return & exchange please send us an email at support@crystaldivine.in with your order receipt and details of the products to be returned. Please also let us know the reason for the return. Your complaints will only be taken into consideration if contacted by email. (WhatsApp / Phone Calls etc. will not be considered as complaint channels).
Upon receiving the returned products, prepaid orders will be refunded as soon as our inspection team approves the return.
COD orders: Customers will be required to provide their bank details where they would like to receive the refund.
Click to Learn more about our return and exchange policy.
Shipping Policy
We aim to dispatch all orders within 24-48 hours. In case of missing items/ unavailability or delay, we will inform you via email or WhatsApp with the expected date of dispatch.
Most orders are delivered by our courier partners within 5-7 working days from the date of dispatch.
Shipping is free on paid orders above ₹1000.
There are no question found.