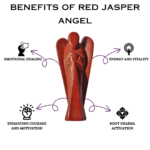 62
people are viewing this right now

Guaranteed safe & secure checkout
Description
Red Jasper Angel is a handcrafted figurine made from Red Jasper, a vibrant red crystal known for its nurturing and grounding properties. Shaped in the form of an angel, it symbolizes protection, peace, and spiritual guidance. This beautiful piece is not only an appealing decorative item but also a significant spiritual tool used in meditation and healing rituals. Its warm, rich red color encapsulates the essence of the earth's energy, making it a popular choice for those seeking stability and strength in their lives.


Benefits Of Red Jasper Angel
The Red Jasper Angel brings together the unique properties of the Red Jasper stone and the symbolic virtues of the angel shape. Here are some of its benefits:
Strength and Stability: Red Jasper is known as the "Stone of Endurance". It can provide strength, stamina, and emotional stability, especially in challenging situations.

Grounding: The Red Jasper Angel can help ground you and reconnect you with Earth's energy. This grounding effect can help create a calming environment, fostering emotional equilibrium.

Protection: The angel shape symbolizes protection and spiritual guidance. When combined with Red Jasper's properties, it can help create a protective shield against negativity.

Supports Healing: Red Jasper has a reputation for promoting health and well-being. It's often used to support the circulatory system and detoxifying the blood.

Enhanced Focus: Red Jasper can help enhance your focus and determination, making the Red Jasper Angel a great companion for setting and achieving goals.
Remember, the most important thing is to choose the crystal that you feel most drawn to. Trust your intuition, as it will lead you to the stone that will serve you best in the moment.
How To Use Red Jasper Angel?
Using a Red Jasper Angel is straightforward and can be incorporated into your daily routine. Here's how:
Carry it With You: Keeping the Red Jasper Angel in your pocket, purse, or bag allows you to feel its energy throughout the day. Whenever you need a moment of grounding or focus, simply hold it in your hand.

Meditation: During meditation, hold the Red Jasper Angel in your hand or place it in front of you. Its energy can aid in grounding your mind, helping you focus and deepen your meditation.

Place it in Your Space: You can place the Red Jasper Angel in your home or workplace. This not only adds a beautiful touch to your decor but also keeps its stabilizing and protective energy in your space.

Use it in Crystal Grids: If you create crystal grids for specific intentions, you can include the Red Jasper Angel as a part of your grid.

Gift it: The Red Jasper Angel can make a thoughtful gift for someone who could use some extra strength, grounding, or protection in their life.
Remember to cleanse your Red Jasper Angel regularly to keep its energy pure and potent. This can be done using sage smudging, moonlight, or burying it in the earth for a time.
As always, trust your intuition when using your Red Jasper Angel. Use it in the way that feels best for you.
Return/Refund Policy
Our return policy lasts for 5 days from the date of delivery. Kindly contact us for any return/refund/exchange within 5 days from the date of delivery.
Return policy is applicable in case of damaged/defective items only.
Item must be unused & packed in original packaging.
Item will be inspected before processing the refund/exchange.
To initiate your return & exchange please send us an email at support@crystaldivine.in with your order receipt and details of the products to be returned. Please also let us know the reason for the return. Your complaints will only be taken into consideration if contacted by email. (WhatsApp / Phone Calls etc. will not be considered as complaint channels).
Upon receiving the returned products, prepaid orders will be refunded as soon as our inspection team approves the return.
COD orders: Customers will be required to provide their bank details where they would like to receive the refund.
Click to Learn more about our return and exchange policy.
Shipping Policy
We aim to dispatch all orders within 24-48 hours. In case of missing items/ unavailability or delay, we will inform you via email or WhatsApp with the expected date of dispatch.
Most orders are delivered by our courier partners within 5-7 working days from the date of dispatch.
Shipping is free on paid orders above ₹1000.
There are no question found.