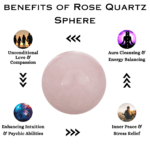 82
people are viewing this right now

Guaranteed safe & secure checkout
Description
The Rose Quartz Sphere is a uniquely beautiful crystal object. As its name suggests, it is made of rose quartz, a type of quartz crystal that carries a soft pink hue, symbolizing universal love and harmony. This spherical crystal, due to its shape, is said to emit energy evenly in all directions and is often used in healing rituals and meditation practices. Known for its heart-soothing properties, the Rose Quartz Sphere is often associated with promoting love, healing emotional wounds, and fostering feelings of peace and tranquility. Perfect as a centerpiece for your home or office, it's not only a striking piece of decor but also a tool for bringing a loving and peaceful energy into your space.


Benefit Of Rose Quartz Sphere
The Rose Quartz Sphere brings along a host of potential benefits:
Promotes Love: Known as the stone of universal love, Rose Quartz is often associated with attracting love in various forms, be it self-love, family love, platonic love, or romantic love.

Emotional Healing: Rose Quartz is said to help in healing emotional wounds. It aids in releasing unexpressed emotions and heartache, promoting emotional healing and renewal.

Peace and Tranquility: This crystal is associated with feelings of peace and tranquility. It helps in soothing the mind, reducing stress, and dispelling negative energy.

Compassion and Forgiveness: Rose Quartz is also linked to fostering empathy, reconciliation, and forgiveness towards others. It lowers stress and tension in the heart.

Enhances Positive Affirmations: The Rose Quartz Sphere is believed to amplify the energy of space around it, making it an excellent aid for practicing positive affirmations.
Whether you're looking to decorate your home, enhance your meditation practice, or welcome more love and tranquility into your life, a Rose Quartz Sphere can be a beautiful and potent tool.


How To Use Rose Quartz Sphere
Using a Rose Quartz Sphere is a simple process and can be adapted to fit your personal preferences and intentions. Here's a straightforward guide to help you get started:
Hold During Meditation: Holding the Rose Quartz Sphere during your meditation can assist in invoking feelings of love and compassion. Close your eyes, take deep breaths, and let the energy of the sphere guide you towards inner peace and positivity.

Decorative Display: Simply placing the Rose Quartz Sphere in your home or workspace can create a warm, loving environment. You can place it on your bedside table, office desk, or in the living room where it's visible.

Sleep Aid: Rose Quartz is known for its soothing properties. Keeping it near your bed or under your pillow can potentially help improve sleep and promote pleasant dreams.

Energy Circulation: The spherical shape is believed to emit energy evenly in all directions. Hence, placing it in the center of your space can help circulate positive energy throughout.

Positive Affirmations: Hold the sphere in your hand, visualize your goal or desire, and speak or think your affirmation. The Rose Quartz Sphere can help amplify these affirmations.

Gifting: Given its association with love and compassion, a Rose Quartz Sphere makes a thoughtful gift for a loved one.
Remember to cleanse your Rose Quartz Sphere regularly to keep its energy pure and potent. This can be done using various methods like smudging, burying it in the earth, or using a cleansing crystal like Selenite.
Return/Refund Policy
Our return policy lasts for 5 days from the date of delivery. Kindly contact us for any return/refund/exchange within 5 days from the date of delivery.
Return policy is applicable in case of damaged/defective items only.
Item must be unused & packed in original packaging.
Item will be inspected before processing the refund/exchange.
To initiate your return & exchange please send us an email at support@crystaldivine.in with your order receipt and details of the products to be returned. Please also let us know the reason for the return. Your complaints will only be taken into consideration if contacted by email. (WhatsApp / Phone Calls etc. will not be considered as complaint channels).
Upon receiving the returned products, prepaid orders will be refunded as soon as our inspection team approves the return.
COD orders: Customers will be required to provide their bank details where they would like to receive the refund.
Click to Learn more about our return and exchange policy.
Shipping Policy
We aim to dispatch all orders within 24-48 hours. In case of missing items/ unavailability or delay, we will inform you via email or WhatsApp with the expected date of dispatch.
Most orders are delivered by our courier partners within 5-7 working days from the date of dispatch.
Shipping is free on paid orders above ₹1000.
There are no question found.