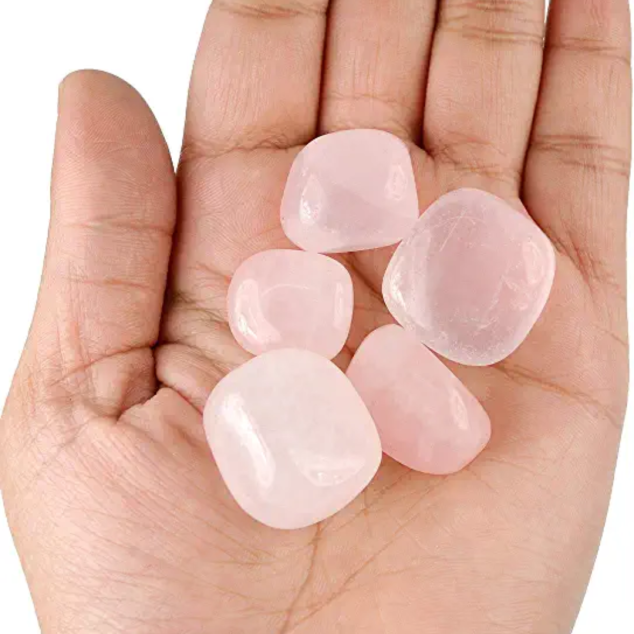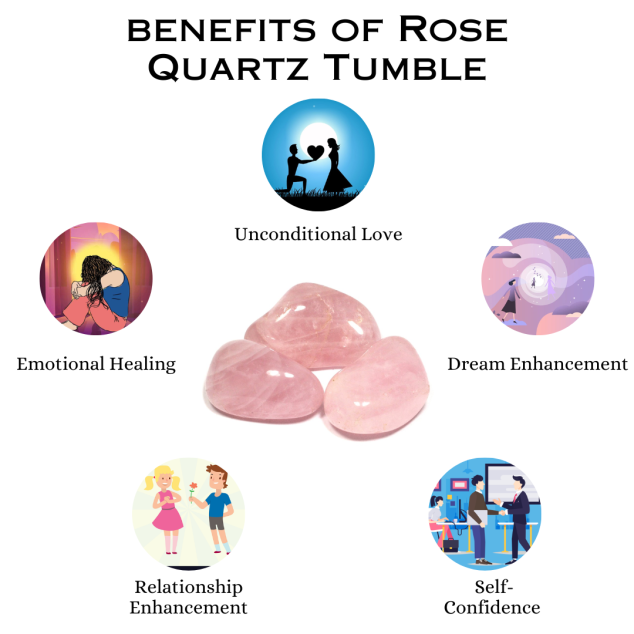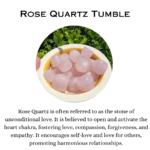 56
people are viewing this right now

Guaranteed safe & secure checkout
Description
A Rose Quartz Tumble Stone is a lovely piece of the well-loved Rose Quartz crystal that has been polished until it's smooth to the touch. This crystal, often referred to as the "Stone of Love", carries a soft pink hue, which matches its gentle and loving energy perfectly.
This polished stone fits comfortably in your hand, making it an ideal companion for meditation, or to carry around in your pocket or purse for whenever you need a dose of love and calm. Its beautiful appearance, combined with its calming energy, makes it a popular choice among crystal lovers, newcomers to crystal healing, or anyone who could use a little more love in their lives.
The Rose Quartz Tumble Stone is more than just a pretty stone; it's a symbol of love, peace, and emotional healing. It's like having a tangible piece of unconditional love that you can carry with you, wherever you go.


Benefits Of Rose Quartz Tumble Stone
Rose Quartz Tumble Stone is popular for its multitude of benefits that can positively impact your life:
Attracts Love: Known as the stone of love, Rose Quartz can help to attract love in all forms, not just romantic. It promotes loving energy, fostering deeper connections with friends, family, and self.
Enhances Self-love: It's also a powerful aid in nurturing self-love and self-esteem. It encourages forgiveness, empathy, and helps in releasing feelings of self-criticism or unworthiness.
Emotional Healing: Rose Quartz has a calming and reassuring energy that can aid in releasing negative emotions, reducing stress, and bringing about a sense of calm and peace.
Fosters Harmony: In relationships, the energy of Rose Quartz fosters empathy and reconciliation, aiding in smoothing out misunderstandings or disagreements.
Comfort During Grief: Rose Quartz can serve as a comfort during times of grief or emotional pain, helping to soothe the heart and promote emotional healing.
Remember that while these benefits are traditionally associated with Rose Quartz, everyone's experience with crystals can be unique. Enjoy the process of discovering how this beautiful tumble stone interacts with your personal energy.
How To Use Rose Quartz Tumble Stone?
Using a Rose Quartz Tumble Stone is fairly simple and there are various ways you can incorporate it into your routine:
Carry It With You: You can keep a Rose Quartz Tumble Stone in your pocket or purse so its energy stays with you throughout the day.
Place It In Your Living Spaces: Put it in a place you frequently spend time in – like your living room, office, or bedroom. This way, the stone can fill these spaces with its calming and loving energy.
Use It During Meditation: Hold the Rose Quartz Tumble Stone in your hand while meditating. Its energy can help deepen your meditation and promote self-love and forgiveness.
Use It For Crystal Grids: If you create crystal grids for specific intentions, you can incorporate Rose Quartz Tumble Stones into your grids.
Sleep With It: Place it under your pillow to promote peaceful sleep and positive dreams.
Remember, it's important to regularly cleanse your Rose Quartz Tumble Stone to keep its energy pure and powerful. And as you start using your Rose Quartz, take note of any changes or shifts in your mood, feelings, or experiences. This can help you understand the unique ways the stone works with you.
Return/Refund Policy
Our return policy lasts for 5 days from the date of delivery. Kindly contact us for any return/refund/exchange within 5 days from the date of delivery.
Return policy is applicable in case of damaged/defective items only.
Item must be unused & packed in original packaging.
Item will be inspected before processing the refund/exchange.
To initiate your return & exchange please send us an email at support@crystaldivine.in with your order receipt and details of the products to be returned. Please also let us know the reason for the return. Your complaints will only be taken into consideration if contacted by email. (WhatsApp / Phone Calls etc. will not be considered as complaint channels).
Upon receiving the returned products, prepaid orders will be refunded as soon as our inspection team approves the return.
COD orders: Customers will be required to provide their bank details where they would like to receive the refund.
Click to Learn more about our return and exchange policy.
Shipping Policy
We aim to dispatch all orders within 24-48 hours. In case of missing items/ unavailability or delay, we will inform you via email or WhatsApp with the expected date of dispatch.
Most orders are delivered by our courier partners within 5-7 working days from the date of dispatch.
Shipping is free on paid orders above ₹1000.
There are no question found.