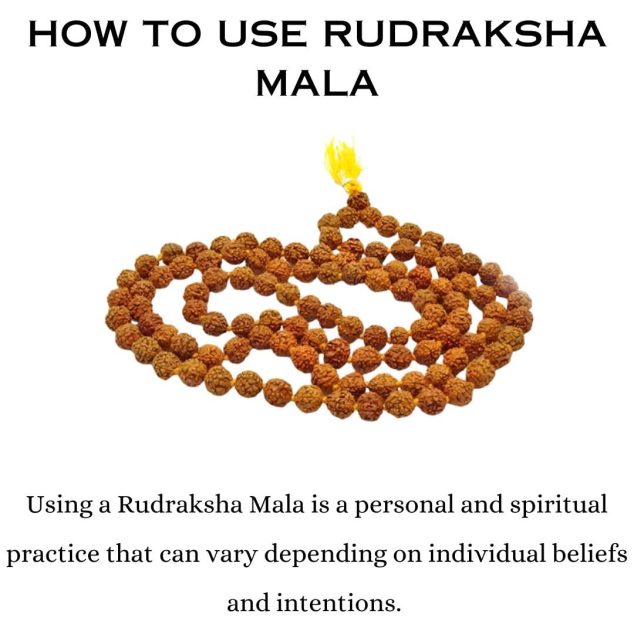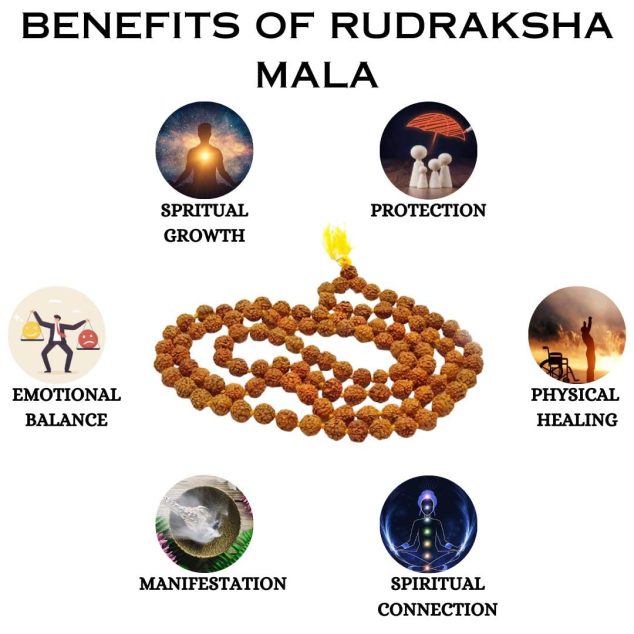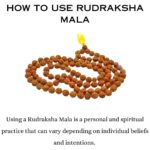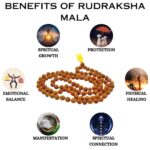 73
people are viewing this right now

Guaranteed safe & secure checkout
Description
The Rudraksha Jaap Mala, made up of 108 beads, is a spiritual tool used in Hinduism and Buddhism for meditation and recitation of mantras. Each bead on the mala is a seed of the Rudraksha tree, known for its unique vibration qualities. The number 108 is considered sacred and symbolizes the universe's spiritual totality in many Eastern traditions. These malas are often used in a spiritual practice called 'japa', which involves repetitively reciting a mantra or a divine name. Whether you're seeking a deeper spiritual connection, or a means to reduce stress and anxiety, a Rudraksha Jaap Mala could be a valuable aid in your journey.


Benefits Of Rudraksh Jaap Mala
Rudraksha Jaap Mala is more than just a spiritual accessory. Its benefits extend to different aspects of physical, emotional, and spiritual health:
Improves Concentration and Clarity: Reciting mantras with the Rudraksha Mala helps to improve concentration and mental clarity, making it ideal for meditation and spiritual practices.

Promotes Calmness: The unique vibrational qualities of Rudraksha beads can help to calm the mind and reduce stress and anxiety.

Supports Health: Rudraksha beads are said to have bioelectric stabilizing effects that can help improve overall health and well-being.

Boosts Positive Energy: The Mala is believed to create a shell of positive energy around the user, warding off negative influences.

Enhances Spiritual Growth: The Mala helps connect the user to their spiritual self, promoting self-realization and growth in their spiritual journey.
These benefits make the Rudraksha Jaap Mala a highly revered tool in spiritual practices. It's important to note that while these benefits are associated with the Mala, they are complementary to a holistic approach to health and wellness.


How To Use Rudraksh Jaap Mala?
Using a Rudraksha Jaap Mala is a straightforward process, often tied to meditation or prayer practices. Here's a simple guide on how to use it:
Find a Quiet Place: Choose a quiet and serene place where you won't be disturbed. This helps in maintaining focus.

Hold the Mala Correctly: Hold the mala in your right hand. Let it drape off the middle finger, which is considered the energy channel for sacred mantras. Use your thumb to move each bead towards you for each recitation.

Recite Your Mantra: Close your eyes, take a few deep breaths to calm your mind and focus. Start reciting your chosen mantra (sacred syllable, word, or verse). It could be as simple as 'Om' or any other mantra that you feel a deep connection with.

Complete the Cycle: Continue reciting your mantra, moving the beads with your thumb, one by one. Complete the cycle until you reach the Guru bead – the larger bead that's often different from the others. This completes one round of mantra japa.

Reverse Direction: If you wish to do more than one round, you don't cross over the Guru bead. Instead, you reverse the direction and start the next round.

End Your Session: When you've completed your recitations, you can end your session by sitting quietly for a few minutes, absorbing the energy and peace from your practice.
Remember, the power of the mala comes not only from the Rudraksha beads but also from the mantras and the energy you invest in them. Regular use increases its potency.
Return/Refund Policy
Our return policy lasts for 5 days from the date of delivery. Kindly contact us for any return/refund/exchange within 5 days from the date of delivery.
Return policy is applicable in case of damaged/defective items only.
Item must be unused & packed in original packaging.
Item will be inspected before processing the refund/exchange.
To initiate your return & exchange please send us an email at support@crystaldivine.in with your order receipt and details of the products to be returned. Please also let us know the reason for the return. Your complaints will only be taken into consideration if contacted by email. (WhatsApp / Phone Calls etc. will not be considered as complaint channels).
Upon receiving the returned products, prepaid orders will be refunded as soon as our inspection team approves the return.
COD orders: Customers will be required to provide their bank details where they would like to receive the refund.
Click to Learn more about our return and exchange policy.
Shipping Policy
We aim to dispatch all orders within 24-48 hours. In case of missing items/ unavailability or delay, we will inform you via email or WhatsApp with the expected date of dispatch.
Most orders are delivered by our courier partners within 5-7 working days from the date of dispatch.
Shipping is free on paid orders above ₹1000.
There are no question found.