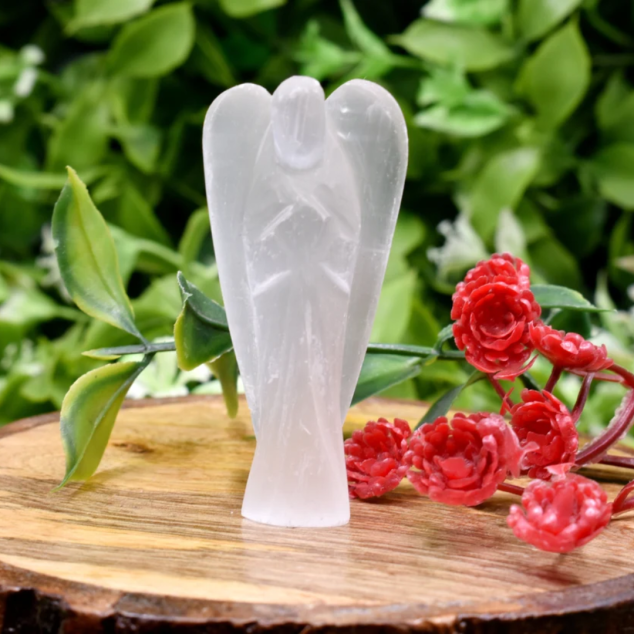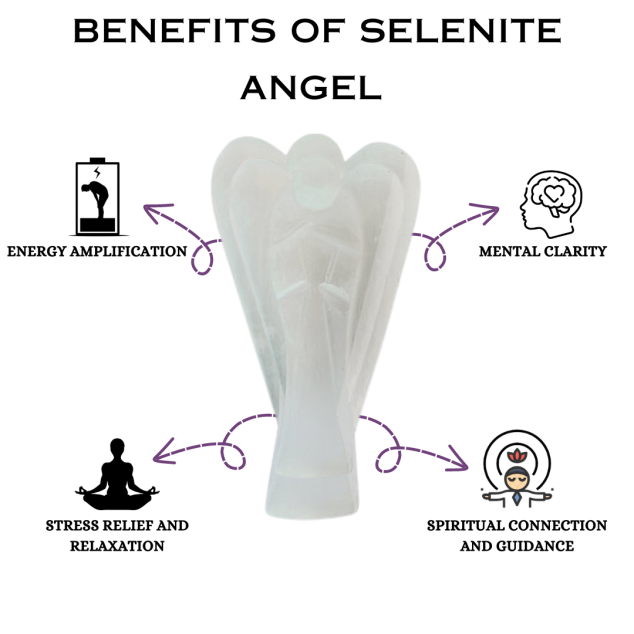 80
people are viewing this right now

Guaranteed safe & secure checkout
Description
A Selenite Angel is a beautiful, translucent carving made from selenite, a kind of gypsum crystal known for its pearly luster and moon-like glow. This angel is not just an attractive piece of decor, it's also cherished for its supposed spiritual and healing properties.
Selenite is believed to bring clarity of mind and tranquility. It's said to have a calming influence that helps to dispel negativity and invite positive energy. Shaped like an angel, a selenite carving can serve as a comforting symbol of divine protection and guidance.
Whether you're drawn to its beauty, its calming properties, or the idea of having an angelic figure in your space, a Selenite Angel can be a lovely addition to your home or office.


Benefits Of Selenite Angel
The Selenite Angel is loved by many due to its purported benefits. Here are a few that are commonly associated with it:
Clarity and Calmness: Selenite is often linked with promoting a clear mind and calmness, helping to alleviate worry and stress. This makes it a wonderful companion for meditation or as a tool to create a peaceful atmosphere in your space.

Energy Cleansing: Selenite is believed to have the ability to cleanse and recharge other crystals, and it's thought to rid its environment of negative energy.

Positive Energy: As it dispels negative energy, selenite is also said to invite positive energy into your space. This can help create an uplifting environment and may assist in promoting a positive mindset.

Spiritual Connection: Selenite, particularly in the form of an angel, is often used to enhance spiritual connections. It's said to help connect with higher powers and facilitate communication with one's guardian angels.

Protection: The angelic form of this piece represents protection, offering a sense of safety and security. It is a reminder that you are watched over and guided by the universe.
Remember, the way you connect with your Selenite Angel can be deeply personal. It's about what feels right for you and what aligns with your own beliefs and experiences.


How To Use Selenite Angel?
Here are some simple ways to use your Selenite Angel:
Meditation: Hold your Selenite Angel during meditation to enhance clarity, peace, and spiritual connection. Focus on the angel and let its energy guide your thoughts and feelings.

Decoration: Place your Selenite Angel in a space where you spend a lot of time, like your living room, bedroom, or office. This can help to create a calm and positive atmosphere in the space.

Nightstand Companion: Keep it on your nightstand while sleeping to promote a peaceful environment and to help you recall your dreams.

Energy Cleansing: You can place your other crystals near your Selenite Angel to cleanse and recharge them.

Personal Connection: Carry the angel with you throughout your day or during stressful times for reassurance and tranquility.
Remember to handle your Selenite Angel with care, as selenite is a soft mineral and can be easily scratched. Also, avoid contact with water as it can dissolve the selenite.
Before you start using your Selenite Angel, it can be helpful to spend some time just holding it in your hands and focusing on your intentions for it. This can help you to create a personal connection with your piece.
Return/Refund Policy
Our return policy lasts for 5 days from the date of delivery. Kindly contact us for any return/refund/exchange within 5 days from the date of delivery.
Return policy is applicable in case of damaged/defective items only.
Item must be unused & packed in original packaging.
Item will be inspected before processing the refund/exchange.
To initiate your return & exchange please send us an email at support@crystaldivine.in with your order receipt and details of the products to be returned. Please also let us know the reason for the return. Your complaints will only be taken into consideration if contacted by email. (WhatsApp / Phone Calls etc. will not be considered as complaint channels).
Upon receiving the returned products, prepaid orders will be refunded as soon as our inspection team approves the return.
COD orders: Customers will be required to provide their bank details where they would like to receive the refund.
Click to Learn more about our return and exchange policy.
Shipping Policy
We aim to dispatch all orders within 24-48 hours. In case of missing items/ unavailability or delay, we will inform you via email or WhatsApp with the expected date of dispatch.
Most orders are delivered by our courier partners within 5-7 working days from the date of dispatch.
Shipping is free on paid orders above ₹1000.
There are no question found.