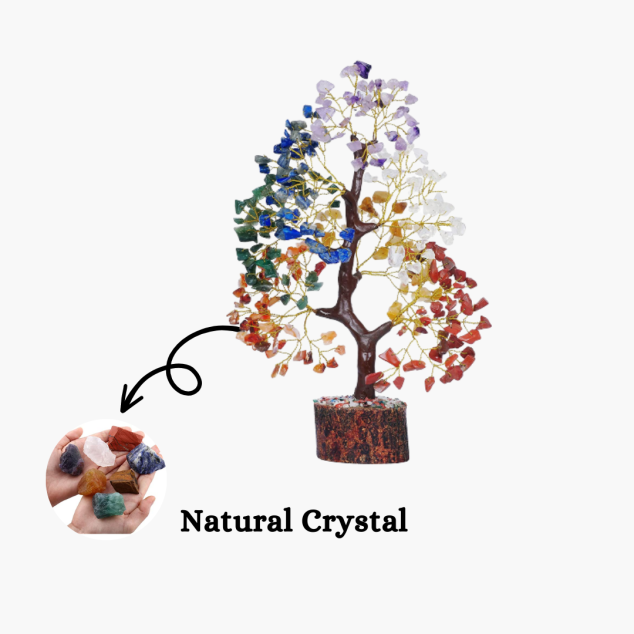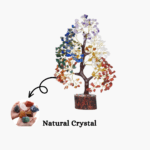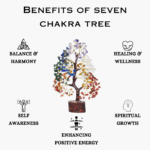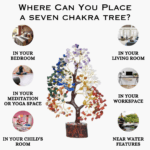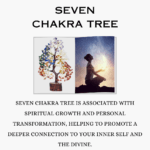 Seven Chakra Tree – 300 Beads
73
people are viewing this right now

Guaranteed safe & secure checkout
Description
The Seven Chakra Tree combines healing crystals and symbolic design. Crafters attach gemstones, each linked to one of the seven chakras, to a tree-shaped wire frame. Each chakra, or energy center in our body, pairs with a distinct color and gemstone:
Root Chakra: Red – Often Red Jasper or Hematite.
Sacral Chakra: Orange – Typically Carnelian or Orange Calcite.
Solar Plexus Chakra: Yellow – Citrine or Yellow Jasper work best.
Heart Chakra: Green – Choices include Green Aventurine or Rose Quartz.
Throat Chakra: Blue – Blue Lace Agate or Sodalite are popular.
Third Eye Chakra: Indigo – Commonly Amethyst or Lapis Lazuli.
Crown Chakra: Violet or White – Clear Quartz or Amethyst stand out.
You can use the tree for meditation. It not only helps in balancing energy but also improves the ambiance of any room. Many believe these gemstones heal, activating chakras and fostering physical, emotional, and spiritual recovery.
Benefits of the Seven Chakra Tree
Balanced Energy Flow: The tree's gemstones align with chakra colors. They are said to balance energy, which fosters healing on many levels.

Well-being Boost: A balanced energy flow reduces stress and negative emotions.

Enhanced Meditation: Using the tree in meditation can deepen the practice, promoting spiritual growth.

Improved Focus: The tree's gemstones can sharpen focus and clarity.

Aesthetics: Beyond its spiritual benefits, it's also a decorative piece that beautifies any space.
People value the Seven Chakra Tree for both its healing properties and its beauty.
How to Use the Seven Chakra Tree
Meditation: While meditating, sit facing the tree. Envision energy flowing through each chakra, focusing on each gemstone.

Decoration: The tree serves as an attractive piece, ideal for any room.

Feng Shui: In feng shui, the tree balances and harmonizes spaces. Its placement can be strategic, matching chakra colors to room areas.

Crystal Healing: The attached gemstones can individually offer healing. Hold or place them on the body as needed.

Gift: It's a thoughtful present for those inclined towards holistic healing or appreciating aesthetic value.
Using the Seven Chakra Tree this way can invite numerous benefits into your life.
Return/Refund Policy
Our return policy lasts for 5 days from the date of delivery. Kindly contact us for any return/refund/exchange within 5 days from the date of delivery.
Return policy is applicable in case of damaged/defective items only.
Item must be unused & packed in original packaging.
Item will be inspected before processing the refund/exchange.
To initiate your return & exchange please send us an email at support@crystaldivine.in with your order receipt and details of the products to be returned. Please also let us know the reason for the return. Your complaints will only be taken into consideration if contacted by email. (WhatsApp / Phone Calls etc. will not be considered as complaint channels).
Upon receiving the returned products, prepaid orders will be refunded as soon as our inspection team approves the return.
COD orders: Customers will be required to provide their bank details where they would like to receive the refund.
Click to Learn more about our return and exchange policy.
Shipping Policy
We aim to dispatch all orders within 24-48 hours. In case of missing items/ unavailability or delay, we will inform you via email or WhatsApp with the expected date of dispatch.
Most orders are delivered by our courier partners within 5-7 working days from the date of dispatch.
Shipping is free on paid orders above ₹1000.
There are no question found.