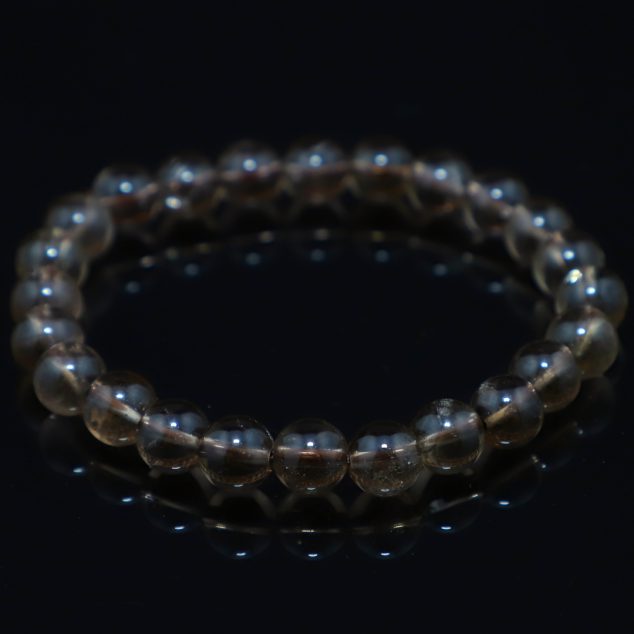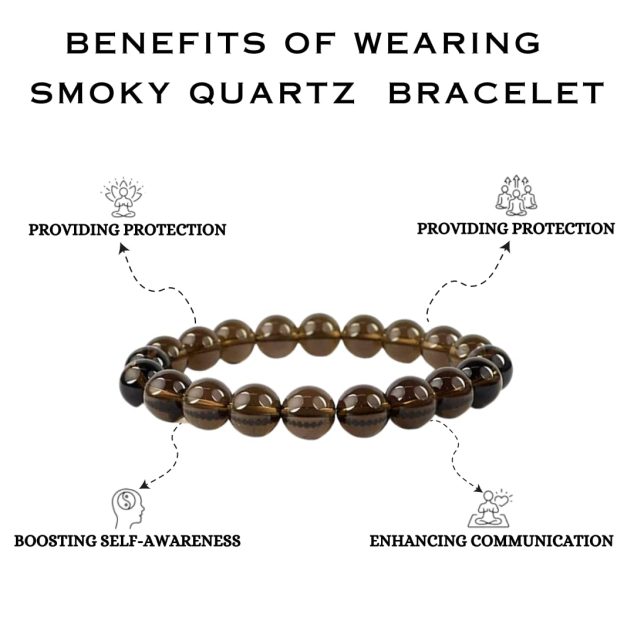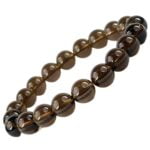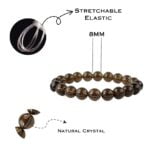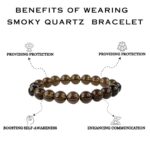 88
people are viewing this right now

Guaranteed safe & secure checkout
Description
The Smoky Quartz Bracelet is a beautifully captivating accessory that offers more than just visual appeal. Made from smoky quartz, a powerful grounding gemstone, this bracelet is believed to act as a shield against negative energies and emotional burdens.
Smoky quartz gets its signature gray color from natural irradiation and the presence of aluminum built up within its crystalline structure. This stone has been appreciated for centuries, not just for its unique color, but also for its associated metaphysical properties.
The Smoky Quartz Bracelet is a popular choice among crystal enthusiasts, spiritual healers, and individuals seeking an accessory that is both charming and meaningful. Wearing it can be a personal reminder of strength and resilience, helping its wearer remain balanced, centered, and ready to face life's challenges with a more positive outlook.


Benefits Of Smoky Quartz Bracelet
The Smoky Quartz Bracelet has a range of benefits that can enrich your life in various ways:
Grounding: Smoky Quartz is known for its strong grounding energy. It can help you stay connected to the earth and feel more balanced.

Protection: Wearing a Smoky Quartz bracelet can help ward off negative energy. It's like having a personal energy shield that helps keep emotional and spiritual negativity at bay.

Stress Relief: If you're feeling anxious or stressed, Smoky Quartz can help. The calming energy of this stone can provide a sense of comfort and relaxation.

Emotional Healing: Smoky Quartz can help clear emotional blockages and release old patterns or negative energies that no longer serve you.

Positive Energy: While it helps clear away negativity, Smoky Quartz also invites positive energy. It can encourage optimism, joy, and contentment.
Wearing a Smoky Quartz bracelet allows you to carry these benefits with you wherever you go, providing a constant source of its calming, protective, and positive energies.
How To Use Smoky Quartz Bracelet?
Using a Smoky Quartz bracelet is quite simple and practical. Here's how you can use it:
Wear It: The easiest way to benefit from your Smoky Quartz bracelet is to wear it. Have it on your wrist while you're going about your day. The bracelet's energies can influence you subtly over time.

Meditation: Use your Smoky Quartz bracelet as a meditation aid. Hold it in your hand or place it in front of you during your meditation sessions. Focus on the energy of the bracelet and imagine it infusing you with grounding and calming vibrations.

Setting Intentions: Hold your Smoky Quartz bracelet in your hand and set an intention or goal. This could be something like, "I am grounded, calm, and protected from negative energies." Visualize the bracelet being filled with the energy of this intention.

Bedtime Routine: Wear your Smoky Quartz bracelet to bed or place it on your bedside table. Its calming energy can help to promote a restful night's sleep.
Remember to cleanse your Smoky Quartz bracelet regularly to clear away any accumulated negative energies and to recharge its power. You can cleanse it by placing it under moonlight overnight or by using a sage smudging stick.
Return/Refund Policy
Our return policy lasts for 5 days from the date of delivery. Kindly contact us for any return/refund/exchange within 5 days from the date of delivery.
Return policy is applicable in case of damaged/defective items only.
Item must be unused & packed in original packaging.
Item will be inspected before processing the refund/exchange.
To initiate your return & exchange please send us an email at support@crystaldivine.in with your order receipt and details of the products to be returned. Please also let us know the reason for the return. Your complaints will only be taken into consideration if contacted by email. (WhatsApp / Phone Calls etc. will not be considered as complaint channels).
Upon receiving the returned products, prepaid orders will be refunded as soon as our inspection team approves the return.
COD orders: Customers will be required to provide their bank details where they would like to receive the refund.
Click to Learn more about our return and exchange policy.
Shipping Policy
We aim to dispatch all orders within 24-48 hours. In case of missing items/ unavailability or delay, we will inform you via email or WhatsApp with the expected date of dispatch.
Most orders are delivered by our courier partners within 5-7 working days from the date of dispatch.
Shipping is free on paid orders above ₹1000.
There are no question found.