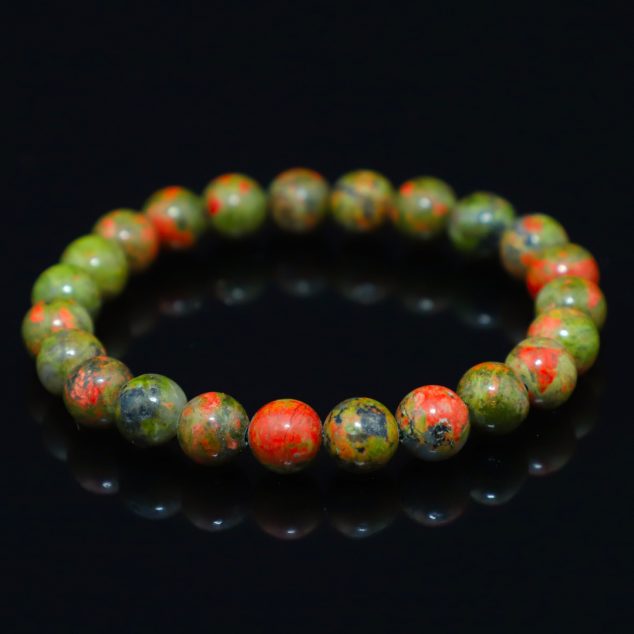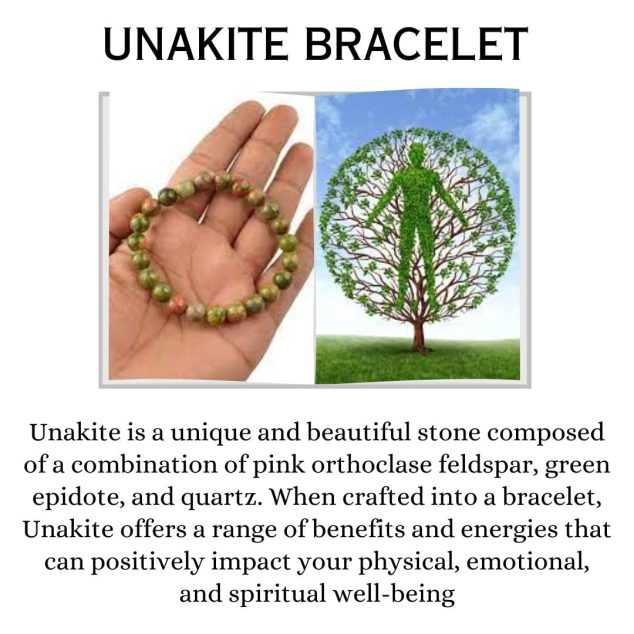 68
people are viewing this right now

Guaranteed safe & secure checkout
Description
The Unakite Bracelet is a unique accessory crafted from Unakite, a special gemstone with a beautiful combination of salmon pink and olive green colors. Originating from the Unakas Mountains in the United States, which is where it gets its name, Unakite is recognized for its striking visual appeal as well as its purported healing properties.
As a stone of vision, Unakite is often used in meditation to open and activate the Third Eye Chakra for deeper spiritual insights. It is also believed to be a stone of balance, bringing the mind, body, and spirit into harmony. The Unakite Bracelet is not just a visually captivating piece of jewelry, but also a token of balanced emotions, spiritual awakening, and overall harmony.


Benefits Of Unakite Bracelet

The Unakite Bracelet is known for its beneficial properties:
Emotional Balance: Unakite promotes feelings of peace, calm, and tranquility, supporting emotional balance and stability.

Harmony: This beautiful stone helps to harmonize and balance all aspects of the self—physical, emotional, mental, and spiritual. It encourages a sense of well-being.

Spiritual Growth: Associated with spiritual growth and insight, Unakite stimulates the third eye chakra, enhancing intuition and spiritual vision.

Heart Connection: Unakite is closely connected with the heart chakra, encouraging love, compassion, kindness, and forgiveness towards oneself and others.

Grounding: It is also used for grounding, helping one stay focused in the present moment, especially beneficial in times of stress or uncertainty.

Transformation: It supports personal growth and transformation, assisting in the release of old habits, patterns, or lessons to embrace new positive changes.
These wonderful qualities make the Unakite Bracelet a popular choice for those seeking emotional harmony and personal growth.


How To Use Unakite Bracelet?

Here are the steps to use your Unakite Bracelet:
Cleanse: Before you start using your Unakite bracelet, it's important to cleanse it. You can cleanse it by smudging it with sage or by leaving it under the moonlight overnight.

Set Intention: Hold your bracelet in your hands, close your eyes, and set your intention for the bracelet. Ask it to guide and support you in your journey towards emotional balance and personal growth.

Wear It: Wear your Unakite bracelet on your left wrist, as this side is often associated with receiving energies. However, feel free to wear it on the wrist that feels most comfortable for you.

Mindfulness: As you go about your day, the bracelet will serve as a reminder of your intention. Every time you notice it, come back to your intention and the feeling you wish to cultivate.

Recharge: Recharge your bracelet every now and then by cleansing it and resetting your intentions.
Remember, it's important to listen to your intuition and use the bracelet in a way that feels right for you.
Return/Refund Policy
Our return policy lasts for 5 days from the date of delivery. Kindly contact us for any return/refund/exchange within 5 days from the date of delivery.
Return policy is applicable in case of damaged/defective items only.
Item must be unused & packed in original packaging.
Item will be inspected before processing the refund/exchange.
To initiate your return & exchange please send us an email at support@crystaldivine.in with your order receipt and details of the products to be returned. Please also let us know the reason for the return. Your complaints will only be taken into consideration if contacted by email. (WhatsApp / Phone Calls etc. will not be considered as complaint channels).
Upon receiving the returned products, prepaid orders will be refunded as soon as our inspection team approves the return.
COD orders: Customers will be required to provide their bank details where they would like to receive the refund.
Click to Learn more about our return and exchange policy.
Shipping Policy
We aim to dispatch all orders within 24-48 hours. In case of missing items/ unavailability or delay, we will inform you via email or WhatsApp with the expected date of dispatch.
Most orders are delivered by our courier partners within 5-7 working days from the date of dispatch.
Shipping is free on paid orders above ₹1000.
There are no question found.