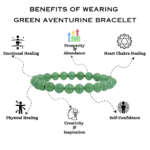 Green Aventurine Bracelet
80
people are viewing this right now

Guaranteed safe & secure checkout
Description
Green Aventurine Bracelet
The Green Aventurine Bracelet is a charming piece of jewelry that carries more than just aesthetic appeal. Made from Green Aventurine, a type of quartz known for its shimmering, glistening appearance, the bracelet is said to be imbued with various beneficial properties.
Green Aventurine, often referred to as the "Stone of Opportunity," is believed to be the luckiest of all crystals, particularly in manifesting prosperity and wealth. Its green color aligns it with the heart chakra, enhancing one's well-being and emotional calm.
This makes the Green Aventurine Bracelet not only a beautiful accessory to complement your outfit but also a positive energy source that you can carry with you wherever you go. Whether you are drawn to its vibrant color, its connection to nature, or its alleged benefits, this bracelet can make a unique and meaningful addition to any jewelry collection.


Benefits Of Green Aventurine Bracelet
The Green Aventurine Bracelet is more than just a stylish accessory; many believe it brings several benefits to its wearer:
Boosts Prosperity: Known as the "Stone of Opportunity," Green Aventurine is reputed to be particularly effective in attracting wealth and prosperity.

Encourages Positive Outlook: Wearing a Green Aventurine bracelet can be a constant reminder to stay optimistic, positive, and ready to embrace new opportunities that come your way.

Promotes Emotional Calm: Green Aventurine is associated with the heart chakra, often used to balance and soothe emotions, fostering emotional tranquility and positive feelings.

Enhances Confidence: This crystal is believed to enhance self-confidence and decision-making skills, helping you to move forward effectively in various situations.

Supports Healing: Some wearers find it beneficial in supporting physical healing, particularly with issues related to the heart, lungs, and adrenal system.
Please note that these benefits can vary from person to person and are often linked to one's belief in the power of the crystal. Regardless of these properties, the Green Aventurine bracelet is a beautiful piece that adds a touch of nature-inspired beauty to your look.


How To Use Green Aventurine Bracelet?
Using a Green Aventurine Bracelet is simple and straightforward, and it brings its benefits into your life in various ways.
Wear it daily: To make the most of your Green Aventurine Bracelet, wear it on your left wrist, the receiving side of the body, as a beautiful accessory. It's believed this allows the energies to enter your body and aura more effectively.

Meditate with it: You can also use the bracelet during your meditation. Hold it in your hands as you meditate and visualize its energy positively influencing your life.

Place it on your Heart Chakra: As Green Aventurine is associated with the Heart Chakra, you can lie down and place it on your chest area during a relaxing moment or while meditating, and visualize green healing light filling your body.

Set Intentions: When you first get your Green Aventurine Bracelet, take a moment to hold it in your hands, close your eyes and set a positive intention or goal. This can be anything from attracting more abundance to maintaining emotional calm. Once your intention is set, the bracelet acts as a daily reminder of that goal.

Cleanse and Recharge: To keep your bracelet working at its best, cleanse and recharge it regularly. This can be done by placing it in the moonlight overnight, rinsing it under running water, or smudging it with sage or Palo Santo.
Remember, while Green Aventurine is considered a potent stone in crystal healing, it should complement, not replace, professional medical advice. Enjoy the comfort and beauty it brings to your daily life.
Return/Refund Policy
Our return policy lasts for 5 days from the date of delivery. Kindly contact us for any return/refund/exchange within 5 days from the date of delivery.
Return policy is applicable in case of damaged/defective items only.
Item must be unused & packed in original packaging.
Item will be inspected before processing the refund/exchange.
To initiate your return & exchange please send us an email at support@crystaldivine.in with your order receipt and details of the products to be returned. Please also let us know the reason for the return. Your complaints will only be taken into consideration if contacted by email. (WhatsApp / Phone Calls etc. will not be considered as complaint channels).
Upon receiving the returned products, prepaid orders will be refunded as soon as our inspection team approves the return.
COD orders: Customers will be required to provide their bank details where they would like to receive the refund.
Click to Learn more about our return and exchange policy.
Shipping Policy
We aim to dispatch all orders within 24-48 hours. In case of missing items/ unavailability or delay, we will inform you via email or WhatsApp with the expected date of dispatch.
Most orders are delivered by our courier partners within 5-7 working days from the date of dispatch.
Shipping is free on paid orders above ₹1000.
There are no question found.