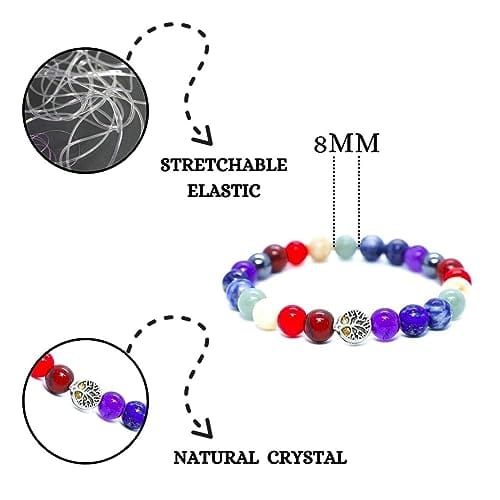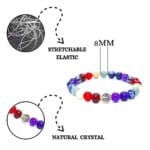 Seven Chakra With Tree Charm Bracelet
51
people are viewing this right now

Guaranteed safe & secure checkout
Description
Seven Chakra With Tree Charm Bracelet
Meet our multi-colored bracelet, made up of seven distinct stones. Each stone matches one of the body's seven chakras, helping to bring balance to your energy. Alongside these colorful stones, there's a special tree charm.
This tree represents growth and connection in our lives. So, when you wear this bracelet, you're not just adding a pop of color to your outfit — you're also carrying a little reminder to stay balanced and connected every day.


Benefits Of Seven Chakra With Tree Charm Bracelet

Colorful Accessory: The multi-colored stones make it a versatile piece that matches many outfits.

Energy Balance: The seven stones can help align and balance the body's energy centers or chakras.

Daily Reminder: The tree charm serves as a reminder of growth, stability, and staying connected to our roots.

Mood Boost: Wearing something symbolic can be uplifting and serve as a conversation starter.

Unique Gift: It's a thoughtful gift for someone who appreciates both style and deeper meaning.

Natural Connection: With the tree charm, it reminds wearers of the importance of nature and our place within it.
This bracelet is more than just jewelry; it's a piece that holds deeper meaning and intention.


How To Use
Seven Chakra With Tree Charm Bracelet

?
Wear It: Simply put the bracelet on your wrist. It's designed to look great with both casual and formal outfits.

Touch and Focus: Whenever you're feeling off-balance, touch each stone and focus on its corresponding chakra. This can help in realigning your energy.

Set Intentions: Sit quietly and hold the bracelet. Think about what you want to achieve or how you want to feel. This can help in channeling the bracelet's energy for that purpose.

Cleanse Occasionally: Keep your bracelet fresh by occasionally rinsing it under cool water and drying it with a soft cloth. This helps clear any absorbed energies.

Mindful Reminder: Use the tree charm as a reminder to stay grounded and connected throughout your day.

Gift It: If you feel someone can benefit from its energy, you can gift a new one to them, sharing the bracelet's benefits.
Remember, while the bracelet is believed to help in balancing chakras, the most important thing is your personal connection and belief in its power. Listen to your intuition and enjoy its beauty and symbolism.
Return/Refund Policy
Our return policy lasts for 5 days from the date of delivery. Kindly contact us for any return/refund/exchange within 5 days from the date of delivery.
Return policy is applicable in case of damaged/defective items only.
Item must be unused & packed in original packaging.
Item will be inspected before processing the refund/exchange.
To initiate your return & exchange please send us an email at support@crystaldivine.in with your order receipt and details of the products to be returned. Please also let us know the reason for the return. Your complaints will only be taken into consideration if contacted by email. (WhatsApp / Phone Calls etc. will not be considered as complaint channels).
Upon receiving the returned products, prepaid orders will be refunded as soon as our inspection team approves the return.
COD orders: Customers will be required to provide their bank details where they would like to receive the refund.
Click to Learn more about our return and exchange policy.
Shipping Policy
We aim to dispatch all orders within 24-48 hours. In case of missing items/ unavailability or delay, we will inform you via email or WhatsApp with the expected date of dispatch.
Most orders are delivered by our courier partners within 5-7 working days from the date of dispatch.
Shipping is free on paid orders above ₹1000.
There are no question found.