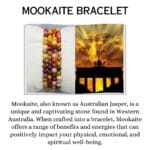 72
people are viewing this right now

Guaranteed safe & secure checkout
Description
The Mookaite Bracelet is a stunning accessory that is more than just an eye-catching piece of jewelry. Mookaite, also known as Mook Jasper, is an Australian Jasper of bold, earthy beauty with a fiery fusion of red and yellow energies. It carries an invigorating frequency of strength and vitality.
The Mookaite bracelet is typically used in jewelry for its aesthetic appeal and its energetic properties. It is believed to provide a useful balance between inner and outer experiences, imparting both a desire for new experiences and a deep calm with which to face them.
These colorful bracelets can be a fun, simple, and stylish way to enjoy the benefits of Mookaite in your everyday life. Whether you wear it for its looks or for its energetic properties, a Mookaite bracelet is sure to be a delightful addition to your accessory collection.


Benefits Of Mookaite Bracelet

The Mookaite Bracelet is believed to carry several beneficial properties:
Promotes Strength and Vitality: Mookaite is often associated with strength, vitality, and increased life force. Wearing the bracelet can help increase your motivation, energy, and physical endurance.

Encourages New Experiences: Mookaite is said to stimulate an adventurous spirit, encouraging you to try new things and face challenges with calm and confidence.

Aids Decision Making: It can help you make clear, concise decisions by encouraging versatility and assisting with problem-solving.

Emotional Balance: Mookaite provides emotional balance, fostering a calm, centered feeling while warding off unwanted negative energies.

Enhances Connection to the Earth: As a grounding stone, Mookaite can enhance your connection to the Earth and promote a deep appreciation of nature and your role within it.

Boosts the Immune System: The bracelet can provide a boost to your immune system, helping you maintain health and vitality.


How To Use Mookaite Bracelet?

To maximize the benefits of the Mookaite Bracelet, follow these steps:
Wear it Regularly: The best way to use a Mookaite Bracelet is to wear it on your wrist. Regular, continuous contact with your skin will allow the stone to exert its beneficial effects consistently.

Meditation: You can also use the Mookaite Bracelet as a focal point during meditation. By concentrating on the bracelet and its energy, you can help align your mind and spirit with its attributes of balance, strength, and vitality.

Bedside Placement: Place the Mookaite Bracelet on your bedside table while sleeping. The stone's energy can promote restful sleep and give you strength and vitality for the next day.

Cleanse and Recharge: Like all gemstones, Mookaite absorbs energies from its surroundings. Therefore, it's important to cleanse and recharge your bracelet regularly. You can do this by placing it in a bowl with other cleansing stones like clear quartz or selenite overnight, or by smudging it with sage or palo santo.

Set an Intention: You might also find it helpful to set an intention or goal when you wear your Mookaite Bracelet. Hold the bracelet in your hands, close your eyes, and visualize your intention or goal. This way, the bracelet becomes a tangible reminder of that intention.
Remember that consistency is key, so try to use or wear the bracelet daily for best results.
Return/Refund Policy
Our return policy lasts for 5 days from the date of delivery. Kindly contact us for any return/refund/exchange within 5 days from the date of delivery.
Return policy is applicable in case of damaged/defective items only.
Item must be unused & packed in original packaging.
Item will be inspected before processing the refund/exchange.
To initiate your return & exchange please send us an email at support@crystaldivine.in with your order receipt and details of the products to be returned. Please also let us know the reason for the return. Your complaints will only be taken into consideration if contacted by email. (WhatsApp / Phone Calls etc. will not be considered as complaint channels).
Upon receiving the returned products, prepaid orders will be refunded as soon as our inspection team approves the return.
COD orders: Customers will be required to provide their bank details where they would like to receive the refund.
Click to Learn more about our return and exchange policy.
Shipping Policy
We aim to dispatch all orders within 24-48 hours. In case of missing items/ unavailability or delay, we will inform you via email or WhatsApp with the expected date of dispatch.
Most orders are delivered by our courier partners within 5-7 working days from the date of dispatch.
Shipping is free on paid orders above ₹1000.
There are no question found.