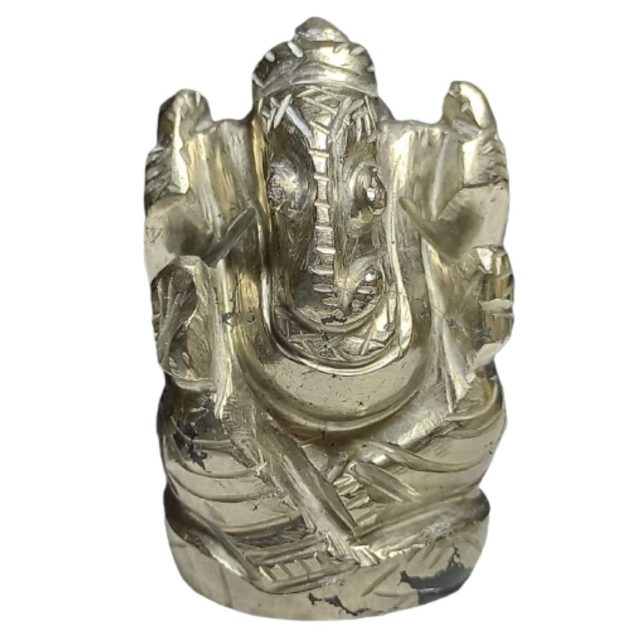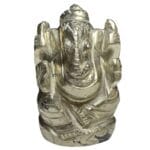 64
people are viewing this right now

Guaranteed safe & secure checkout
Description
The Pyrite Pocket Ganesha is an intricately designed figure made from the glittering pyrite stone, recognized for its golden luster and wealth-attracting properties. Representing Ganesha, the deity of wisdom and success, combined with pyrite's attributes of abundance and confidence, this artifact serves as a powerful emblem for manifesting prosperity, enhancing ambition, and reinforcing resilience. It's an embodiment of strength and abundance for those aiming to elevate their aspirations and financial energies.
Benefits Of Pyrite Pocket Ganesha
Attracts Wealth: Pyrite, often termed "Fool's Gold," magnetizes prosperity and abundance to its holder.
Boosts Confidence: Infuses a sense of boldness and assurance, aiding in decision-making.
Strengthens Determination: With Ganesha's guidance, it bolsters resolve and tenacity to achieve goals.
Protective Qualities: Acts as a shield against negative energies and potential harm.
Encourages Leadership: Instills a strong sense of authority and direction, ideal for those in leadership roles.
Promotes Positive Thinking: Helps dispel negative thought patterns, promoting a more optimistic outlook.
Enhances Memory: Known to stimulate recall and reduce forgetfulness.
Holding the Pyrite Pocket Ganesha not only brings the blessings of Lord Ganesha but also harnesses the potent energies of pyrite, setting you on a path of abundance, strength, and success.


How To Use Pyrite Pocket Ganesha?
Carry It Everywhere: Keep your Pyrite Pocket Ganesha in your purse or pocket, allowing its energy to stay close and infuse you with confidence and abundance.
Desk Enhancer: Place it on your office desk or workspace to attract prosperity and amplify focus.
Meditative Aid: During meditation, hold or place it before you to connect deeply with its wealth-attracting energies.
Home Display: Set it in a central area of your home, like a living room or entrance, to usher in positive vibes and abundance.
Journey Protector: Take it with you on trips and travels for protection and to invite opportunities.
Gift of Success: Offer it to a friend or family member as a symbol of prosperity and good fortune.
Bedside Guardian: At night, place it by your bedside for protection and to inspire dreams of abundance.
Embracing the Pyrite Pocket Ganesha in these ways ensures you harness its full potential, guiding you towards a path lined with prosperity, confidence, and protection.
Return/Refund Policy
Our return policy lasts for 5 days from the date of delivery. Kindly contact us for any return/refund/exchange within 5 days from the date of delivery.
Return policy is applicable in case of damaged/defective items only.
Item must be unused & packed in original packaging.
Item will be inspected before processing the refund/exchange.
To initiate your return & exchange please send us an email at support@crystaldivine.in with your order receipt and details of the products to be returned. Please also let us know the reason for the return. Your complaints will only be taken into consideration if contacted by email. (WhatsApp / Phone Calls etc. will not be considered as complaint channels).
Upon receiving the returned products, prepaid orders will be refunded as soon as our inspection team approves the return.
COD orders: Customers will be required to provide their bank details where they would like to receive the refund.
Click to Learn more about our return and exchange policy.
Shipping Policy
We aim to dispatch all orders within 24-48 hours. In case of missing items/ unavailability or delay, we will inform you via email or WhatsApp with the expected date of dispatch.
Most orders are delivered by our courier partners within 5-7 working days from the date of dispatch.
Shipping is free on paid orders above ₹1000.
There are no question found.