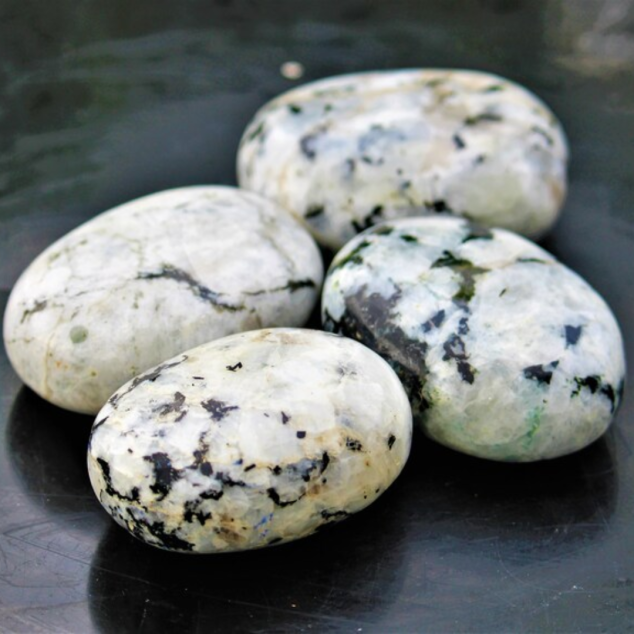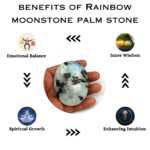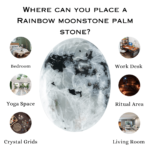 Rainbow Moonstone Palm Stone
53
people are viewing this right now

Guaranteed safe & secure checkout
Description
Rainbow Moonstone Palm Stone
The Rainbow Moonstone Palm Stone is a beautiful gem loved for its captivating play of colors, similar to the ethereal sheen of a rainbow across a cloudy sky. This gem fits perfectly within your hand, making it the perfect companion for your meditation sessions, energy balancing routines, or simply as a calming presence you can carry throughout your day.
Boasting a soothing energy that can help balance your emotions and stimulate personal growth, the Rainbow Moonstone Palm Stone is a much-loved choice amongst crystal enthusiasts. Whether you are a seasoned crystal collector or just starting your journey into the world of crystals, this palm stone is not just a treat for the eyes, but also a wonderful aid for anyone seeking inner peace, balance, and a deeper introspection of the self.
Benefits of Rainbow Moonstone Palm Stone
Rainbow Moonstone Palm Stone is cherished for its numerous potential benefits, both spiritually and emotionally. Here are some key benefits associated with this unique stone:
Emotional Balance: Rainbow Moonstone is believed to help balance emotions, making it easier for you to navigate emotional ups and downs. It can aid in releasing emotional tension and promoting a sense of calm and tranquility.

Enhanced Intuition: As a stone closely connected to the moon, it is often associated with enhancing intuition and psychic perception. This may help you gain deeper insight into situations and make decisions more confidently.

Stress Relief: The soothing energy of Rainbow Moonstone can provide stress relief, assisting in letting go of worries and concerns and promoting a peaceful state of mind.

Personal Growth: Rainbow Moonstone is considered a stone of transformation and growth. It can help you understand and accept changes in life, fostering personal development.

Spiritual Connection: The stone can enhance spiritual awareness, deepen meditation experiences, and can be used as a tool for spiritual practices, strengthening your connection to higher realms.

Harmonious Relationships: Rainbow Moonstone is often associated with love and compassion, which can aid in fostering healthier and more harmonious relationships.
Remember, while many people find these benefits from using a Rainbow Moonstone Palm Stone, the experiences can vary from person to person. It's all about finding what resonates with you and your personal journey.
How To Use Rainbow Moonstone Palm Stone?
Using a Rainbow Moonstone Palm Stone can be a simple and deeply personal experience. Here are some ways you can incorporate it into your daily routine:
Meditation: Holding the stone in your hand during meditation can help enhance your focus and deepen your spiritual connection. You can also place the stone on your third eye or heart chakra to foster intuitive insight and emotional balance.

Carry It With You: The beauty of a palm stone is its portability. You can carry the Rainbow Moonstone Palm Stone in your pocket or purse. This way, you'll have its calming and balancing energies with you throughout the day.

Sleep Aid: Place the Rainbow Moonstone Palm Stone under your pillow or on your bedside table before you go to sleep. It's believed that the stone's energy can promote peaceful sleep and encourage insightful dreams.

Affirmations and Intentions: You can hold the stone while setting positive affirmations or intentions. The stone can serve as a physical reminder of these affirmations and help manifest them into your reality.

Healing Sessions: If you participate in healing sessions, a Rainbow Moonstone Palm Stone can be a great tool. Place it on areas of the body that need healing or balancing.
Remember, there is no one-size-fits-all method for using a Rainbow Moonstone Palm Stone. Listen to your intuition and use it in a way that resonates with you. The key is to remain open and receptive to the stone's energy.
Return/Refund Policy
Our return policy lasts for 5 days from the date of delivery. Kindly contact us for any return/refund/exchange within 5 days from the date of delivery.
Return policy is applicable in case of damaged/defective items only.
Item must be unused & packed in original packaging.
Item will be inspected before processing the refund/exchange.
To initiate your return & exchange please send us an email at support@crystaldivine.in with your order receipt and details of the products to be returned. Please also let us know the reason for the return. Your complaints will only be taken into consideration if contacted by email. (WhatsApp / Phone Calls etc. will not be considered as complaint channels).
Upon receiving the returned products, prepaid orders will be refunded as soon as our inspection team approves the return.
COD orders: Customers will be required to provide their bank details where they would like to receive the refund.
Click to Learn more about our return and exchange policy.
Shipping Policy
We aim to dispatch all orders within 24-48 hours. In case of missing items/ unavailability or delay, we will inform you via email or WhatsApp with the expected date of dispatch.
Most orders are delivered by our courier partners within 5-7 working days from the date of dispatch.
Shipping is free on paid orders above ₹1000.
There are no question found.