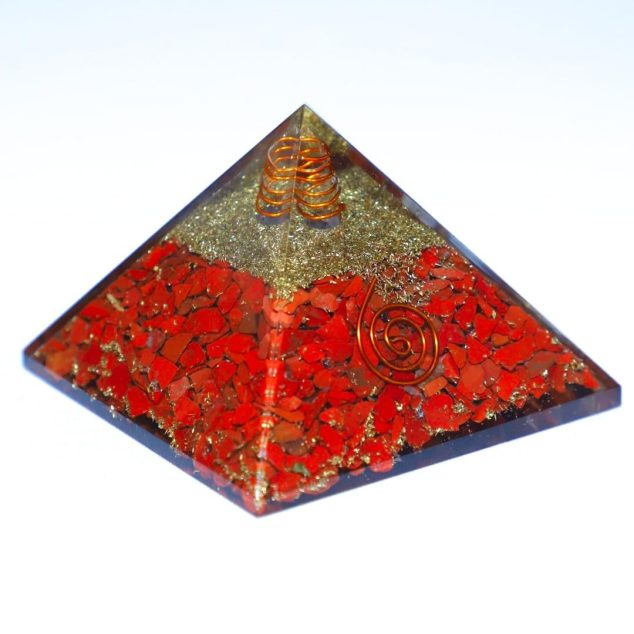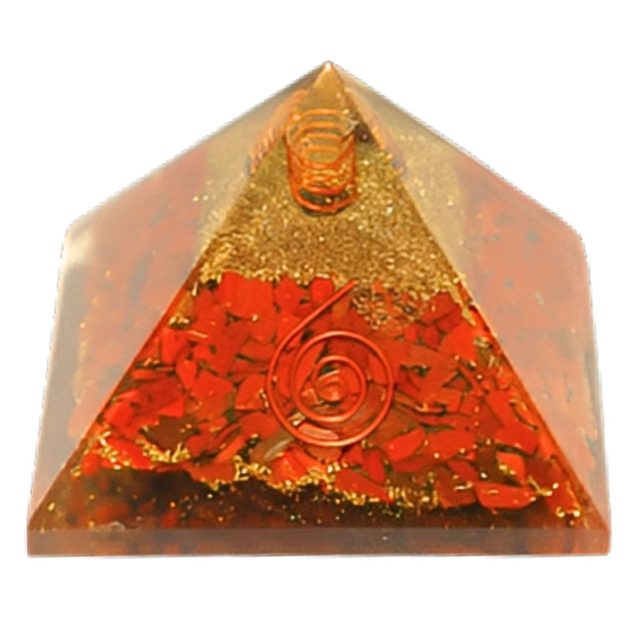 53
people are viewing this right now

Guaranteed safe & secure checkout
Description
Meet the Red Jasper Pyramid, your new best friend for healing and balance. It's made from Red Jasper, a strong, red stone that's known to help people feel grounded and steady. It's shaped like a pyramid, which focuses its energy to help you better. And there's a twist – it's got a copper coil inside! This coil helps make the Red Jasper even more powerful. So, not only does it look cool with its rich red color, but it can also help bring a sense of strength and calm to your life. A great little addition to any room, wouldn't you say?


Benefits Of Red Jasper Pyramid
Strength and Grounding: The Red Jasper Pyramid, often called the "Stone of Endurance", is known to provide a sense of stability and grounding, helping you feel more connected and secure.
Boost in Energy: Red Jasper is often associated with rejuvenation and vibrancy. It may give your energy levels a little boost when you need it.
Stress Relief: The calming properties of Red Jasper can help to create a soothing atmosphere, potentially helping you feel more relaxed and at ease.
Balance and Harmony: Red Jasper promotes balance, helping to create harmony in both your environment and within yourself.
Motivation and Willpower: Red Jasper is believed to ignite passion and determination, encouraging you to pursue your goals and dreams with a renewed zest.
How To Use Red Jasper Pyramid?
Here's how you can use your Red Jasper Pyramid:
Positivity Magnet: Keep your Red Jasper Pyramid near you, like on your desk or your bedside table. It might help create a positive and balanced environment.
Comforter: Hold the Red Jasper Pyramid when you're feeling stressed or down. It could provide a sense of comfort and help you feel more grounded.
Mindfulness Buddy: Use the pyramid during your meditation or quiet time. Its energy might enhance your focus and provide a calming influence.
Dream Support: Place it near you while you visualize your dreams and goals. The Red Jasper Pyramid might just add a spark of motivation.
Home Decor: It's not just a healing tool; it's also a beautiful piece. Add it to your space for a touch of natural elegance.
Don't forget to cleanse your pyramid periodically. This can be as simple as leaving it under sunlight or rinsing it under cold water to refresh its energy.
Return/Refund Policy
Our return policy lasts for 5 days from the date of delivery. Kindly contact us for any return/refund/exchange within 5 days from the date of delivery.
Return policy is applicable in case of damaged/defective items only.
Item must be unused & packed in original packaging.
Item will be inspected before processing the refund/exchange.
To initiate your return & exchange please send us an email at support@crystaldivine.in with your order receipt and details of the products to be returned. Please also let us know the reason for the return. Your complaints will only be taken into consideration if contacted by email. (WhatsApp / Phone Calls etc. will not be considered as complaint channels).
Upon receiving the returned products, prepaid orders will be refunded as soon as our inspection team approves the return.
COD orders: Customers will be required to provide their bank details where they would like to receive the refund.
Click to Learn more about our return and exchange policy.
Shipping Policy
We aim to dispatch all orders within 24-48 hours. In case of missing items/ unavailability or delay, we will inform you via email or WhatsApp with the expected date of dispatch.
Most orders are delivered by our courier partners within 5-7 working days from the date of dispatch.
Shipping is free on paid orders above ₹1000.
There are no question found.