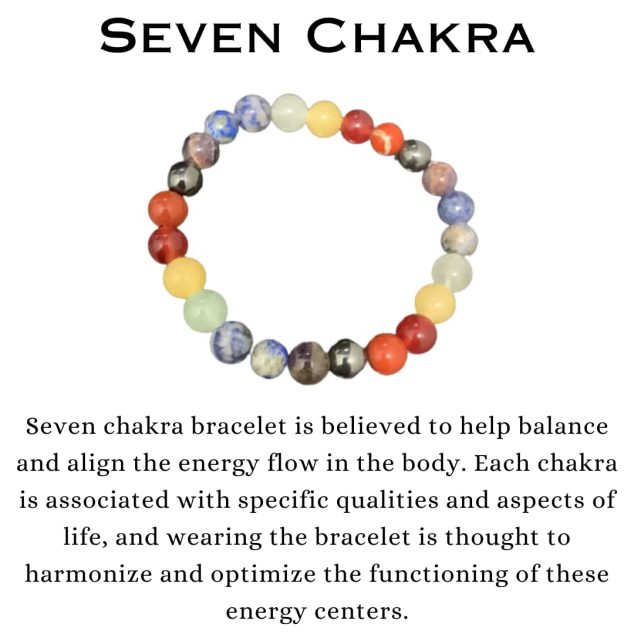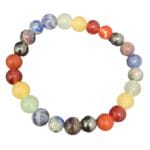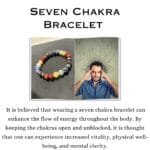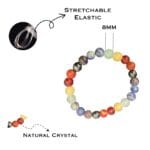 61
people are viewing this right now

Guaranteed safe & secure checkout
Description
A Seven Chakra Bracelet is a beautiful piece of jewelry designed to balance the seven energies that are believed to circulate in the human body. These energies, or chakras, align with specific points on our body. Each chakra is represented by a different color and is associated with a specific physical, emotional, or mental state. The seven chakras are Root, Sacral, Solar Plexus, Heart, Throat, Third Eye, and Crown.
The Seven Chakra Bracelet includes stones that correspond to these seven chakras. Typically, these can be stones like red jasper, carnelian, yellow jasper, green aventurine, lapis lazuli, amethyst, and clear quartz – each representing one of the chakras. Wearing a Seven Chakra Bracelet is believed to promote overall well-being and balance, aiding in physical, emotional, and spiritual health.


Benefits Of Seven Chakra Bracelet
Wearing a Seven Chakra Bracelet is thought to offer several benefits:

Balanced Energy: The bracelet is designed to balance the seven chakras which are energy centers in our body. This can help ensure a free flow of energy and maintain your spiritual, physical, and emotional health.

Enhanced Well-being: When your chakras are balanced, you are likely to feel more relaxed, balanced, and centered. This can enhance your confidence and promote overall well-being.

Physical Health: Each chakra is associated with a particular area of your body. By wearing a Seven Chakra Bracelet, it can aid in keeping these areas healthy.

Emotional Health: Balanced chakras can also contribute to emotional health by helping to keep negative emotions like fear and anxiety at bay.

Stylish Accessory: Besides their potential health benefits, Seven Chakra Bracelets are also beautiful and stylish accessories. They add a pop of color and interest to any outfit.
Remember, everyone's experience with a Seven Chakra Bracelet can be unique. These bracelets are a tool to remind you of your commitment to your well-being and personal growth.
How To Use Seven Chakra Bracelet?
To maximize the potential benefits of your Seven Chakra Bracelet, follow these steps:

Wear It Regularly: Wear your Seven Chakra Bracelet on your left wrist, which is traditionally believed to be the receiving side of the body, to absorb positive energies.

Set Your Intentions: Before putting on your bracelet, set your intentions or goals. This can be anything from wanting to feel more relaxed, balanced, or confident.

Cleanse and Recharge: Regularly cleanse your bracelet to get rid of any negative energies it might have picked up. You can do this by placing it under the sunlight or moonlight, or by using a cleansing crystal like Selenite.

Mindfulness: Whenever you glance at your bracelet during the day, let it serve as a reminder of your intentions and the balance you aim to maintain. This can help guide your actions and maintain a positive mindset.

Meditation: You can use your bracelet as a meditation tool, focusing on each chakra point while meditating to promote balance and cleanse any blockages.
By following these steps, you can use your Seven Chakra Bracelet as a tool for promoting balance, well-being, and personal growth.
Return/Refund Policy
Our return policy lasts for 5 days from the date of delivery. Kindly contact us for any return/refund/exchange within 5 days from the date of delivery.
Return policy is applicable in case of damaged/defective items only.
Item must be unused & packed in original packaging.
Item will be inspected before processing the refund/exchange.
To initiate your return & exchange please send us an email at support@crystaldivine.in with your order receipt and details of the products to be returned. Please also let us know the reason for the return. Your complaints will only be taken into consideration if contacted by email. (WhatsApp / Phone Calls etc. will not be considered as complaint channels).
Upon receiving the returned products, prepaid orders will be refunded as soon as our inspection team approves the return.
COD orders: Customers will be required to provide their bank details where they would like to receive the refund.
Click to Learn more about our return and exchange policy.
Shipping Policy
We aim to dispatch all orders within 24-48 hours. In case of missing items/ unavailability or delay, we will inform you via email or WhatsApp with the expected date of dispatch.
Most orders are delivered by our courier partners within 5-7 working days from the date of dispatch.
Shipping is free on paid orders above ₹1000.
There are no question found.