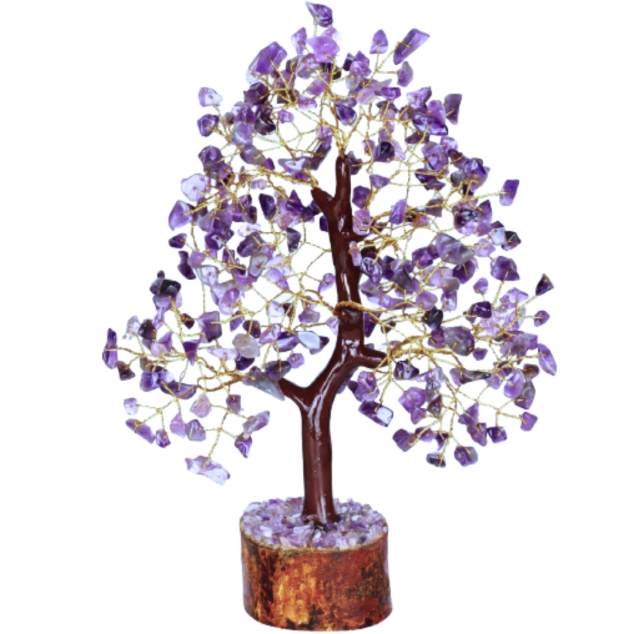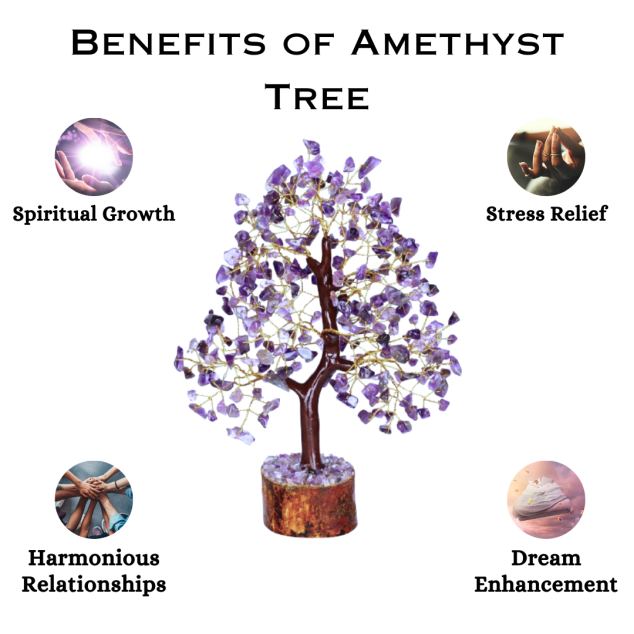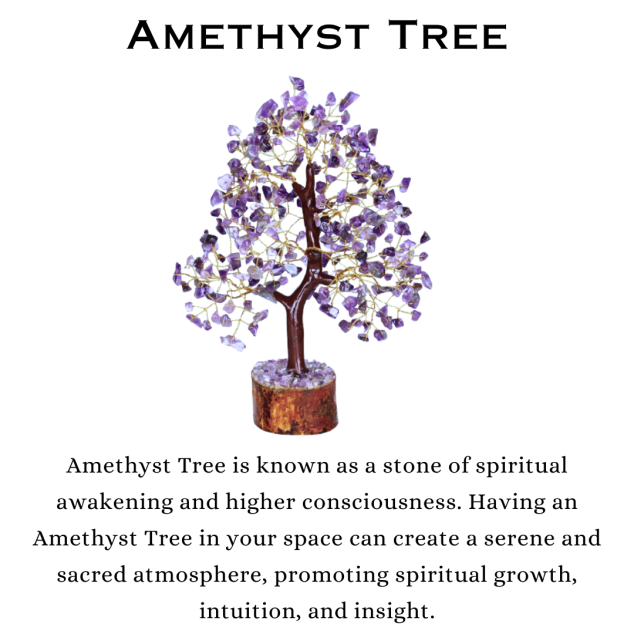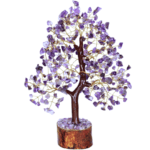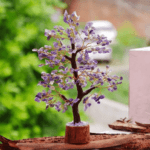 73
people are viewing this right now

Guaranteed safe & secure checkout
Description
An Amethyst Crystal Tree is a beautiful healing ornament, made by adorning a wire frame or tree-shaped branch with stunning amethyst gemstones. Amethyst, a vibrant purple stone, is highly esteemed for its ability to stimulate the mind, calm emotions, and foster spiritual growth.
The Amethyst Tree is frequently used in feng shui and holistic healing practices for its potent energy that encourages peace, healing, and spiritual wisdom. When placed in a room or office, it can aid in mitigating mental distractions and stress, thus enhancing mindfulness and focus. Its tree-like structure accentuates the crystal's healing properties with a unique aesthetic touch.
This beautiful Amethyst Crystal Tree not only adds a splash of color and natural elegance to your decor, but it also serves as a beacon of tranquility and mental clarity, promoting a serene and productive environment. Its mesmerizing hue coupled with its soothing properties makes it a distinctive and thoughtful gift for loved ones or a calming addition to your personal space.
Benefit of Amethyst Tree
For a Calm Mind: 

Are you often worried or stressed? Amethyst is believed to calm your mind. It reduces your worries and helps you feel more peaceful.

For Good Sleep: 

Having trouble sleeping? People keep an Amethyst near their bed for better sleep. It is believed to give you a peaceful and undisturbed sleep.

For Concentration: 

If you need to focus on work or studies, Amethyst could be of help. It is believed to clear your mind and help you focus better.

For Positive Atmosphere: 

Sometimes, we just feel negative energy around us. Amethyst is often used to change this. It is believed to take away negative energy and bring positivity.

For Good Relationships: 

Understanding and balance are important in relationships. Many believe that Amethyst can bring this balance. It is believed to reduce misunderstandings and promote open talks.
Overall, the Amethyst Tree is believed to offer a variety of benefits for physical, emotional, and spiritual healing, making it a popular choice for those interested in holistic healing practices, feng shui, and energy protection.
How To Use Amethyst Tree?
Room decor: You can place the Amethyst Tree in a room or office to promote creativity, motivation, and positive energy flow. The tree can be placed on a shelf, table, or desk as a beautiful decorative piece.
Feng Shui: In feng shui, the Amethyst Tree is believed to bring vitality and creativity to a space. Place the tree in a specific area of your home or office that needs an energy boost or inspiration.
Meditation: You can use the Amethyst Tree during meditation to help enhance creativity and motivation. Sit in front of the tree, close your eyes, and visualize the energy flowing through your body as you focus on the red carnelian gemstones.
Crystal healing: You can also use the Amethyst gemstones attached to the Amethyst Tree for individual crystal healing. Simply hold the gemstone or place it on the corresponding chakra point on your body.
Gift: The Amethyst Tree makes a great gift for those interested in holistic healing practices, feng shui, or for someone who wants to enhance the aesthetic value of their space.
By using the Amethyst Tree in these ways, you can benefit from its healing properties and promote overall well-being in your life.
Return/Refund Policy
Our return policy lasts for 5 days from the date of delivery. Kindly contact us for any return/refund/exchange within 5 days from the date of delivery.
Return policy is applicable in case of damaged/defective items only.
Item must be unused & packed in original packaging.
Item will be inspected before processing the refund/exchange.
To initiate your return & exchange please send us an email at support@crystaldivine.in with your order receipt and details of the products to be returned. Please also let us know the reason for the return. Your complaints will only be taken into consideration if contacted by email. (WhatsApp / Phone Calls etc. will not be considered as complaint channels).
Upon receiving the returned products, prepaid orders will be refunded as soon as our inspection team approves the return.
COD orders: Customers will be required to provide their bank details where they would like to receive the refund.
Click to Learn more about our return and exchange policy.
Shipping Policy
We aim to dispatch all orders within 24-48 hours. In case of missing items/ unavailability or delay, we will inform you via email or WhatsApp with the expected date of dispatch.
Most orders are delivered by our courier partners within 5-7 working days from the date of dispatch.
Shipping is free on paid orders above ₹1000.
There are no question found.