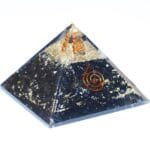 79
people are viewing this right now

Guaranteed safe & secure checkout
Description
The Black Tourmaline Pyramid is a stunning piece of natural beauty, embodying both strength and serenity. Made from Black Tourmaline, a potent stone known for its protective properties, this pyramid is crafted to serve as a shield against negative energies. Encompassed within is a copper coil that amplifies the stone's attributes. The pyramid is not only a beautiful decor piece with its mesmerizing black hue, but it's also a powerful tool to bring harmony, grounding, and defense into your surroundings.


Benefits Of Black Tourmaline Pyramid
Protection: Black Tourmaline is well-regarded for its ability to safeguard against negative energies, providing a protective shield around you and your space.
Grounding: Known for its grounding properties, Black Tourmaline can help to anchor you firmly in the present moment, promoting a sense of stability.
Stress Relief: The soothing energy of the Black Tourmaline Pyramid can contribute to a calm atmosphere, potentially helping to ease anxiety and stress.
Balance: Black Tourmaline is known to bring balance, aiding in the release of unwanted energy and promoting a flow of positivity.
Enhanced Focus: The pyramid shape, coupled with the energy of Black Tourmaline, can enhance concentration and focus, making it an ideal companion for meditation and mindfulness practices.
How To Use Black Tourmaline Pyramid?
Here's how you can easily use your Black Tourmaline Pyramid:
Energy Guard: Keep your Black Tourmaline Pyramid in your living or working space to help ward off negative energies and create a balanced environment.
Personal Shield: Carry the pyramid with you, particularly during travel or stressful situations, as a protective talisman.
Focus Tool: Use the pyramid during meditation or mindfulness practices to help enhance your focus and connection to the present moment.
Nighttime Companion: Place it on your bedside table to invite peaceful energy and ward off bad dreams.
Decorative Accent: The Black Tourmaline Pyramid also serves as a stunning decor piece, adding an element of natural beauty to your space.
Remember to cleanse your Black Tourmaline Pyramid regularly to keep its energy fresh and vibrant. This can be done by placing it under direct sunlight or moonlight, or by rinsing it under cold, running water.
Return/Refund Policy
Our return policy lasts for 5 days from the date of delivery. Kindly contact us for any return/refund/exchange within 5 days from the date of delivery.
Return policy is applicable in case of damaged/defective items only.
Item must be unused & packed in original packaging.
Item will be inspected before processing the refund/exchange.
To initiate your return & exchange please send us an email at support@crystaldivine.in with your order receipt and details of the products to be returned. Please also let us know the reason for the return. Your complaints will only be taken into consideration if contacted by email. (WhatsApp / Phone Calls etc. will not be considered as complaint channels).
Upon receiving the returned products, prepaid orders will be refunded as soon as our inspection team approves the return.
COD orders: Customers will be required to provide their bank details where they would like to receive the refund.
Click to Learn more about our return and exchange policy.
Shipping Policy
We aim to dispatch all orders within 24-48 hours. In case of missing items/ unavailability or delay, we will inform you via email or WhatsApp with the expected date of dispatch.
Most orders are delivered by our courier partners within 5-7 working days from the date of dispatch.
Shipping is free on paid orders above ₹1000.
There are no question found.