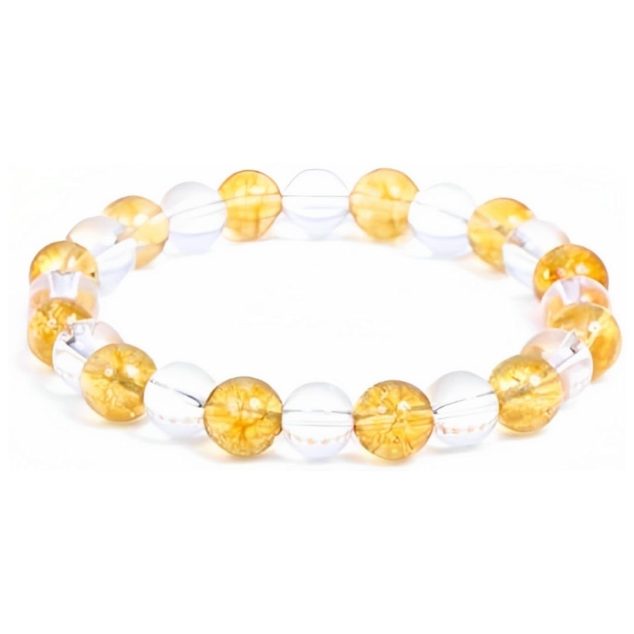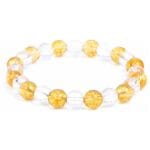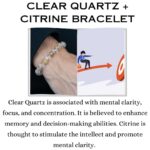 Clear Quartz + Citrine Bracelet
87
people are viewing this right now

Guaranteed safe & secure checkout
Description
Clear Quartz + Citrine Bracelet
The Clear Quartz + Citrine Bracelet is a unique blend of two powerful crystals designed to bring positivity and abundance.
Clear Quartz, also known as the 'Master Healer', is renowned for its ability to amplify energy and thought, and the effect of other crystals. It absorbs, stores, releases, and regulates energy, making it an excellent choice for meditation and healing.
Citrine, often referred to as the 'Success Stone' or 'Merchant's Stone', is known for its potential to attract wealth and prosperity. It's also famed for its ability to dispel negative energy and bring about joy and enthusiasm.
In this bracelet, the alternating pattern of Clear Quartz and Citrine combines the properties of both these stones, creating a powerful tool that aims to enhance positivity, clarity, and success in one's life.


Benefits Of Clear Quartz + Citrine Bracelet

The Clear Quartz + Citrine Bracelet is said to offer several benefits to its wearer:
Wealth and Success: Citrine, often considered a stone of abundance, might help attract prosperity and success into your life.

Energizing and Recharging: Clear Quartz is known for its ability to energize and recharge the energies in your body.

Negativity Shield: Citrine is believed to dispel negative energy. Coupled with Clear Quartz, which amplifies energies, this bracelet can act as a powerful shield against negativity.

Clarity of Mind: Clear Quartz is also renowned for its supposed ability to bring clarity to your thoughts, helping you to focus and make decisions.

Joy and Positivity: Citrine is often associated with joy and positivity. Wearing this bracelet might bring a brighter outlook on life and elevate your mood.

Enhancing Creativity: Citrine is often linked with enhanced creativity and motivation, aiding personal expression.

Boosts Self Confidence: This bracelet can also boost self-confidence and personal power by balancing the energies in your body.
Remember that the benefits of this bracelet can vary from person to person. The bracelet is a tool that aims to assist you in your journey, but positive outcomes often require your active involvement and belief.


How To Use
Clear Quartz + Citrine

Bracelet?

Using your Clear Quartz + Citrine Bracelet is pretty simple. Here's how you can go about it:
Cleanse Your Bracelet: Before you start using your bracelet, cleanse it to clear any residual energies. You can do this by leaving it out under the full moon overnight, smudging it with sage, or placing it in a bowl with Himalayan salt or brown rice.

Set an Intention: Hold your bracelet in your hands and close your eyes. Visualize your goals and set a clear, positive intention for what you want your bracelet to help you achieve.

Wear Your Bracelet: Wear the bracelet on your left wrist, which is considered the receptive side of the body, to absorb the positive energies of the stones.

Meditate: You can also use the bracelet during meditation. Hold the bracelet in your hand or place it in front of you while meditating. Focus on the bracelet and visualize your intentions being absorbed by the stones.

Take Care of Your Bracelet: Avoid exposing the bracelet to chemicals or harsh conditions. Remove it before swimming, bathing, or doing any strenuous activities.

Recharge Your Bracelet: Recharge the bracelet periodically by leaving it under the moonlight or sunlight, or by placing it among other crystals.
Remember, the bracelet is a tool that helps channelize your thoughts, intentions, and energies. It's up to you to actively work towards your goals.
Return/Refund Policy
Our return policy lasts for 5 days from the date of delivery. Kindly contact us for any return/refund/exchange within 5 days from the date of delivery.
Return policy is applicable in case of damaged/defective items only.
Item must be unused & packed in original packaging.
Item will be inspected before processing the refund/exchange.
To initiate your return & exchange please send us an email at support@crystaldivine.in with your order receipt and details of the products to be returned. Please also let us know the reason for the return. Your complaints will only be taken into consideration if contacted by email. (WhatsApp / Phone Calls etc. will not be considered as complaint channels).
Upon receiving the returned products, prepaid orders will be refunded as soon as our inspection team approves the return.
COD orders: Customers will be required to provide their bank details where they would like to receive the refund.
Click to Learn more about our return and exchange policy.
Shipping Policy
We aim to dispatch all orders within 24-48 hours. In case of missing items/ unavailability or delay, we will inform you via email or WhatsApp with the expected date of dispatch.
Most orders are delivered by our courier partners within 5-7 working days from the date of dispatch.
Shipping is free on paid orders above ₹1000.
There are no question found.