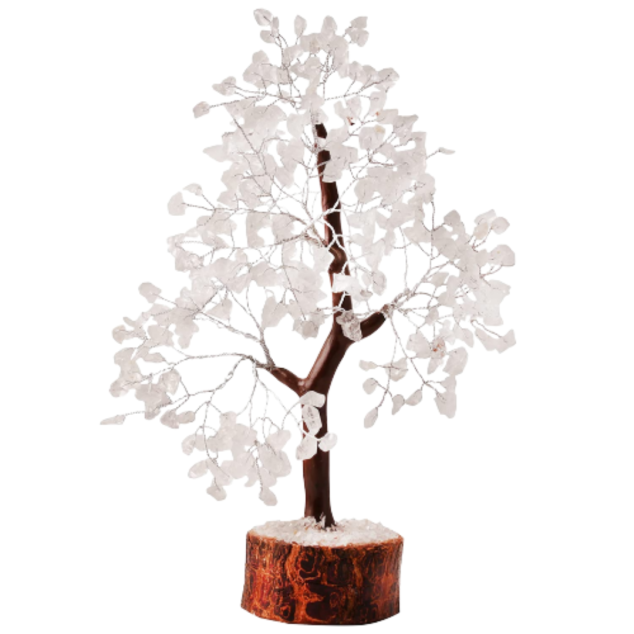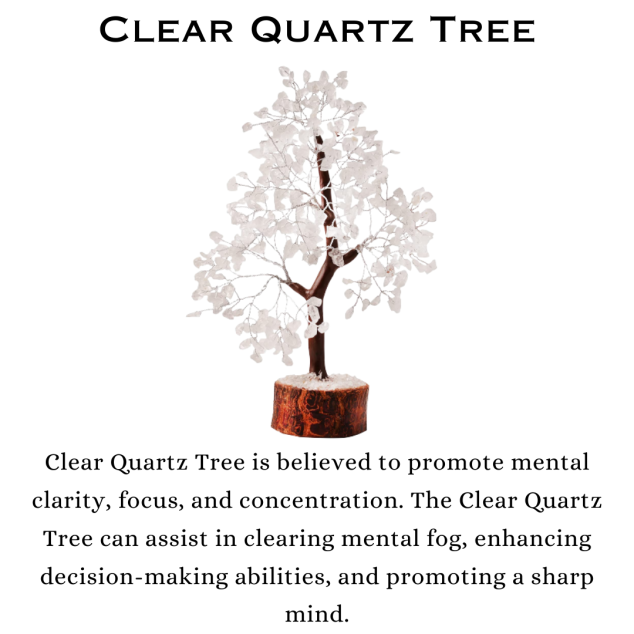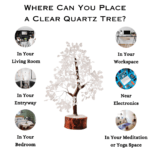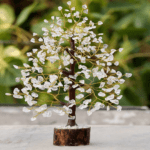 68
people are viewing this right now

Guaranteed safe & secure checkout
Description
A Clear Quartz Tree is a touch of elegance and harmony for your space. Our Elegant Handcrafted Clear Quartz Crystal Tree, boasting its transparent and glass-like appearance, is a beautiful blend of handcrafted artistry and nature's pure beauty.
This striking piece is made from natural clear quartz stones carefully affixed to a delicate wire frame, creating an intricate tree-like structure. But it's more than just an eye-catching decoration. Clear quartz is known for its powerful energy-balancing properties. It's like having a personal energy harmonizer in your home or office.
Our Clear Quartz Crystal Tree is a great fit for any area where you need a calm, balanced atmosphere. Its transparency and tree-like form make it a stunning piece of decor that also helps to balance energies, clear your mind, and enhance focus.
When you bring home our Handcrafted Clear Quartz Crystal Tree, you're not just getting a unique decoration. You're inviting balance, clarity, and harmony into your life.
Benefit of Clear Quartz Tree
Energy Amplification: Clear Quartz is known for its ability to amplify any energy or intention. Having a Clear Quartz Tree in your space can boost the effects of other crystals or positive affirmations.
Cleansing & Healing: Clear Quartz is said to absorb, store, release, and regulate energy. It can help clear negative energies and bring balance to your space, promoting a healthier and more harmonious environment.
Clarity & Focus: Clear Quartz promotes mental clarity, helping you to focus and make decisions more easily. Having a Clear Quartz Tree in your workspace can aid concentration and productivity.
Spiritual Growth: Clear Quartz is also known to enhance spiritual growth and inspire higher consciousness. It can aid meditation, enhance psychic abilities, and unlock memory.
Harmony: Clear Quartz is said to bring harmony to your environment, making it more peaceful and balanced. This can be particularly beneficial in a home or office setting.
Remember, while Clear Quartz is known for its self-cleaning properties, it's still a good idea to cleanse and recharge it periodically to maintain its energy-boosting and balancing effects. You can do this by exposing it to sunlight or moonlight, or by smudging it with sage or other cleansing herbs.


How To Use Clear Quartz Tree?
Decoration with Purpose: Place the Clear Quartz Tree as a centerpiece in your living room or office. It's not just a beautiful piece of decor, it also helps to balance the energy in the room and creates a peaceful environment.
Meditation Aid: Use the Clear Quartz Tree during your meditation sessions. Focus on its clear, calming presence to help you achieve a deeper state of relaxation and clarity.
Workspace Companion: Keep the Clear Quartz Tree on your work desk. Its energy can help you concentrate better, make clear decisions, and stay productive.
Bedside Buddy: Place it on your bedside table to promote a restful sleep. Clear Quartz is believed to help clear your mind and reduce nightmares.
Energy Amplifier: If you have other crystals, place the Clear Quartz Tree near them. Clear Quartz can enhance the energy of other crystals, making them more effective.
Gift of Good Vibes: The Clear Quartz Tree makes a thoughtful and meaningful gift. Its ability to cleanse energy and promote harmony makes it a great present for friends or family.

Remember, your Clear Quartz Tree will work best if it's cleaned regularly. You can do this by leaving it in natural sunlight for a few hours, or you can use sage smoke to cleanse it. Always handle your Clear Quartz Tree gently to keep it looking its best.

 
Return/Refund Policy
Our return policy lasts for 5 days from the date of delivery. Kindly contact us for any return/refund/exchange within 5 days from the date of delivery.
Return policy is applicable in case of damaged/defective items only.
Item must be unused & packed in original packaging.
Item will be inspected before processing the refund/exchange.
To initiate your return & exchange please send us an email at support@crystaldivine.in with your order receipt and details of the products to be returned. Please also let us know the reason for the return. Your complaints will only be taken into consideration if contacted by email. (WhatsApp / Phone Calls etc. will not be considered as complaint channels).
Upon receiving the returned products, prepaid orders will be refunded as soon as our inspection team approves the return.
COD orders: Customers will be required to provide their bank details where they would like to receive the refund.
Click to Learn more about our return and exchange policy.
Shipping Policy
We aim to dispatch all orders within 24-48 hours. In case of missing items/ unavailability or delay, we will inform you via email or WhatsApp with the expected date of dispatch.
Most orders are delivered by our courier partners within 5-7 working days from the date of dispatch.
Shipping is free on paid orders above ₹1000.
There are no question found.