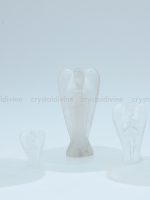 Clear Quartz Angel (Master Healer and Amplifier)
71
people are viewing this right now

Guaranteed safe & secure checkout
Description
Clear Quartz Angel (Master Healer and Amplifier)
Clear Quartz Angel is believed to help connect with the divine and promote feelings of peace, love, and protection. It can be used in a variety of ways in healing, such as holding it during meditation or placing it on the body during energy healing sessions. It can also be placed in your environment to promote a sense of calm and tranquility, or used in crystal grids to amplify its healing properties.
Like all crystals, the effectiveness of  Angel Crystal may vary from person to person, and it is important to use these tools in conjunction with other forms of healing and self-care. It is also important to cleanse and charge your Angel regularly to ensure that it is functioning at its highest vibration.
Benefits Of Clear Quartz Angel
Connection with angels: The angel shape of the Angel is believed to evoke angelic energies and promote a connection with angelic beings, promoting feelings of love, protection, and guidance.

Amplifying angelic energy: Clear Quartz is known for its ability to amplify energy, so  Angel may be particularly effective in amplifying the healing energy of angels.

Enhancing spiritual awareness: Angel is believed to help enhance spiritual awareness and promote a deeper connection with the divine, particularly with the help of angelic beings.

Promoting mental clarity: Clear Quartz Angel is said to promote mental clarity and focus, which can be particularly helpful when working with angelic energies.

Balancing and aligning chakras: Angel is associated with all of the chakras and is believed to help balance and align them, promoting overall health and well-being.

Dispelling negativity: Angel is said to have a purifying effect on the energy field, helping to dispel negativity and promote a sense of peace and tranquility, which can be particularly helpful when working with angelic energies.
How To Use Clear Quartz Angel?
Meditation: Hold the Angel in your hand or place it on your body during meditation. Focus on the healing energy of the crystal and visualize it filling your body with light and positive energy. You can also meditate on the energy of angels and invite them to assist you in your healing journey.

Crystal Grids: Create a crystal grid using Angel to amplify the energy of the angels and promote healing and protection. Place the crystal in the center of the grid and surround it with other crystals that have complementary properties, such as Amethyst for spiritual awareness or Black Tourmaline for protection.

Energy Healing: Use the Clear Quartz Crystal Angel during energy healing sessions by placing it on or near the areas of the body that need healing. You can also use it to balance and align the chakras, either by placing it on each chakra or by holding it in your hand while focusing on each chakra in turn.

Feng Shui: Place the Clear Quartz Crystal Angel in your home or workspace to promote a sense of calm and tranquility. You can place it in a prominent location, such as on a windowsill or on a desk, to help promote positive energy and protection.

Intention Setting: Use the Clear Quartz to amplify your intentions and help bring them into reality. Hold the crystal in your hand and visualize your intentions as if they have already come true. Feel the energy of the crystal amplifying your intentions and helping to bring them into reality.
Shop Other Categories
For More Information Visit Our Social Media Pages CLICK HERE
Return/Refund Policy
Our return policy lasts for 5 days from the date of delivery. Kindly contact us for any return/refund/exchange within 5 days from the date of delivery.
Return policy is applicable in case of damaged/defective items only.
Item must be unused & packed in original packaging.
Item will be inspected before processing the refund/exchange.
To initiate your return & exchange please send us an email at support@crystaldivine.in with your order receipt and details of the products to be returned. Please also let us know the reason for the return. Your complaints will only be taken into consideration if contacted by email. (WhatsApp / Phone Calls etc. will not be considered as complaint channels).
Upon receiving the returned products, prepaid orders will be refunded as soon as our inspection team approves the return.
COD orders: Customers will be required to provide their bank details where they would like to receive the refund.
Click to Learn more about our return and exchange policy.
Shipping Policy
We aim to dispatch all orders within 24-48 hours. In case of missing items/ unavailability or delay, we will inform you via email or WhatsApp with the expected date of dispatch.
Most orders are delivered by our courier partners within 5-7 working days from the date of dispatch.
Shipping is free on paid orders above ₹1000.
There are no question found.