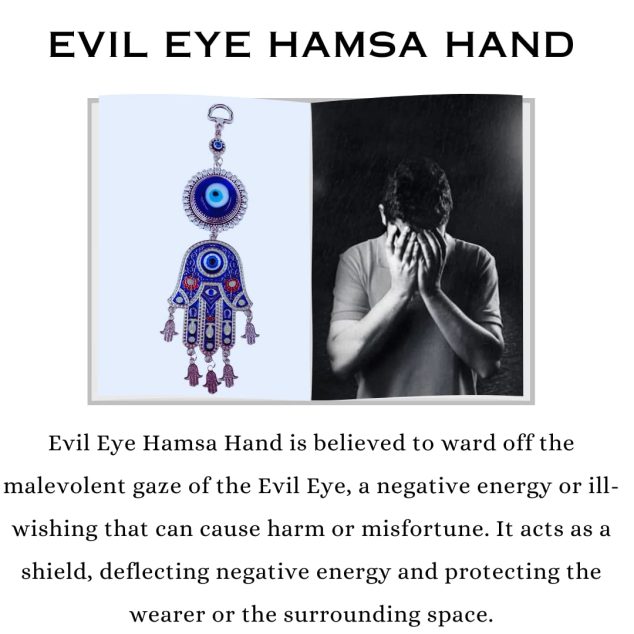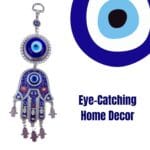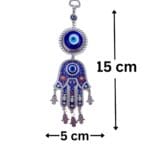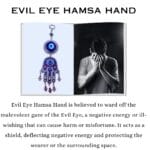 83
people are viewing this right now

Guaranteed safe & secure checkout
Description
The Evil Eye Hamsa Hand is a cool piece of evil eye home decor for your home. It's got this evil eye blue "eye" design that people from many parts of the world believe can keep bad vibes away. It's like an evil eye protection buddy for your home! Plus, with the hand shape around it, which is often referred to as the evil eye hand, it's double the protection. This isn't just any hand; it's called the "Hamsa Hand" and it's known for keeping things safe. So, if you're looking for something pretty to hang on your wall, perhaps as an evil eye wall decor or evil eye wall hanging, that also brings in some good luck, this could be it! Whether you believe in its protective magic, view it as one of the coveted evil eye charms, or just love the way it looks as part of your nazar evil eye collection, it's sure to catch eyes and start conversations.


Benefits Of Evil Eye Hamsa Hand

Benefits Of Evil Eye Hamsa Hand:
Protection from Negative Energy: Many believe the Evil Eye Hamsa Hand, a prominent evil eye protection, can shield you from envy, bad intentions, or harmful vibes that others might send your way.

Stylish Decor: It's a trendy evil eye home decor piece that can add a unique touch to any room, making your space both beautiful and meaningful.

Cultural Connection: Owning one can help you feel connected to ancient traditions and cultures that have cherished this nazar evil eye symbol for centuries.

Good Luck Charm: Some people believe having this symbol in their space can bring good fortune and ward off bad luck.

Conversation Starter: Its distinct design can spark interesting conversations with guests about its origin and meaning.

Peace of Mind: Even if you're not superstitious, having an evil eye charm of protection can provide a sense of comfort and peace.
So, whether you're looking to spruce up your evil eye wall decor or seeking a bit of extra protection and luck, the Evil Eye Hamsa Hand has got you covered!
How To Use Evil Eye Hamsa Hand?

Using the evil eye hand is easy, and you don't need any special rituals. Here's a simple guide to get you started:
Find a Spot: Choose a place in your home or office where you'd like to hang it. Many people prefer to place it near entrances to ensure protection right from the door.

Hang Securely: Ensure you use a sturdy hook or nail to hang it, especially if it's made of heavier materials.

Intention Setting: While not necessary, some like to set a positive intention or say a little prayer as they hang it, reinforcing the protective qualities they hope it brings.

Keep It Clean: Over time, it might gather dust. Gently wipe it down with a soft cloth to keep it looking bright and fresh.

Gift It: The evil eye hand makes for a thoughtful gift. If you're giving it to someone, let them know about its protective qualities and the good intentions you're sending their way with it.

Show It Off: It's a beautiful decor piece, so feel free to incorporate it into your decor style, perhaps as part of an evil eye wall hanging or even on a stand.
Remember, the most important thing is the belief and intention behind it. Whether you're using it as a decorative piece, a protective charm, or both, it's a unique addition to any space.
Return/Refund Policy
Our return policy lasts for 5 days from the date of delivery. Kindly contact us for any return/refund/exchange within 5 days from the date of delivery.
Return policy is applicable in case of damaged/defective items only.
Item must be unused & packed in original packaging.
Item will be inspected before processing the refund/exchange.
To initiate your return & exchange please send us an email at support@crystaldivine.in with your order receipt and details of the products to be returned. Please also let us know the reason for the return. Your complaints will only be taken into consideration if contacted by email. (WhatsApp / Phone Calls etc. will not be considered as complaint channels).
Upon receiving the returned products, prepaid orders will be refunded as soon as our inspection team approves the return.
COD orders: Customers will be required to provide their bank details where they would like to receive the refund.
Click to Learn more about our return and exchange policy.
Shipping Policy
We aim to dispatch all orders within 24-48 hours. In case of missing items/ unavailability or delay, we will inform you via email or WhatsApp with the expected date of dispatch.
Most orders are delivered by our courier partners within 5-7 working days from the date of dispatch.
Shipping is free on paid orders above ₹1000.
There are no question found.