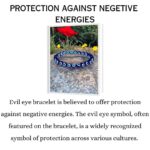 61
people are viewing this right now

Guaranteed safe & secure checkout
Description
The Evil Eye Bracelet is a unique piece of jewelry that is said to offer protection and bring good luck to its wearer. This accessory has its roots in ancient Middle Eastern and Mediterranean cultures, where it was believed to shield individuals from the malevolent gaze of the 'evil eye'. This malevolent gaze was thought to bring misfortune or injury.
The bracelet typically features a charm or bead representing an eye, usually made of glass and characterized by a vivid blue color, although other colors can also be used. It's not just a pretty piece of jewelry, but also a symbol of protection, warding off negative energy while attracting positivity.
Whether you're wearing it as a style statement or for its symbolic significance, the Evil Eye Bracelet is a captivating and timeless piece that fits perfectly with any outfit.


Benefits Of Evil Eye Bracelet

The Evil Eye Bracelet is not only a fashionable accessory but is also associated with a variety of benefits:
Protection: It is said to guard the wearer from negative energies or harmful influences, known as the 'evil eye'.

Good Luck: Many believe that wearing an Evil Eye Bracelet can bring good luck and prosperity.

Positive Energy: The bracelet is thought to attract positive energy and ward off negativity, promoting a healthier and happier life.

Peace of Mind: Wearing the bracelet can provide peace of mind, as it is considered a protective charm.
Remember, these benefits depend on individual beliefs and experiences. The Evil Eye Bracelet can be a meaningful and stylish addition to your accessories collection.


How To Use Evil Eye Bracelet?
Using the Evil Eye Bracelet is quite straightforward. Here's how you can use it:

Wear It: The bracelet is designed to be worn on your wrist. You can wear it on either wrist based on your comfort.

Intentions: While putting it on, you can set your intentions or make a personal wish. Some people believe this enhances the bracelet's protective power.

Keep It Clean: Regularly clean the bracelet gently with a soft cloth to maintain its shine and remove any accumulated dirt.

Show It Off: The Evil Eye Bracelet is not only a spiritual accessory but also a stylish one. Wear it with pride and let it compliment your outfits.
Remember, the key is to wear it with belief and positivity. Enjoy the vibes it brings to your life!
Return/Refund Policy
Our return policy lasts for 5 days from the date of delivery. Kindly contact us for any return/refund/exchange within 5 days from the date of delivery.
Return policy is applicable in case of damaged/defective items only.
Item must be unused & packed in original packaging.
Item will be inspected before processing the refund/exchange.
To initiate your return & exchange please send us an email at support@crystaldivine.in with your order receipt and details of the products to be returned. Please also let us know the reason for the return. Your complaints will only be taken into consideration if contacted by email. (WhatsApp / Phone Calls etc. will not be considered as complaint channels).
Upon receiving the returned products, prepaid orders will be refunded as soon as our inspection team approves the return.
COD orders: Customers will be required to provide their bank details where they would like to receive the refund.
Click to Learn more about our return and exchange policy.
Shipping Policy
We aim to dispatch all orders within 24-48 hours. In case of missing items/ unavailability or delay, we will inform you via email or WhatsApp with the expected date of dispatch.
Most orders are delivered by our courier partners within 5-7 working days from the date of dispatch.
Shipping is free on paid orders above ₹1000.
There are no question found.