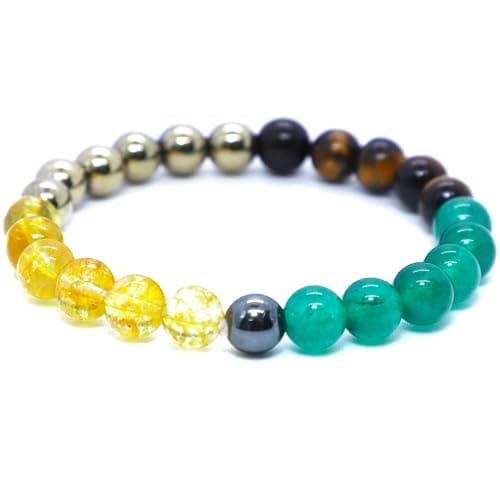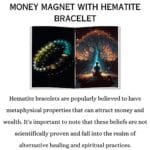 Money Magnet With Hematite Bracelet
55
people are viewing this right now

Guaranteed safe & secure checkout
Description
Money Magnet With Hematite Bracelet
Introducing the Money Magnet with Hematite Bracelet, a unique blend of five carefully chosen crystals, each carrying its distinct vibrational energy.
Citrine, often hailed as the "success stone," is believed to attract abundance and prosperity. Pyrite, with its golden luster, is associated with wealth and ambition, making it a true "money magnet." Hematite acts as the grounding force in this ensemble, providing stability and balance to one's endeavors. Green Aventurine, the "stone of opportunity," is thought to be one of the luckiest crystals, particularly in manifesting prosperity. Rounding out the set is Tiger Eye, recognized for its power to bring clarity, focus, and determination.
Together, these gems unite to form not just a visually striking bracelet, but a powerful tool for those aiming to align their energies with wealth, success, and grounded decision-making.


Benefits Of Money Magnet With Hematite Bracelet

Wearing a Money Magnet With Hematite Bracelet offers a range of potential benefits:
Attract Abundance: With Citrine, known as the "success stone," wearers may feel a heightened sense of attracting prosperity and financial abundance.
Wealth and Ambition: Pyrite's golden shine embodies the essence of wealth, stimulating the drive and determination to chase after one's ambitions.
Grounding and Balance: Hematite ensures that while you aim for the stars, you remain firmly grounded. It offers balance and stability, helping to avoid hasty decisions.
Boost Opportunities: Green Aventurine, often termed the "stone of opportunity," might increase your chances in situations requiring a touch of luck, especially in financial endeavors.
Clarity and Determination: Tiger Eye's unique patterns are believed to sharpen focus, clarity, and bolster determination, guiding the wearer towards their goals with unwavering resolve.
Harmonious Energies: The combined energies of these five crystals work in synergy. While some gems call forth abundance, others ensure that prosperity is pursued with clarity, grounded intent, and an open heart.
The bracelet doesn't just stand as a beautiful accessory but resonates as a powerful emblem for those looking to align with financial success, stability, and a clear path forward.


How To Use
Money Magnet With Hematite Bracelet?
Wear Regularly: Start by wearing the bracelet on your left wrist, which is often considered the receptive side of the body, to absorb the positive energies of the crystals.

Set Intentions: Before wearing, hold the bracelet in your hand and close your eyes. Clearly visualize your financial goals and set a strong intention, asking the crystals to assist you in attracting abundance and grounding your decisions.

Mindful Touch: Throughout the day, whenever you touch or see the bracelet, let it serve as a reminder of your financial goals and ambitions. This practice reinforces your intentions.

Meditate: Take a few moments regularly to meditate with the bracelet, focusing on its energies and the financial aspirations you wish to achieve.

Cleanse and Charge: To maintain the bracelet's potency, cleanse it periodically. This can be done by placing it under moonlight or sunlight, smudging with sage, or rinsing under cool water. After cleansing, you can recharge it by placing it near other energizing crystals or setting fresh intentions.

Stay Open: Believe in the bracelet's energies and remain open to opportunities and signs that the universe might present to you.
Remember, while the bracelet holds energies that might aid in attracting wealth and grounding, the real power lies in your intentions, actions, and beliefs. Let the Money Magnet with Hematite Bracelet be a tool to guide and enhance this journey towards abundance.
Return/Refund Policy
Our return policy lasts for 5 days from the date of delivery. Kindly contact us for any return/refund/exchange within 5 days from the date of delivery.
Return policy is applicable in case of damaged/defective items only.
Item must be unused & packed in original packaging.
Item will be inspected before processing the refund/exchange.
To initiate your return & exchange please send us an email at support@crystaldivine.in with your order receipt and details of the products to be returned. Please also let us know the reason for the return. Your complaints will only be taken into consideration if contacted by email. (WhatsApp / Phone Calls etc. will not be considered as complaint channels).
Upon receiving the returned products, prepaid orders will be refunded as soon as our inspection team approves the return.
COD orders: Customers will be required to provide their bank details where they would like to receive the refund.
Click to Learn more about our return and exchange policy.
Shipping Policy
We aim to dispatch all orders within 24-48 hours. In case of missing items/ unavailability or delay, we will inform you via email or WhatsApp with the expected date of dispatch.
Most orders are delivered by our courier partners within 5-7 working days from the date of dispatch.
Shipping is free on paid orders above ₹1000.
There are no question found.