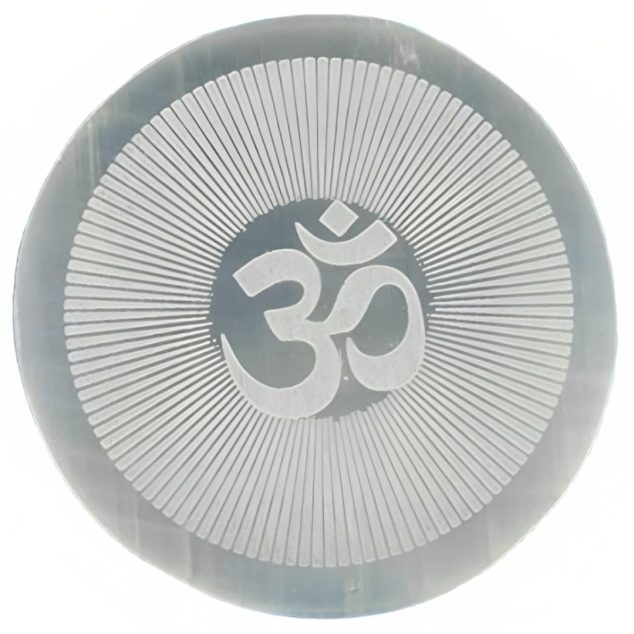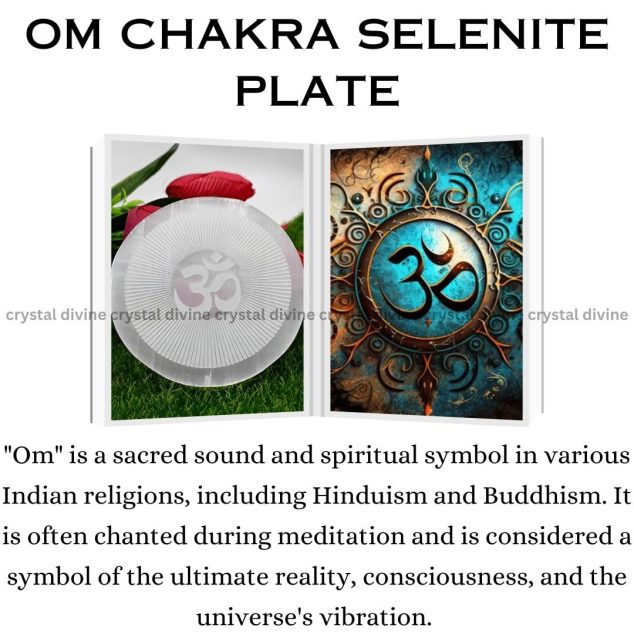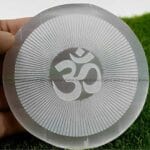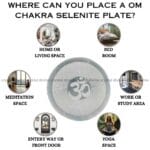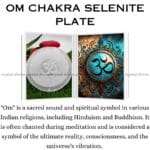 Om Chakra Selenite Charging Plate
64
people are viewing this right now

Guaranteed safe & secure checkout
Description
Om Chakra Selenite Charging Plate
Discover the magic of our "Om Chakra Selenite Charging Plate." Carved with the ancient 'Om' symbol, paired with intricate chakra designs, this plate is more than just an accessory. Crafted from the finest selenite, its natural properties offer a haven for rejuvenating and recharging your cherished crystals or energy tools. Whether you're deep into spiritual practices or just looking for a touch of serenity in your space, this piece brings a blend of tradition and modern energy healing right to your hands. Add it to your collection and let its gentle glow infuse your surroundings with harmony and balance.
Benefits Of Om Chakra Engraved Selenite Charging Plate
Energetic Cleansing: Selenite's inherent properties help clear and purify the energy of objects placed upon it, making it ideal for rejuvenating and recharging crystals, jewelry, and other energy tools.

Sacred Om Symbol: The 'Om' engraving channels the universal sound of creation and invokes a sense of deep peace, spiritual connection, and meditation enhancement.

Chakra Alignment: Engravings of the chakra symbols, coupled with the selenite's properties, assist in aligning and balancing the seven main energy centers of the body.

Ambient Enhancement: Its aesthetic appeal acts as a serene and spiritual decor element, elevating the ambiance of any space it occupies.

Promotes Clarity and Calm: Selenite, paired with the Om and chakra symbols, can promote mental clarity and a calm, peaceful environment, aiding in meditation or relaxation practices.

Amplified Healing: The fusion of the selenite plate with the Om and chakra symbols can amplify the healing intentions set upon it, magnifying the energy of other crystals or items charged on the plate.

Compact and Versatile: It's a versatile tool that fits seamlessly into various spiritual and relaxation routines, from crystal healing to meditation sessions.
Incorporating the Om Chakra Engraved Selenite Charging Plate into daily practices or decor can be a step towards a more balanced, harmonious, and energetically cleansed environment.
How to Use Om Chakra Selenite Charging Plate ?
Find a Place: Start by placing the selenite charging plate in a quiet, calm space in your home. It can be on your meditation altar, bedside table, or any space you feel drawn to.

Clean the Plate: Before first use, you might want to gently wipe the plate with a soft cloth to remove any dust. Remember, selenite is sensitive to water, so avoid using damp cloths or liquids.

Set an Intention: Hold your hands over the plate and set a clear intention. It can be anything from cleansing your crystals to seeking clarity or peace in your daily life.

Place Objects on the Plate: Gently lay your crystals, jewelry, or any spiritual tools you wish to cleanse and charge on the plate. The selenite and the Om chakra engraving will work their magic!

Meditate: If you feel called, sit quietly next to your plate, meditating on the sound of "Om" and visualize your items being purified and charged with positive energy.

Let it Charge: You can leave your items on the selenite plate overnight or for as long as you feel is necessary. Some people believe placing it under the moonlight enhances the charging process.

Daily Use: Make it a daily practice to charge your spiritual tools or even everyday jewelry to benefit from the plate's calming and clarifying energies.

Maintain the Plate: Every now and then, ensure your plate remains clean and free from clutter. It will continue to provide its benefits without the need for 'charging' itself, as selenite is self-cleansing.

Handle with Care: Selenite is a soft mineral, so handle your plate gently to prevent scratches or damages.
Remember, while the Om Chakra Engraved Selenite Charging Plate is a powerful spiritual tool, always trust your intuition on how best to use it. The above steps are guidelines, and you can adjust based on what feels right for you.
Return/Refund Policy
Our return policy lasts for 5 days from the date of delivery. Kindly contact us for any return/refund/exchange within 5 days from the date of delivery.
Return policy is applicable in case of damaged/defective items only.
Item must be unused & packed in original packaging.
Item will be inspected before processing the refund/exchange.
To initiate your return & exchange please send us an email at support@crystaldivine.in with your order receipt and details of the products to be returned. Please also let us know the reason for the return. Your complaints will only be taken into consideration if contacted by email. (WhatsApp / Phone Calls etc. will not be considered as complaint channels).
Upon receiving the returned products, prepaid orders will be refunded as soon as our inspection team approves the return.
COD orders: Customers will be required to provide their bank details where they would like to receive the refund.
Click to Learn more about our return and exchange policy.
Shipping Policy
We aim to dispatch all orders within 24-48 hours. In case of missing items/ unavailability or delay, we will inform you via email or WhatsApp with the expected date of dispatch.
Most orders are delivered by our courier partners within 5-7 working days from the date of dispatch.
Shipping is free on paid orders above ₹1000.
There are no question found.