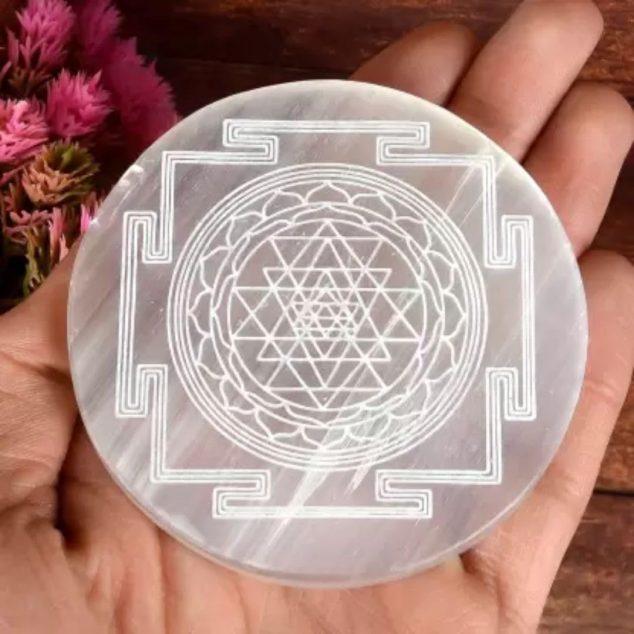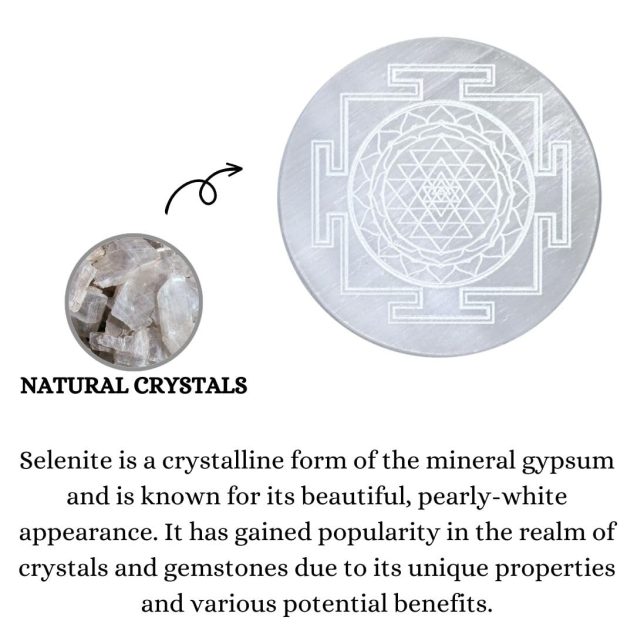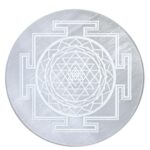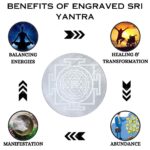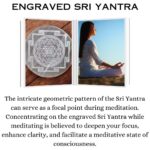 Engraved Sri Yantra Selenite Charging Plate
67
people are viewing this right now

Guaranteed safe & secure checkout
Description
Sri Yantra Selenite Charging Plate
Meet the Sri Yantra selenite plate: a special tool to boost the energy of your favorite items. Think of it as a battery charger for your crystals and jewelry. The Sri Yantra design is like a spiritual map for balance and unity, while selenite, often called "liquid light," naturally boosts energy. Together, they make a super-charged plate to refresh and empower your cherished items. It's a mix of ancient design and nature's energy, all in one handy plate. Simply place your items on it, and let the plate do the magic!


Benefits Of Sri Yantra Selenite Charging Plate
Energetic Boost: The selenite plate, often referred to as "liquid light", helps refresh and recharge your crystals and jewelry.

Harmony & Balance: Sri Yantra, an ancient symbol, promotes harmony, spiritual growth, and unity. Combined with selenite, it aids in balancing energies around and within.

Enhanced Meditation: The sacred geometry of the Sri Yantra can heighten the depth of meditation sessions and foster inner peace.

Protection: Many believe that selenite wards off negative energy. Having this plate in your space can act as a protective shield.

Clearing & Cleansing: The natural properties of selenite help in clearing energy blockages, making it great for cleansing your aura or environment.
Place your cherished items on this plate, be it crystals, jewelry, or spiritual tools, and experience an uplift in their vibes. It's like giving them a spa day, rejuvenating and enhancing their energy.


How To Use Sri Yantra Selenite Charging Plate
Placement: Find a calm space in your home, preferably in an area you frequently use for meditation or relaxation. Ensure the plate sits on a flat surface.

Cleanse First: Before you start, it's a good idea to cleanse the plate. You can do this by waving it through sage smoke or placing it under the moonlight for a night.

Charge Items: Gently place the crystals, jewelry, or spiritual tools you wish to charge on the plate. Let them sit for a few hours to overnight.

Meditation Aid: Sit in front of the plate during your meditation sessions. Focus on the Sri Yantra pattern, letting it guide your meditation and deepen your focus.

Refresh: Every once in a while, it's beneficial to cleanse your charging plate again to maintain its effectiveness.

Mindfulness: Whenever you place or retrieve items from the plate, do so with intention. Think about the cleansing and charging process and what it means to you.

Regular Charging: Make it a habit to place your spiritual tools or jewelry on the plate regularly, ensuring they are always energetically vibrant.
Remember, the Sri Yantra Selenite Charging Plate works best when you engage with it intentionally, recognizing the power of both the Sri Yantra symbol and the selenite crystal.
Return/Refund Policy
Our return policy lasts for 5 days from the date of delivery. Kindly contact us for any return/refund/exchange within 5 days from the date of delivery.
Return policy is applicable in case of damaged/defective items only.
Item must be unused & packed in original packaging.
Item will be inspected before processing the refund/exchange.
To initiate your return & exchange please send us an email at support@crystaldivine.in with your order receipt and details of the products to be returned. Please also let us know the reason for the return. Your complaints will only be taken into consideration if contacted by email. (WhatsApp / Phone Calls etc. will not be considered as complaint channels).
Upon receiving the returned products, prepaid orders will be refunded as soon as our inspection team approves the return.
COD orders: Customers will be required to provide their bank details where they would like to receive the refund.
Click to Learn more about our return and exchange policy.
Shipping Policy
We aim to dispatch all orders within 24-48 hours. In case of missing items/ unavailability or delay, we will inform you via email or WhatsApp with the expected date of dispatch.
Most orders are delivered by our courier partners within 5-7 working days from the date of dispatch.
Shipping is free on paid orders above ₹1000.
There are no question found.