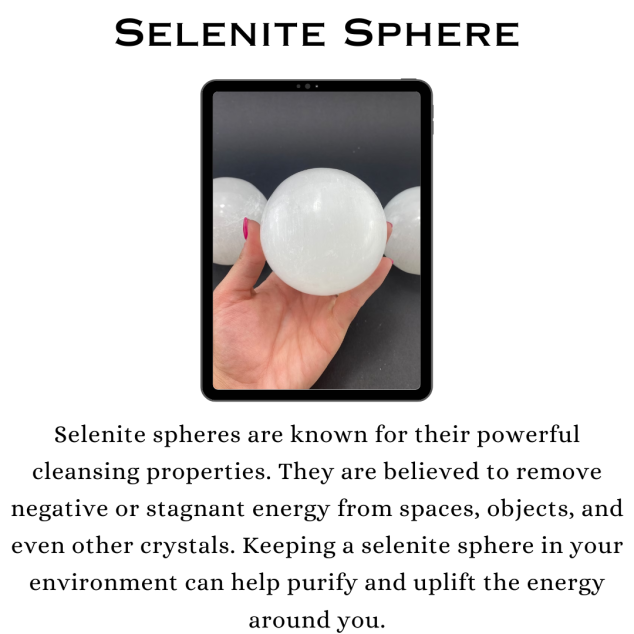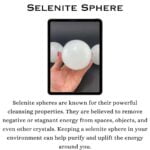 81
people are viewing this right now

Guaranteed safe & secure checkout
Description
The Selenite Sphere is a beautiful crystal ball made from a mineral called Selenite. It has a lovely glow, just like the moon, and is known for creating a peaceful and calm atmosphere.
This sphere isn't just nice to look at, it's also thought to bring harmony and peace of mind. The shape of the sphere helps it spread this soothing energy evenly in all directions.
If you're just starting to learn about crystals or if you've been collecting them for a while, a Selenite Sphere would be a great piece to have. Its calming effect and stunning glow make it a favorite among crystal lovers.


Benefits Of Selenite Sphere
A Selenite Sphere can have several potential benefits:
Creates a Peaceful Environment: The Selenite Sphere can help establish a serene and tranquil environment. It's known for its calming energies, making it a great addition to spaces like your living room or bedroom.

Enhances Clarity of Mind: Selenite is said to help clear the mind, allowing for better focus and understanding. This can be beneficial when you're dealing with complex tasks or situations.

Promotes Good Sleep: The serene energy of Selenite is also believed to promote a good night's sleep. Placing it near your bed might help create a restful atmosphere.

Encourages Positivity: With its radiant energy, a Selenite Sphere can help lift your mood and bring positive energy into your life.

Balances Energy: Selenite is often used for energy balancing in the home. The sphere shape evenly distributes the stone's energy, enhancing its balancing effects.
Remember, while many users of Selenite report these benefits, experiences can vary. The key is to choose a Selenite Sphere that feels right to you and use it in a way that best suits your individual needs.
How To Use Selenite Sphere
Meditation: You can hold the Selenite Sphere when you sit down to think quietly. It can help you feel more peaceful and focused.

Decoration: You can put the Selenite Sphere anywhere in your house or office. It not only looks pretty but also makes the place feel calm and balanced.

Clean Other Crystals: If you have other crystals, you can clean their energy by keeping them close to the Selenite Sphere for a while.

Better Sleep: If you keep the Selenite Sphere near your bed, it might help you sleep better.

Make Wishes: When you wish for something, hold the Selenite Sphere. It's thought to help your wishes come true.
Remember to keep your Selenite Sphere clean. You can do this by leaving it under the moonlight or using sage smoke. But remember, Selenite should not touch water because it's soft and can melt.
Have fun finding out the different ways you can use this beautiful crystal!
Return/Refund Policy
Our return policy lasts for 5 days from the date of delivery. Kindly contact us for any return/refund/exchange within 5 days from the date of delivery.
Return policy is applicable in case of damaged/defective items only.
Item must be unused & packed in original packaging.
Item will be inspected before processing the refund/exchange.
To initiate your return & exchange please send us an email at support@crystaldivine.in with your order receipt and details of the products to be returned. Please also let us know the reason for the return. Your complaints will only be taken into consideration if contacted by email. (WhatsApp / Phone Calls etc. will not be considered as complaint channels).
Upon receiving the returned products, prepaid orders will be refunded as soon as our inspection team approves the return.
COD orders: Customers will be required to provide their bank details where they would like to receive the refund.
Click to Learn more about our return and exchange policy.
Shipping Policy
We aim to dispatch all orders within 24-48 hours. In case of missing items/ unavailability or delay, we will inform you via email or WhatsApp with the expected date of dispatch.
Most orders are delivered by our courier partners within 5-7 working days from the date of dispatch.
Shipping is free on paid orders above ₹1000.
There are no question found.